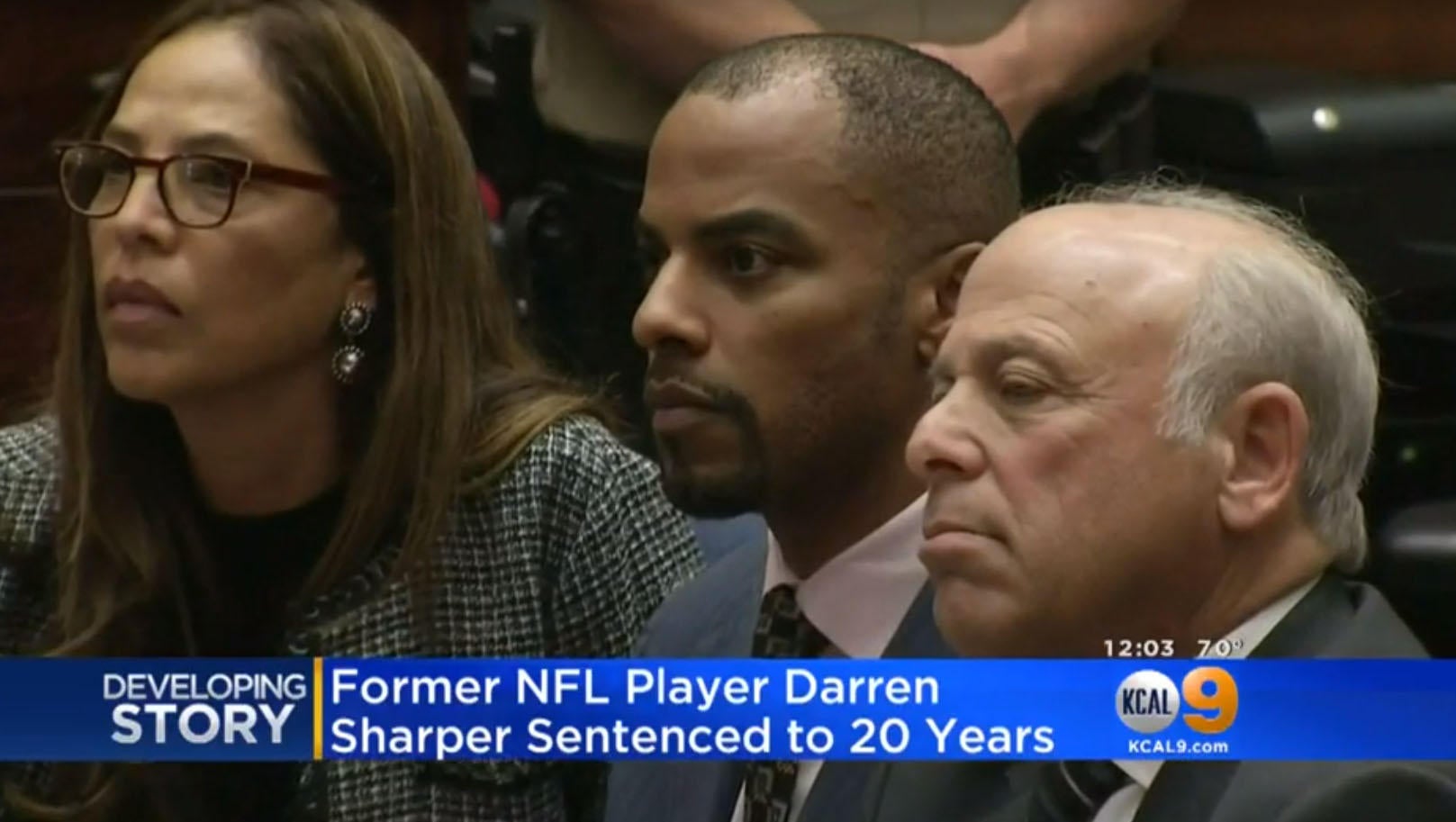 Final sentencing for ex-NFL star Darren Sharper in string of rapes
LOS ANGELES -- Former NFL star Darren Sharper was sentenced Tuesday a 20-year prison term, ending a tour of shame and punishment in the courthouse where he first admitted drugging and raping women in four states.
Los Angeles Superior Court Judge Michael Pastor denounced Sharper's "horrible conduct" and "disgraceful abuse of trust" during the hearing that concluded prosecutions that unmasked the popular former all-pro safety and Super Bowl champ as a serial rapist.
Under the terms of a plea deal negotiated with prosecutors in four states, Sharper will be eligible for parole in about eight years because California law requires he serve half his sentence and he has already been behind bars more than two years since his arrest.
But he will probably serve more time if an appeals court upholds an 18-year prison sentence handed down by a New Orleans federal judge who rejected the deal as too lenient. Sharper has appealed that harsher sentence.
Sharper, 41, sat quietly in court in orange jail scrubs and never addressed the court or two emotional victims who spoke about evenings that began innocently enough partying with friends turned into nightmares they can no longer escape after he secretly slipped drugs in their shot glasses and insisted they drink.
Both women blacked out and later awoke to the groggy reality that something terribly wrong had occurred that they couldn't immediately comprehend in their drug-induced stupor.
"I started vomiting, my head was pounding and I had trouble seeing clearly," said one victim, who said her rape on Jan. 15, 2014 was "the worst night of my life."
The woman, identified only as Jane Doe 2, teared up before she even addressed the court and dabbed at her nose with a tissue throughout. She said her surfing career spiraled downward afterward, she lost her self-confidence, lives in fear and at one point considered suicide.
"The only good thing about this situation is that this disgusting low-life human will be sent to prison for many years and is likely he will never be able to do to this to another woman again," she said. "I hope this scumbag will now feel as worthless as he has made me feel."
Sharper, 41, was working as an NFL network analyst when women in several cities began reporting how nights of partying with their girlfriends and Sharper ended with them waking up in his hotel room confused and discovering they had been sexually assaulted.
Sharper's arrest came as the NFL was dealing with off-field problems with players accused of crimes ranging from spousal abuse to murder.
The second woman, identified as Jane Doe 4, was with a friend when they were drugged by Sharper in his hotel room in 2013, hours after they met at a Sports Illustrated 50th anniversary party.
She woke up on a bed with her clothes on, blood coming out of her nose and did now know where she was. She said her friend had been sexually assaulted, and both fled fearing for their lives.
"It's one thing to be a victim, but to be the victim that got 'lucky' in some eyes is not easy to live with," Jane Doe 4 said. "When I think back to that night I wonder what he could have done to me. That's not lucky. It's haunting."
The Associated Press does not generally name people who are victims of sex crimes.
Sharper retired from the league in 2011 after a 14-year career with the Green Bay Packers, the Minnesota Vikings and, finally, in New Orleans with the Saints, where he won a Super Bowl.
Lawyers for Sharper had vigorously disputed the charges before he abruptly gave up his defense in March 2015 on the eve of a preliminary hearing to decide if the Los Angeles case would go to trial.
From the Los Angeles courtroom, Sharper appeared by video-conferencing and pleaded guilty to sexually assaulting one woman and trying to attack another in suburban Phoenix in 2013.
An hour later, he pleaded no contest to drugging and raping two women he picked up at a West Hollywood bar on two occasions in late 2013 and early 2014.
The next day, he pleaded guilty via video to a reduced felony attempted sex assault charge for a Las Vegas case.
He later pleaded guilty in Louisiana to federal charges of drugging women so he could rape them and state charges to three counts of rape.
At Sharper's sentencing in Louisiana federal court, he told the judge he wanted to "apologize a thousand times."
On Tuesday in the Los Angeles courtroom, Sharper had nothing to say besides providing simple, short answers to routine legal sentencing questions posed by the judge.
Thanks for reading CBS NEWS.
Create your free account or log in
for more features.