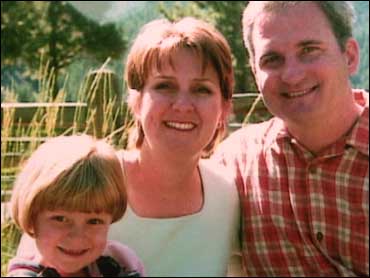 This broadcast originally aired on Oct. 9, 2004.
In the high desert, on the Rockies western slope, the Mesas tower over the town of Grand Junction, Colo., protected from the outside world.
But on June 4, 2002, Grand Junction saw the unearthing of a shocking secret at the local landfill.
The decomposed body of 34-year-old Jennifer Blagg was found wrapped in a red and black plastic tent.
Jennifer and her six-year-old daughter, Abby, had been missing for seven months.
Correspondent Susan Spencer reports.
What happened inside the walls of the Blagg family house still haunts the town of Grand Junction. The Blaggs – Michael, Jennifer and Abby – seemed so happy together.
"Two years ago, I had everything," says Michael Blagg, Jennifer's husband. "I had a great job, wonderful family, incredible wife and daughter. Everything was going perfect for me."
"They're kind of a poster-child sort of a family," recalls Rev. Art Blankenship, who got to know the Blaggs in 2000 through their small, evangelical church. "They just looked like an ideal couple. They were friendly, open, and people seemed to like them a lot."
Both Michael and Jennifer were enthusiastic born-again Christians, and organized personal prayer groups for the congregation. The couple had met 10 years before in California, when he was in the Navy and she was in college. He was a decorated Gulf War veteran, a helicopter pilot.
Jennifer stayed close to her mother, Marilyn, even after she married Michael in 1993. "I liked Michael from the beginning," recalls Marilyn Conway. "He was a very personable young man. They seemed happy. I thought they were happy."
Michael's mother, Betsy Blagg, also agreed that the two were a fairy-tale couple: "In every letter, she'd [Jennifer] tell me how much she loved Michael. Everything was marvelous. They couldn't be more happy, and he was absolutely in love with her."
Their daughter, Abby, was born three years after the Blaggs married and Michael and Jennifer seemed to dote on her.
When Michael went out the door at 6 a.m. on Nov. 13, 2001, the day his family vanished, he says his wife and daughter were still asleep.
He headed off to his job as an operations manager at the Ametek Dixson Company, a local manufacturing plant. He says he called around 7 a.m., called again mid-morning, and then again at noon. No one answered.
"Now I'm getting a little worried. I haven't heard from her. She hasn't called me back on any of these calls," says Michael, who called her again that afternoon.
Michael says he left for home around 4 p.m. He later told the police that he sensed something was wrong the second he walked in and saw the back door open. But he says nothing prepared him for the horror of what he saw in the bedroom.

"I could see there was a large dark spot on the bed," recalls Michael. "I think maybe she's rolled off the bed and is on the ground on the other side, so I go to the other side of the bed and there's more blood on the floor, and running down the side of the bed. And so at this point, I know I have to call for help."
The 911 dispatcher told Michael to check the garage. The couple's minivan was still there, but it wasn't until the dispatcher asked about his daughter Abby that Michael finally checked her room and discovered she was gone, as well.
The story of a bloody bed, and a missing mother and child, rocked Grand Junction.
Sheriff's Investigator Steve King tried to make sense of a bloody and bewildering crime scene.
Jennifer's purse was on the dresser, the contents, including her keys to the van, spilled out. An e-mail from Michael, an apparent apology, was also found in the purse: "I would love to take some time to talk through the problems we are having. ...Do not give the devil a foothold."
Jennifer's empty jewelry box was also found on the carpet, near the blood-soaked bed.
"You're struck by the fact that there was all sorts of other things there that someone that is in there purely for monetary gain would have taken with them," says King. "So I'm saying, 'You know, this crime scene doesn't look right. It looks like it was staged.'"
"I had no idea what had happened," which is exactly what Michael repeatedly told officers that night in an intense interview. "I just knew that it was bad ...whatever it was, it was bad."
He didn't have a lawyer present. "But I saw a lot of blood," says Michael. "A lot of blood."
Michael admitted in measured tones that there were some rocky times, but his marriage to Jennifer was solid. King, however, found Michael's calm and collected manner strangely unsettling. "I said to him, 'If my wife and kid were missing, I would probably be at St. Mary's Hospital being medicated at this point because it's so stressful.'"

Over the next few days, the community reached out to Michael. And Jennifer's mother was right by her son-in-law's side. Michael's appeals to find his wife and young daughter were heartbreaking, but investigators were beginning to have their doubts.
For one thing, the blood evidence was puzzling. DNA tests confirmed that Jennifer's blood was found on the bed, but strangely, nowhere else in the house. Even more striking was the one other place where her blood was found: the family van, parked in the garage.
Investigator Steve King began to meet with Michael on an informal basis. "He needed information about the case and I needed information about him and his life and his family," says King, who also began exploring Michael's claims of having a fairy-tale marriage.
In late November, Michael privately admitted to King that he was addicted to hardcore pornography, and that, when Jennifer found out, she became very upset. But then, Michael says, Jennifer decided to join him online.
"She told me, 'I don't want you to be doing this, but if you are going to be doing this, then we should be together with this,'" says Michael.
He says they used hardcore porn sites purely as an "educational" tool.
Three months after Jennifer and Abby disappeared, investigators brought Michael back for questioning, again with no lawyer present. Michael says they interrogated him for more than 10 hours.
By then, the FBI was involved in this case, and Michael's interview, unlike the first one, was not taped.
"They were telling me, 'We know you did it. You're the one,'" says Michael. "There were the people that I was trusting to find my wife and daughter, and to bring them home to me. [They were] putting their finger in my chest and saying, 'You're the one. I know you killed them. Just tell us.'"
The next morning, police found Michael lying in a tub, filled with water. Michael, who tried to slit his wrists, had a picture of Jennifer and Abby, and a Bible.
Investigators also found a suicide note in which Michael insisted he was not a murderer. But for some, Michael's suicide attempt was a clear sign of a guilty conscience.

Now, even Michael's mother-in-law, Marilyn Conway, was beginning to have questions. She agreed to help investigators by leaving Michael a series of phone messages. Michael never responded, but investigator King was sure Michael was capable of murdering his wife and daughter.
Five months after Jennifer and Abby disappeared, volunteer searchers fanned out over the highlands and rivers around Grand Junction.
King says that over a period of 11 days, 200 volunteers searched 45 miles around the Blagg residence.
But Michael wasn't among the volunteers who looked for his family.
He says that officers told him not to go on the search. "They said as a potential suspect, they just thought that it would be bad for me to be out there. And so, I was barred from being able to search for my daughter and wife," Michael explains.
By the spring of 2002, no bodies had been found, but Michael was now a suspect.
And King had a working theory: "He shoots his wife. My belief is that he went upstairs and suffocated his daughter, got the tent out of the garage, put Jennifer in that tent, put them both in the van and went to Ametek Dixson, and put both of them in the trash receptacle there."
But if Michael had put Jennifer's body in his company's dumpster, then her remains should have ended up in the county landfill. Using global positioning technology and landfill logs, a grid system was set up, zeroing in on quadrants where investigators believed they would find trash from Michael's company.
Finally, after 16 days of searching, they found Jennifer's body. Authorities wasted no time, and arrested Michael two days later, at his mother's home in Georgia.

Michael's sister, Claire Rochester, arrived in Grand Junction just as the final jury members were being chosen. She wondered if a fair trial would be possible for her brother.
"The people in this town need to understand that all of this time and this money and this energy that the police and the D.A. have devoted towards accusing my brother has been wasted," Rochester said. "I think it should frighten the public that there is somebody out there that committed this crime."
But David Eisner, Michael's lead attorney, said the cops never considered that. "They chose Michael Blagg as their No. 1 suspect, and they latched onto him and never let him go," he said.
Eisner said this resulted in untrue allegations that undermined Michael's character in the community. Among these allegations was one that Michael was looking at hardcore Internet pornography the night before he reported Jennifer missing.
Another allegation, which was widely reported in the local media, claimed that Michael had visited an escort service for sex. There were also leaks of Jennifer seeking advice on divorce from the local legal aid office.
"It's a question of putting together all the pieces," said District Attorney Frank Daniels, who would prosecute the case.
Michael was free on bail until trial. He started each morning with church, and then went to his lawyers' office to help prepare his own case.
Otherwise, Blagg and his visiting family rarely went out.
There were too many stares, and they had few friends in this town. "He did not kill his wife," says Rochester. "He did not do anything to harm or take his daughter. It did not happen."
As the murder trial of Michael Blagg began, the families of Michael and Jennifer, once very close, found themselves on opposite sides of the courtroom.

The prosecution laid out its case and argued that the fatal weekend began with a fight on Friday, a fight that Jennifer noted in one of her religious books.
The weekend ended, says District Attorney Frank Daniels, with Jennifer's murder late Monday night. "That night, as Jennifer lay in bed, Michael got his gun, he loaded a round into the chamber and he shot Jennifer in the face," Daniels said.
Daniels suggested that Michael murdered his wife because his addiction to Internet pornography had destroyed his once-solid marriage. He then showed the jury the apology e-mail from Michael that said: "I'm sorry if I've given the devil a foothold."
Daniels argued that the devil was lurking in Michael's computer – which included nearly 700 pornographic images.
The prosecution, however, insisted that Michael was a murderer, and that he transported Jennifer's body in the family van after he shot and killed his wife.
The defense had trouble explaining what happened that night, and how blood was found in the family van. "If it weren't a challenge, we wouldn't be here," said Eisner, who maintained that finding Jennifer's blood in the van proved nothing.
Family friends took the stand to praise Michael's marriage and his character. But the defense had a difficult time dealing with Michael's first taped interview, where he seemed detached.
"There is no emotion, no passion, no 'Where is my wife and daughter,'" said Jennifer's brother, David Loman. "It's not there. It doesn't exist."
More damaging to Michael's case than his demeanor, however, was surprise testimony from his mother-in-law, Marilyn Conway. Her testimony would shock the defense.

"Michael hurt her in Corpus. He hurt her in Corpus, yes, he did," said Marilyn Conway on the stand, referring to an alleged incident in Corpus Christi, Texas. "She called home one night and said that Mike had cornered her in the bedroom and was obviously drunk. I understood that he was trying to choke her."
Conway said it happened 10 years ago, and it was an incident that was forgotten until now. "I wasn't even aware it was gonna come out of my mouth," she says. "It just came out."
But Eisner said she got on the stand and lied. "I think she saw the D.A.'s case faltering and having serious problems. And I think she felt she would do whatever she could to help that case out. ... She made it up."
With his murder trial coming to its close, Michael was sticking to what had become a morning ritual - a friendly nod and smile for the jurors, day after day.
"While they hold incredible power, they're interested in seeing me as a person, too," Michael explained. "And I think it's important to make the eye contact when possible."
His sister, Clare, waited and worried. "My family is not prepared for a guilty verdict," she said. "We're looking forward to this being over. And at the same time, it's very frightening because 'over' may not be the outcome that we know should happen."
Since Michael didn't taking the stand, Eisner used Jennifer's words from a letter found in Michael's desk just days after her disappearance, to show that Michael would never have harmed her.
Eisner then tries to convince the jury that Michael loved Jennifer. "Is he a cold-blooded murderer, or a loving family man and husband? You decide," he said to the jurors.
The prosecution tried to bring the jury back. "Your job is to bring justice," said District Attorney Daniels. "The evidence is overwhelming."

The verdict came in just over 24 hours: Guilty.
"I am innocent of these charges and I have nothing further to say," Michael said, who was sentenced to serve a life sentence.
Unless he wins an appeal, Michael Blagg will spend his life behind bars, without the possibility of parole.
"He's a narcissistic pig as far as I'm concerned, and deserves the sentence he got," said Prosecutor Daniels.
"I guess the jury just didn't have the courage they needed," defense attorney Eisner said.
But the jury's verdict didn't answer the looming question: Why would a man who seemed to have it all commit such a heinous crime against a loving wife and daughter?
"Everybody would have to draw their own conclusion," Jennifer's mother, Marilyn said. "I believe Jennifer was going to leave him."
"The bottom line is that Michael Blagg's gonna have a long, hard life. And then he's gonna have to face God," said King. "And Jennifer and Abby will be sitting on God's lap that day and that's when justice will be served."
Faith also comforts Jennifer's brother, David Loman, who is keeping up the search for his niece, Abby.
"It's the idea of putting mother and daughter together again," he says. "Anybody who's been married understands anger – not that kind of anger. But a child, whether it be your child or someone else's child, it doesn't matter. It's a child."
Soon after Michael Blagg was sent to prison, he was beaten by other inmates.
Michael Blagg maintains his innocence and is hoping for a new trial.
Thanks for reading CBS NEWS.
Create your free account or log in
for more features.