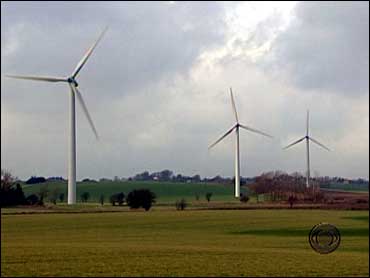 Danish Island Is Energy Self-Sufficient
It's a two-hour ferry ride to the Danish island of Samso — and it can seem like a trip back through time.
But if you look more closely, to visit Samso is to see the future, CBS News correspondent Mark Phillips reports.
Samso is an area about 40 square miles long with a permanent population of about 4,000 — all of them living a green dream.
Take farmer Erik Andersen. His tractor runs on oil from rape seed, which he grows. His hot water and power come from his solar panels or wind turbines. There's not a fossil fuel in sight.
"It's a very good feeling because the island is a renewable energy island," Anderson says.
Ten years ago, Andersen and the people of Samso accepted a challenge from Denmark's government: Could they run their farms; could they power their businesses; could they lead their lives in an entirely energy self-sufficient and carbon-neutral way?
Now they have the answer. They can.
"Because it's a good idea for the environment," Andersen explains.
---

Only On The Web: Watch more of Mark Phillips' interview with Samso farmer Erik Andersen.

---
To harness the wind, of which they have plenty, they built wind turbines. To harness public good will, they sold shares in those turbines to the islanders so the machines produce local power and local profits.

To provide heat, they burn locally grown straw in central plants that produce super hot water and pump it through underground pipes into peoples' homes.

It's not only more efficient than running individual furnaces, it's carbon neutral. The net greenhouse gas emissions from these plants? Zero.

It's a system that just recycles itself, says Jens Peter Nielson with the Samso Energy Authority.

Can it be that simple? It can seem like an ecological fantasy island on a bleak day on the windswept rock, sitting in an icy sea. But even after a freezing cold night, the days short and cloudy, the solar-heated hot water is still hot.

The Samso scheme has become so successful that the island has installed a string of turbines offshore to make surplus power to sell to the mainland.

Like a lot of people living in Samso, Andersen is invested in the new wind farm.

"Then I make money, you know, on a good idea," he explains.

It's a new dawn on this small island in Denmark, where they set out to do good, and have ended up doing very well for themselves, indeed.
Thanks for reading CBS NEWS.
Create your free account or log in
for more features.