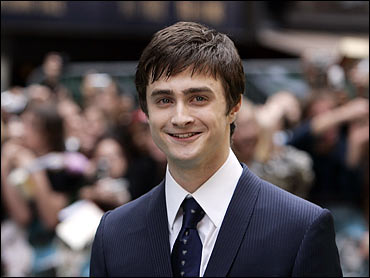 Daniel Radcliffe Is Growing Up
While Daniel Radcliffe was appearing in the stage play "Equus" in London earlier this year, he developed a little magic trick to frustrate the paparazzi waiting at the stage door every night.
"I would wear the same outfit every single time with different T-shirts underneath but I would wear the same jacket and zip it up so they couldn't see what I was wearing underneath, and the same hat," he told Jay Leno on the "Tonight Show" Monday. "So they could take photos for six months but it would look like the same day. They became un-publishable, which was hilarious because there's nothing better than seeing the paparazzi get really frustrated."
But it wasn't just the paparazzi he tricked — he also fooled the fashion police.
"There was one hysterical moment when my 'stage door outfit,' as it was called, ended up on, like, one of the fashion bits in the newspaper, which is like an old dirty hat and a jacket that hasn't been washed in ages and somehow it got in there. I was very proud," he told Leno.
Dealing with the fashion police and the paparazzi are just some of the things Radcliffe is getting used to as he transitions from child-star to teenage heart-throb. But he's not done with Potter just yet.
Radcliffe, 17, is slated to star in the last two "Harry Potter" films, but is trying to break out from his young wizard persona. In "Equus" he played a troubled teen (he even had a nude scene), and posed for the cover of Details magazine. He will star in the British made-for-TV movie "My Boy Jack" in which he plays author Rudyard Kipling's son.
"I'll have that eternal association with Potter, which can't be solved by doing just one play," he told USA Today. "It's going to take a lot of work, but I'm willing to put that in."
But legions of "Harry Potter" fans seem reluctant to let the literary and movie sensation end.
The fifth Harry Potter movie, "Harry Potter and the Order of the Phoenix," is to open in U.S. theaters July 11, leaving two books not yet on the screen.
"Harry Potter and the Deathly Hallows" — the seventh and final book in the J.K. Rowling series — will be released at midnight July 21, accompanied by bookstore parties, community festivals and other Harry hoopla concocted for fervent fans around the world.
The books have sold more than 325 million copies worldwide with translations into at least 64 languages. Ringing in the release of each new J.K. Rowling book has become a tradition that some towns don't want to let go of.
For example, about 40 miles north of Cincinnati, organizers plan to keep Quidditch tournaments, magic shows and strolls down Diagon Alley continuing in some form in Wilmington, a city of about 12,000.
"This is our largest downtown event currently, and it brings a lot of people and money into downtown," said Steve Brown, executive director of Main Street Wilmington. "We thought the 2005 event would draw quite a few people, but we never expected the 4,000 or more that showed up."
Hudson, a city of about 23,000 in northeast Ohio, is preparing for more than 12,000 fans next month and is discussing ways to keep the celebrations going.
"We're definitely trying to come up with a way to expand the event beyond this year, perhaps wrapping it around our town's history while continuing the 'Harry Potter' theme," said Debra Sherman, a spokeswoman for this year's event.
Even Radcliffe feels that the last Potter book marks the end of an era.
"It's a bizarre feeling," he told the paper. "… These films have influenced a generation of kids into reading at a moment when everybody thought reading was something that was becoming less popular among kids. That is an amazing thing for somebody to have done. There are all these stories about all the rich lists that J.K. Rowling has been on, but she deserves every penny, I think."
Thanks for reading CBS NEWS.
Create your free account or log in
for more features.