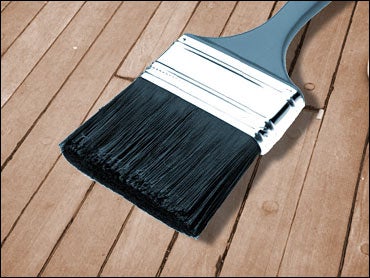 Dangers Of Pressure-Treated Wood
Citing health risks, this week the EPA halted the production of some pressure-treated wood -- the most commonly used material in structures such as decks, play sets, and fences.
On Friday, The Early Show's Rent-a-Husband Kaile Warren gave some recommendations for homeowners, who are currently using pressure-treated lumber.
Pressure-treated lumber was first patented in 1938 and has been used for over 60 years -- generating $4 billion dollar annually. Warren says not all pressure-treated woods have been banned. He explains only CCA-treated wood is prohibited to be manufactured. CCA (Chromated Copper Arsenate) has been replaced with a new preservative, which is copper based -- instead of arsenic based. Warren says with the new technology, there is a cost increase of 10 to 20 percent.
According to the EPA, the health risk is low to moderate. But, there are great concerns about cancer. Warren says part of the problem is that little studies have been done on the pressure-treated wood -- although they've been in existence for years. Although some have recommended the use of sealants for CCA-treated wood, the EPA will not know how effective sealants work until 2005. There are some studies that suggest sealants will protect against exposure to CCA-treated wood.
Some Americans may have CCA-treated wood on their property, but the EPA has not required the wood to be removed. But, Warren says, you can replace the structure with something made from a synthetic material or a natural wood, such as redwood or cedar. But, those can be very expensive alternatives.
To protect against arsenic exposure, Warren recommends using oil-based semi-transparent sealant every two years. He explains they make a clear seal, but it is not recommended because it only lasts 6 months. Warren says a seal with a little color that repels ultra-violet rays is recommended. Don't use latex-based because it will blister and peal-off.
Warren recommends staining the whole deck, if it is needed. But if money is an issue, he says, you should do areas that are most commonly touched such as ballisters and handrails.
Avoiding CCA-Treated Wood
If the wood has a greenish tint then it has been pressure-treated with CCA. People don't stain the bottom part, so look under the deck and see if it has a greenish tint. If it was built less than six-months ago, Warren says there is a 99 percent chance that it is pressure-treated with CCA.
Also, play sets or structure that were intended to be at or near ground level have a bigger concentration of CCA in comparison to other structures such as decks, because they are made to be stuck into the ground, where the wood is in contact with the most moisture.
If you are in the market for wood to build a deck or play set, Warren says to:
Use pressure-treated wood that says it is treated with ACQ (Alkaline Copper Quat) or some other copper-based preservative.
Put in the contract that the builder will not use wood treated with CCA if you are hiring a home-improvement contractor.
Buy something made with redwood or ceder.

If you are a homeowner and you still want to use arsenate -treated wood, Warren says not to use it for BBQ staging areas. Anything that comes in contact with it -- drinking water or food -- could be dangerous.

Warren says homeowners using pressure-treated wood should:
Wear safety gloves, a respirator mask and goggles.

Clean up sawdust.

Take a shower after working, not a bath.

Wash clothing separately (you may want to use an inexpensive jumpsuit).

To dispose pressure-treated wood waste, take it to a lined-landfill. If you are not certain what to do with the debris, call you local city officials and ask. But you never want to burn it because toxic chemicals may be produced as part of the smoke and ashes. Also, don't bury it on your property.

Thanks for reading CBS NEWS.
Create your free account or log in
for more features.