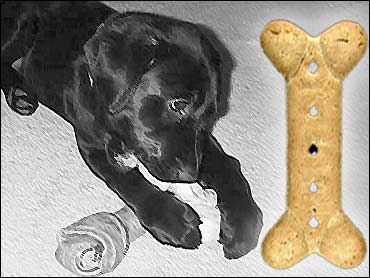 Dogs love to chew on things and the aisles at the pet store are filled with a variety of chew toys and treats. But is the dog chew you give your pooch safe? The Saturday Early Show's resident veterinarian, Dr. Debbye Turner, has some answers.
Actually, says Dr. Turner, there are no easy answers. There is an almost endless variety of chews on the market. Some are toys, some are treats, and some are designed to improve the health of your dog's teeth and gums. But the question of which chew is right for your dog is very important.
It's a question Fern Finer wished she had asked before giving her dog a dental chew treat.
Finer spoiled her cockapoo, Twiggy, as well as terrier mix Frankie, by giving them treats that claimed to clean their teeth and remove doggy breath. But one day the dogs got into the treats and practically ate the whole bag.
"I took them right to the vet," Finer recalls. "The vet wanted to keep them there and I thought, 'Oh, they will pump their stomachs. They'll be fine.' "
But Twiggy wasn't fine.
"Unfortunately, that night, they couldn't get in touch with me; they had the wrong number," says Finer. "So I didn't know until the following morning when I got to work that she passed and I was in complete shock."
An autopsy revealed that the chews Twiggy had eaten the day before, called Greenies, fatally blocked her gastro-intestinal tract.
"I would go so far to say that I would never give a dog a Greenie," says Dr. Brendan McKiernan, a veterinarian at Wheat Ridge Animal Hospital. He has seen many dogs, made sick after eating Greenies. He says some dogs just can't digest them.
When you take warm water and soak a more traditional dog biscuit (one made by the same company that makes Greenies), says Dr. McKiernan, "It turns to mush, which is great. That's what I would hope any chew treat would do."
But when the Greenie is soaked for the same amount of time, it's a different story. "It doesn't dissolve in my experience," says Dr. McKiernan. "We've done this for up to three days and others have done it longer. That's my concern."
He's not the only one who is concerned. A number of pet owners have sued the makers of Greenies, charging that the chew killed their pets. S&M Nutec, the company that manufactures Greenies, declined to be interviewed on camera for Turner's story but provided a statement that says, in part:
"We firmly believe that our dental chews are safe and effective when used as directed. Our packaging includes instructions and information to help owners decide if our products are appropriate for their pets, and if so, which one is right for their pets' size, weight and eating habits."
Since 1998, more than 730 million Greenies have been sold, making them the most popular chew. But they're not the only one that has caused some problems.
Denise Allen's dog, Timber, died when a 1-inch piece of another chew called Nylabone blocked his intestines.
"He was dead because of something I handed him. It was horrible. It was just horrible," Allen recalls. "It wasn't supposed to kill him. It wasn't supposed to injure him. It wasn't supposed to turn out like this."
So are any chews safe?
Well, yes and no.
Says Dr. Elisa Mazzaferro, an emergency veterinarian at Wheat Ridge Animal Hospital, "The bottom line is that any chew can actually be dangerous."
She says it is important to supervise your dog at all times while it is eating a chew.
"Dogs gulp," she says. "It is just a part of their nature."
And that can lead to all kinds of problems, particularly with rawhide.
"It turns into this big slimy, amalgamized mess. And it just gets stuck there," says Dr. Mazzaferro.
Even certain rope toys can be dangerous.
"It's kind of like when your hair goes down the drain," explains Dr. Mazzaferro. "One hair is not a problem. But little by little, it clogs it up and other things get stuck on it. And it can cause an obstruction."
No matter the type of chew, it is essential to make an informed choice, to avoid the heartache many pet owners, like Fern Finer, have experienced.
Says Finer, "I feel cheated, and I'm a consumer, and I bought this product with the intention of doing something good for my dog and bringing joy to her life. And the opposite turns out to be true."
The bottom line: Exercise caution when giving your dog any kind of chew.
Thanks for reading CBS NEWS.
Create your free account or log in
for more features.