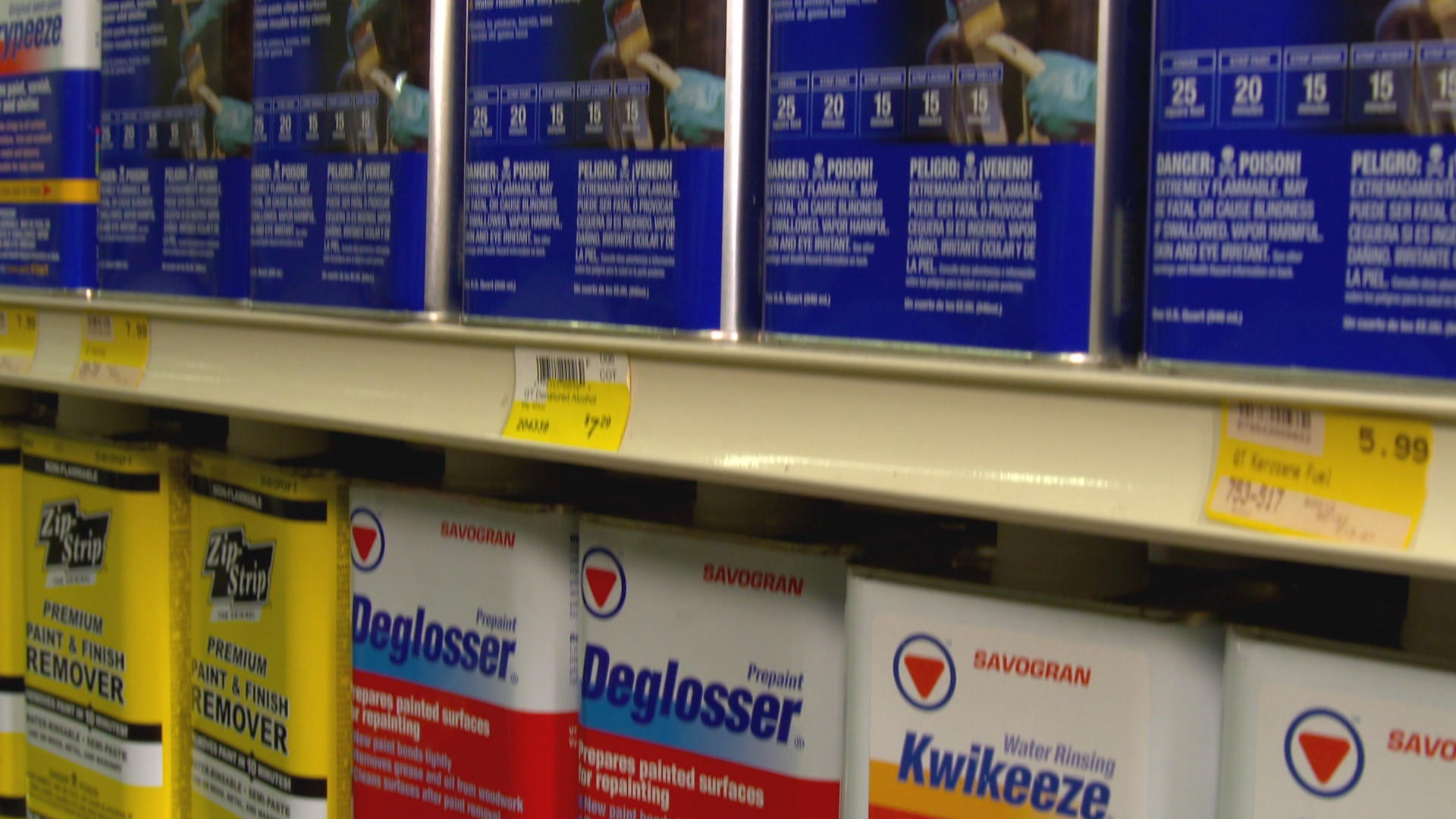 Why is dangerous chemical in common paint strippers still on the market?
California is considering whether an allegedly dangerous chemical found in common paint strippers should be taken off the market. Health authorities there say dozens of people have died from exposure to methylene chloride, which can kill in minutes if inhaled. It's especially dangerous in enclosed spaces.
The Environmental Protection Agency is also proposing a ban, but chemical manufacturers oppose that idea. They say the compound is safe if used correctly.
Many people use paint strippers at home to strip furniture or wood trim, or on the job to refinish bathtubs, often without an awareness of just how deadly they can be – as the Hartley family of Tennessee found out, reports CBS News correspondent Anna Werner.
Wendy Hartley's son, Kevin, was just 21 and working at a new job refinishing bathrooms for his uncle.

"He would light up the room when he walked in. He had that smile," she said. "He wouldn't have to worry about bills. He would make good money doing it."

Kevin took a special training course to protect himself from chemicals used to strip paint. In April, he was refinishing a bathtub in a Nashville apartment complex when his brother called their mom at work.

"He said, I'm sorry mom. I did everything that I could and I couldn't save him," Hartley said.
The cause of Kevin's death? The medical examiner later determined that, despite wearing gloves and a respirator, he'd been overcome by a chemical in the paint stripper he was using – methylene chloride.

You may never have heard of that compound, but you probably have seen or used one of the many paint stripping products that contain it. The European Union banned those uses of the compound in 2011, but here in the U.S., you can find these products and buy them right off the shelf.

"Methylene chloride is too dangerous to keep on the store shelves," said Dr. Robert Harrison of the University of California San Francisco.

Harrison works in occupational health. He says in a small room, just a half gallon's worth of product containing that chemical can lead to a buildup of vapors that can prove lethal in less than an hour.

"It's immediately dangerous to life and health. It causes death," Harrison said.
The government says over a 15-year period, 17 workers doing bathtub refinishing died from methylene chloride exposure. Harrison says consumers are dying too. He conservatively estimates the total number of deaths at over 40.

He believes all of them could have been prevented.
The EPA proposed last year to ban methylene chloride, to take it out of the hands of consumers entirely. But a group representing manufacturers of the chemical is pushing back, saying some who died didn't use adequate ventilation.
Faye Graul is with that group, the Halogenated Solvents Industry Alliance. She opposes a ban. Instead, her group is calling for a new label for the paint stripper cans, to tell consumers not to use it for bathtub refinishing.
"The label will have a picture of a bathtub with a slash through it," Graul said.
Asked what kind of research they've done to understand how often consumers read labels, Graul said, "We don't have any research on that."
Graul says she doesn't know how that could be researched.
We found information in a 2016 EPA report on hazardous chemical labeling that said while "labels and warnings are effective to some degree," their effectiveness depends on multiple steps by the consumer. The best method to protect people? "Eliminate (or remove) the risk".
"If they don't read the label, what can we do to get them to read the label?" Graul said. "How is a manufacturer supposed to guarantee that a person buying any product reads the label?"

"You know, what if it was her child? What if it was her loved one? You have to look at it through someone else's eyes," Hartley said.
We should note the company Kevin Hartley worked for was fined by the Occupational Safety and Health Administration (OSHA) for improper training and ventilation. The industry also says the chemical can't be taken off the market because they say there are no alternatives that work as well or as fast. But Dr. Harrison says there are safer alternatives on the shelves, like they have in the European Union.
Thanks for reading CBS NEWS.
Create your free account or log in
for more features.