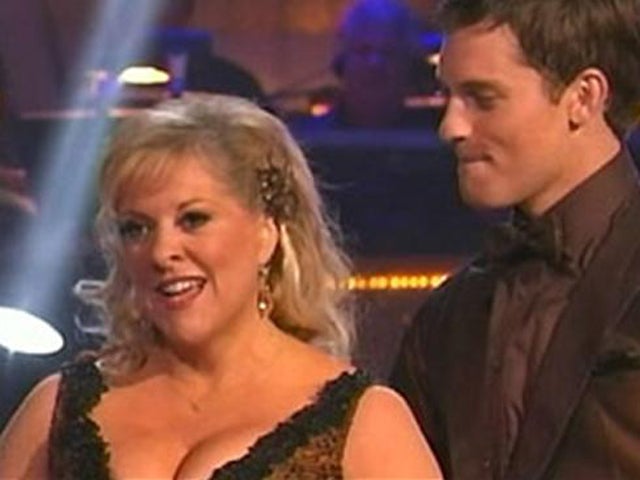 "Dancing with the Stars": Nancy Grace's wardrobe malfunction
(CBS) Dancing is, at heart, a sexual exercise.
However, week two of "Dancing with the Stars" verily simmered with the sizzling sensation of forbidden fruit.
It had all been set up by Kendra Wilkinson's sudden admission that, as a contestant in the last competition, she had enjoyed marital conflagration with her husband, Hank Baskett in her trailer before the results show. Then we got a glimpse of Nancy Grace's nipple. This is not a sentence that I had ever imagined I'd write. It's not a sentence that Grace herself had ever imagined would be passed. So let's save it for its proper time.
Let's first analyze the smoldering sizzle of this week's jives and quicksteps.
Pictures: "Dancing with the Stars" Season 13
It all began with Hope Solo. Ms. Solo began with a soccer ball and some high-heeled shoes. Partner Maksim Chmerkovskiy was styled to be John McEnroe after an extremely long night in the thrall of deleterious substances.
Solo seemed entirely out of synch with her partner, struggling to keep up with him, the music and the occasion. She tried to get by on teeth and tenacity.
Judge Len Goodman thought it was "crisp, sharp like a pippin and fast moving." But he recognized the utter loss of rhythm in places.
Bruno Tonioli declared: "All the power is not enough." He added, "You lost it." He felt she hadn't put enough into her routine.
Carrie-Ann Inaba felt Solo definitely had the body. Would she say the same to Nancy Grace?
Kristin Cavallari dug deep. Yes, she tried to be both Hollywood and Marilyn Monroe. She did a passable job, but reminded one slightly more of Don Draper's wife. Her teeth offered all the fear and grit of January Jones in "Mad Men".
With Mark Ballas as her partner, she knew that she would have to play second fiddle - just as Jones knows that Don Draper will have his ego-fueled turns. The trick lies in not letting Ballas/Draper walk all over you, which Cavallari did successfully.
"I am being bedazzled by the blonde bombshell," said Tonioli, though he criticized her frame.
Inaba called her "stunning" and "gorgeous". Goodman, though, offered: "It wasn't as good as you look." Neither, some might say, is he.
David Arquette seemed haunted by the jive. In rehearsal, his partner Kym Johnson accused him of being "frantic" and lacking technique. Calm doesn't come naturally to Arquette.
Arquette's attempt at control consisted of keeping his mouth open throughout the dance. So much so that the eye was drawn to his fillings rather than his twirlings. His face described someone in the midst of a very troubling narcotic episode. His body, on the other hand, described an older man who is desperate to keep up with a woman half is age in a club. (Johnson surely isn't half his age.)
Arquette's tension was as palpable as the crown he surely had inserted in his second tooth from the back on the lower left side.
Inaba loved the enthusiasm, but felt he was a little too loose. She wanted him to take his energy a little lower.
Goodman was less enthusiastic, though he too liked the enthusiasm. "Any connection that had with the jive was a coincidence," he groaned.
Elisabetta Canalis, though Italian, has begun to talk English with a Russian accent. However, it was her body language that told her professional partner, Val Chmerkovskiy, that she was not happy. In the rehearsal room she was in a mood not at all appropriate for quickstep, nor slow step, nor even Berlusconi bunga-bunga.
The quickstep, she declared, wasn't natural. And everything about George Clooney is?
"You were treating me like s---," she told her partner.
Their dance began with Chmerkovskiy holding an Italian dictionary. The music, quite naturally, was The Pretenders. Canalis attempted to keep her composure, while Chmerkovskiy offered more skips than your average building site. At the end, she looked as happy as week-old soot.
"It wasn't great, but it was better than last week," suggested Goodman.
Tonioli felt her pistons were pumping. He wanted her to have lines "as good as any Lamborghini."
Rob Kardashian is worried about the lines described by his man boobs. He doesn't seem to like himself very much. Which some might find understandable. During his jive it was still at times easy to mistake Kardashian for the dance floor. Both are wooden. However, some will have found it touching that he tried to gut (and man boob) his way through it.
"You've started to blossom," shrieked Tonioli. "Your timing was excellent."
It's official," ululated Inaba. "Rob Kardashian is a better dancer than Kim Kardashian."
And David Letterman is a better singer than Mother Teresa.
Carson Kressley has all the co-ordination of white slacks and deep orange underwear. In rehearsals, he wore a knee brace. In the real thing, he danced his quickstep like a twig in a bracing wind. His limbs blew all over the dance floor, with little intent other than survival.
It was like watching a nerd impersonate a bird.
"I saw improvement," said Inaba, although she didn't seem sure where.
"If I held my knife and fork like you held Anna I'd starve to death," said Goodman about Kressley and his partner, Anna Trebunskaya.
Ricki Lake jiving. Not everyone thought they'd ever see that.
Lake has the showwomanship. What she lacks is the ability to get her body to move to the places she wishes it would. Which means there is a severe contrast with the lines described by her partner, Derek Hough, and her own.
Still, she shook it as best she could and pouted like this was burlesque night.
"There were a couple of steps that disturbed me a little bit," shivered Goodman.
"You're the first person tonight who did the kicks and flicks correctly," countered Tonioli. "And you got to sit on Derek."
Goodness.
Lake claims to have lost 12 inches in three weeks. I am not sure from where. Or did she mean 12 pounds?
Chaz Bono is another who is worried about his pounds. But he's also worried about the pounding in his knees. Partner Lacey Schwimmer, clearly conscious of the potential for serious injury, took much of the quick out of this quickstep.
Though Bono tried hard, this was messy. Bono's movements were so limited that they reminded one of the minds of his critics.
"I could actually see you in pain," said Inaba. "Your charm takes you so far."
But only so far.
"I've moved faster through the car wash," said Goodman.
If you think this show isn't hard, please consider the plight of Schwimmer when she got home after the show. For she tweeted: "Walked into my house right now to chewed up papers, some vomit and feces. Awesome. Whipping out my bleach as we speak. Thanks pups!"
Last week's surprise puppy, Chynna Phillips, was ready to jive. In rehearsals, her expletives ranged from "fudge" to "fudgecicles," until the pressure got to her when she swore and then declared: "Sorry, Jesus, I just have to curse." Which would be a great title for a country song.
Phillips didn't exactly stretch her legs out - they looked like barely active fudgecicle-laden icicles at times. However, she feels the music and her hips are a lot more alive than, say, Goodman.
"I kind of felt you played it a little safe," sniffed Inaba, correctly.
"It was polite," said Goodman, while Tonioli was desperate to see the "sexy siren." Isn't he always?
It was time for Nancy Grace. She offered a philosophical disquisition on the difference between the courtroom and the dance floor. She thinks she's better in one than on the other. Shockingly, she never had a partner at trial.
In rehearsal, Grace refused to show her steps alone to partner Tristan McManus. So he called proceedings off for the day. In the real thing, she gave it everything she had. Which isn't a lot, but it is something more than she had last week.
However, as she approached the judges' table, you could see Tonioli's eyes bulging like steroid-fueled biceps. Yes, Grace had gone Janet Jackson. The right side of her chest had gone rogue. I am sure that Justin Timberlake cannot be blamed for this exposure of evidence, though perhaps the FCC will still be looking (closely) into the incident.
"On the European version, that would be absolutely fine," soothed host Tom Bergeron, ever prepared to keep the jury amused.
"How refreshing," said Goodman. I think he was referring to her dancing.
Tonioli couldn't resist, though. "It was a bit top-heavy at times," he emoted.
Iraq war hero and actor J.R. Martinez believes he is the worst-known of all the stars, so he has work extra hard.
Martinez is utterly natural. In a working man's flat cap, he was perfectly in synch with partner Karina Smirnoff. This was the jive of a professional, not an unknown. It fully deserved a standing ovation. Neither a foot nor a flat cap was put wrong.
"The most satisfying overall performance of the night," said Tonioli.
Inaba wafted into her obsession with lifts, which are supposed to be reserved for the later rounds. Goodman declared it wasn't a jive, but a Lindy Hop.
But who really remembers what these whiners thought when Martinez lifted the audience?
TOP THREE: J.R. Martinez, Kristin Cavallari, Ricki Lake
BOTTOM THREE: David Arquette, Carson Kressley, Chaz Bono
Thanks for reading CBS NEWS.
Create your free account or log in
for more features.