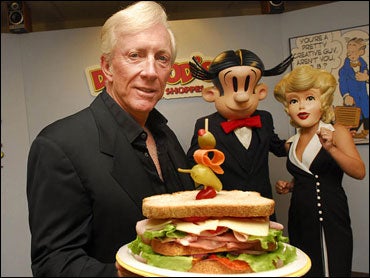 Dagwood Goes Into Sandwich Business
After building his first skyscraper sandwich in a 1936 Blondie comic strip, Dagwood Bumstead - well, at least the man behind him - is finally making his daydream of venturing into the food business come alive.
The first in a planned chain of "Dagwood's Sandwich Shoppes" is due to open in Clearwater, Fla. in August.
"I have had this idea for 30 or 40 years," said company co-founder Dean Young, 66, who inherited the job of drawing Blondie from his father, creator Chic Young, in 1973.
In the cartoon strip, Dagwood is a hapless member of the middle class, having landed there after marrying Blondie Boopadoop, a gorgeous flapper that his father - billionaire railroad tycoon J. Bolling Bumstead - disapproved of so heartily that he disinherited Dagwood from his playboy lifestyle.
After moving into an average neighborhood, Dagwood has toiled well past normal retirement for J.C. Dithers, the tyrannical head of a construction company and a perennial candidate on anybody's list for Bad Boss of the Year.
In the meantime, the Dagwood sandwich - which appears to contain just about everything out of the Bumstead refrigerator - has become a mainstay of the comic pages and a dictionary entry. As Webster's New World College Dictionary defines Dagwood: "a thick sandwich with a variety of fillings, often of apparently incompatible foods."
But the chain isn't planning the slapdash approach to sandwiches that Dagwood prefers in his midnight kitchen raids.
Young, while experimenting with various sandwiches for decades, came up with about 1,000 recipes that are now being narrowed in a New Orleans test kitchen to a final menu of sandwiches, soups and salads, along with wine and beer, aimed at the 35-plus crowd.
"The boomers have clearly demonstrated they are getting away from hamburgers and fried foods," said company co-founder, Lamar Berry, a New Orleans native and veteran of the franchised restaurant business. "We are not your father's or grandfather's sub shop."
Berry said the planned menu includes Cuban sandwiches, New Orleans-style roast beef sandwiches, corned beef and pastrami, along with cold cuts and cheese. And the stores will feature an actual Dagwood, checking in at a pound-and-a-half and several inches tall, for those with huge appetites and wide jaws.
About 25 of the 100 Dagwood's territories mapped out in the United States already are spoken for and interest is coming from overseas, Berry said. Berry expects 12 to 15 stores to be open by the end of the year and up to 200 by the end of 2007. The company's operations will be split between Clearwater and New Orleans.
Dagwood, like many comic characters, has been an endorsement symbol for other products, such as, in his case, A&W Root Beer.
"To my knowledge, I don't think any comic strip character has leaped off the pages and gone into the restaurant business, except for my buddy Dagwood," Young said of his self-proclaimed alter ego.
Ron Paul, an analyst with food industry consultant Technomic Inc., said Dagwood's will be entering a market with no shortage of competition.
"On the other hand, there is no evidence that we're really saturated yet. That's the good news for these folks," Paul said.
Will Dagwood himself finally escape Dithers' overbearing grasp - and occasional foot to the derriere - and go into the sandwich shop business via the comic pages? After all, Blondie has had her own catering business for years.
Not a chance, Young said.
"He's going to keep talking about it," Young said. "Not that guy. He's got to keep working for Dithers."
Thanks for reading CBS NEWS.
Create your free account or log in
for more features.