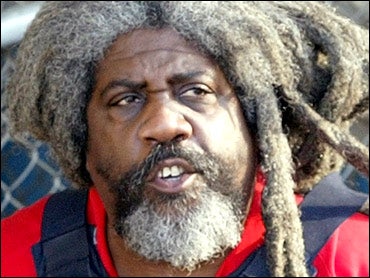 Dad Guilty Of Killing His 9 Kids
Marcus Wesson, the domineering patriarch of a large and incestuous clan, was convicted Friday of murdering nine of his children, whose bodies were found in a bloody pile last year at the end of a police standoff.
Wesson, 58, could get the death penalty.
The jury took more than two weeks to find Wesson guilty on nine counts of first-degree murder. He was also convicted on all 14 counts of raping and molesting seven of his underage daughters and nieces.
The defense had argued that Sebhrenah Wesson, 25 - the oldest to die - killed herself as well as her siblings and the 1-year-old son she had with her father. Prosecutors said Marcus Wesson was the triggerman, but they also argued that even if Sebhrenah did the shooting, her father should still be found guilty if he encouraged her to kill.
The jurors accepted the prosecution's second theory: They found Wesson guilty even though they decided the government did not prove he pulled the trigger.
Several witnesses had testified that Wesson had repeatedly coached the children to be ready to kill each other and themselves if authorities ever threatened to break up the clan.
Many of Wesson's surviving family members still support him, and stifled sobs as a clerk read the verdicts. Wesson remained quiet and still.
The jury will return on Wednesday for the penalty phase.
The slayings were the worst murder case ever seen in this agricultural town in the heart of California's Central Valley.
Officers were summoned to Wesson's rundown home on March 12, 2004, after two Wesson nieces who had escaped from the home went back to try to get their children.
Wesson talked with officers at the front door, then went into the back bedroom and shut the door. About an hour and 20 minutes later, he emerged, blood on his clothing, and turned himself in.
In the bedroom was a bloody pile of corpses, each shot through the eye. Officers pulled out the bodies of Sebhrenah Wesson and the eight others, ranging in age from 1 to 17.
No fingerprints or gunshot residue indicated who fired the murder weapon. But Wesson's surviving children testified that he wielded a high degree of control over his large clan: He preached to the family daily, weaving a dogma of polygamy and incest from his interpretations of the Bible and Seventh Day Adventist beliefs.
He was particularly severe with the young women, who testified they were home-schooled and had almost no contact with anyone outside the family.
Wesson beat them for speaking with men, and molested them from age 7 or 8. He also took any money they earned and dictated what they could eat.
By Juliana Barbassa
Thanks for reading CBS NEWS.
Create your free account or log in
for more features.