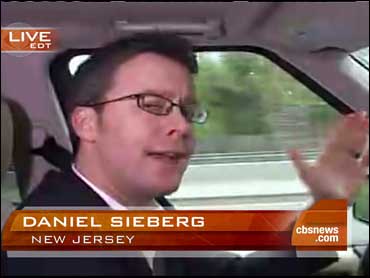 "Cyber-Shame" For Bad Drivers
We've all seen rude and reckless drivers on the road. And it's frustrating that there's little we can do about them.
Well that's changing now, according to CBS Science and Technology Correspondent Daniel Sieberg, who took on the roads of New Jersey.
As you head out on your morning commute, consider that you're not alone in the battle against bad drivers. All thanks to some Web sites that now help you fight back.
Bad drivers are everywhere and often seem to just get away with crossing the line - especially if their behavior doesn't result in an accident.
Not anymore.
A close call used to mean just cursing the other driver, and maybe risking a case of road rage. But now, thanks to the Web, you can share that frustration with others. Call it "cyber-shaming."
"Sometimes shaming will work. Sometimes it doesn't work. But the point of this site is it gets people talking about it," said Mark Buckman, who started PlateWire.
PlateWire is a Web site where people can submit the license plate of drivers deemed too dangerous or reckless.
"I felt the Internet could use a place for people to communicate. To take the anonymity out of the roadway. To have a place to say, 'Hey, I witnessed this,'" he said.
Clearly the idea is hitting a nerve as several bad driving sites have popped up, from taking on people who take up more than one parking stall, to the site L.A. Can't Drive, that grades L.A. drivers on an idiocy scale. Cyclists can document their harrowing encounters at Bikesafer.
Psychotherapist Robi Ludwig says sharing the experience with other people can ease the frustration - to a point.
"If they're using it appropriately, a way to kind of release your anger, feel like you're exposing somebody, who doesn't know what they're doing and then you can move on," Ludwig explained. "It seems fairly harmless and kind of fun."
So, you never know if that other driver is ready to report your terrible driving to the entire World Wide Web for everyone to see.

Thanks for reading CBS NEWS.
Create your free account or log in
for more features.