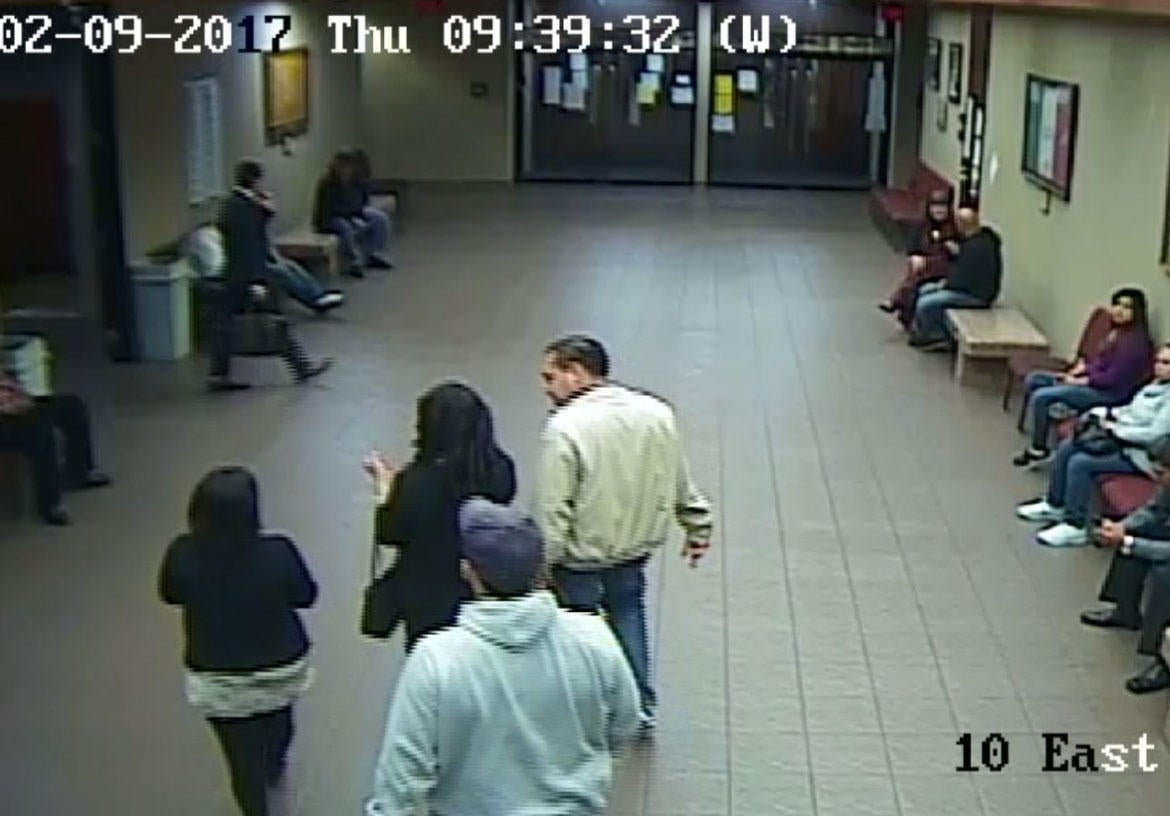 Customs arrest in courthouse sends "horrible" message, official says
EL PASO, Texas -- Local Texas officials said a review of courthouse security footage shows federal immigration agents detained a transgender woman seeking a protective order for alleged domestic violence while she was inside the courthouse.
El Paso County Attorney Jo Anne Bernal said she reviewed the courthouse security footage that shows federal agents entering the courthouse on February 9, approaching Irvin Gonzalez as she was leaving the protective-order courtroom and escorting her out of the building by the elbow.
A U.S. Immigration and Customs Enforcement spokesman issued a statement Thursday confirming Gonzalez had been detained and noting she had several criminal convictions since 2010 including larceny and assault and had been deported six times.
"There really are two separate issues: What happened to this individual client, which we think was wrong, and the larger picture is the chilling effect of having immigration officials in a courthouse and in a protective-order courtroom," Bernal said. "If immigration officials are going to be roaming freely in a place where people seek justice, then people are not going to seek justice."
ICE agents wrote in an affidavit used to detain Gonzalez that they approached and took her into custody outside the courthouse. The agency's statement does not address the discrepancy in the two accounts.
Bernal said the footage is clear from the security cameras.
"An agent is holding her elbow as he leaves the courthouse with our client. I would say that is being detained," she said.
CBS El Paso affiliate KDBC-TV reports Bernal said the woman was a victim of domestic violence and had filed three reports about the alleged abuse, with the most recent occurring when her partner allegedly chased her with a knife and threw it at her.
The woman received a protective order for the domestic violence claim on Feb. 9 before being detained by ICE.
Bernal said a federal agent was inside the courtroom and sat through the proceedings. That agent, along with another outside the courtroom, waited for the proceeding to end before arresting the woman, KDBC reports.
Bernal said she and other county officials planned to meet Friday with state, local and federal officials to ask that ICE refrain from similar enforcement actions in the future. She said the detainment was an isolated incident.
District Attorney Jaime Esparza told KDBC it is difficult for victims to reach out, and he wants to make sure they know their status in the country doesn't matter and that they have "the right to live in a safe community."
Esparza said he is concerned that the ICE agents came into the courthouse, and that it "sent a horrible message to victims of domestic violence."
Bernal said the arrest happened after ICE received a tip that the woman would be in court that day.
"I'm suspicious that the tip may have come from the abuser, who knew precisely where the victim would be at that time and date since he had received notice to be in that courtroom as well," Bernal said Wednesday.
County Judge Veronica Escobar said that the El Paso community, "documented or undocumented," has been able to enjoy a positive relationship with law enforcement, and she was concerned about their relationship after the arrest.
ICE policy restricts agents from enforcement actions at places deemed sensitive including churches, schools and hospitals, and requires consultation with supervisors before taking action at places that assist children, pregnant women or victims of crime or abuse.
Victim advocates said detaining people seeking protective orders could deter others from seeking help.
Cesar Campa, community relations director for the Center Against Sexual and Family Violence in El Paso, said the center has received multiple calls since Gonzalez was detained from victims of domestic violence asking if they would be detained if they sought a protective order.
The American Civil Liberties Union also issued a statement Thursday calling for Gonzalez to be released, and for the agency to denounce enforcement actions against people seeking help as victims of crimes.
"This wrongheaded enforcement action sends the message that if a victim is undocumented, future domestic abuse may go unpunished. Home invasions may go unpunished. Rape may go unpunished. Human trafficking may go unpunished. If ICE stands by this arrest, it will make every city in America with an undocumented population - which is every city in America - less safe," ACLU of Texas Executive Director Terri Burke wrote.
Thanks for reading CBS NEWS.
Create your free account or log in
for more features.