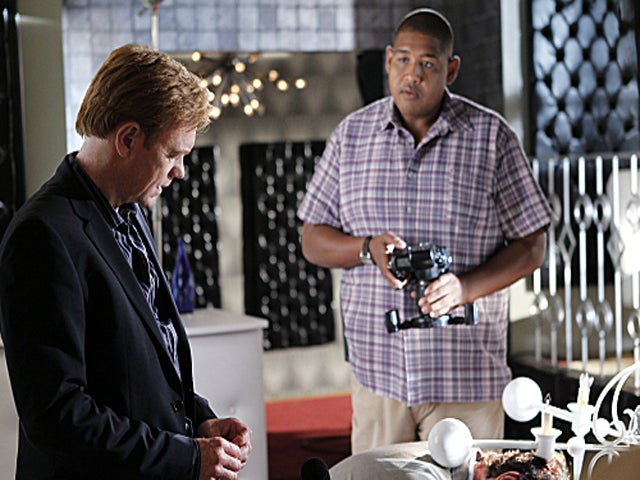 "CSI: Miami" season finale: Expect a major twist, says Omar Miller
(CBS News) "CSI: Miami" fans may be in for a bit of a surprise, come Sunday when the season 10 finale airs on CBS.
"There's a twist and internal conflict within the CSI squad - the resolution may be hard to swallow for some people," series regular Omar Miller told CBSNews.com.
Miller, who has played Walter Simmons on the hit crime series since 2009, wouldn't divulge any more details, noting it won't be long before viewers find out how the season will wrap.
Recently, though, some have wondered whether this Sunday's episode would instead be the show's series finale.
When CBS announced its 2012-2013 prime-time series renewals last month, "CSI: Miami" wasn't on the list.
"It was very emotional," Miller said of shooting the last episode of season 10. "There's so many rumors going on. I think everybody's been working together for so long. Everybody is anxious for us to fire up the lab again so we can solve some more crimes."
It doesn't mean the veteran show won't get picked up for another season, as some renewal announcements come closer to the network's upfront presentations later in the spring.
"Our fan-base is loyal and invested," Miller said. "With us not getting a nod during that time, the fans were up in arms. I think the worldwide demand is still very very high."
"We'll see," he added.
Miller is looking forward to taking some time off during the show's hiatus. The Los Angeles native had a busy couple of years, appearing in the 2010 Nicolas Cage film "The Sorcerer's Apprentice" and other projects, all while starring on "CSI: Miami." He recently launched the website, WhereIsOmar.com, where he will chronicle his travels and allow fans to post photos as well.
"I take a lot of pictures with fans all over the world," said Miller, a graduate of San Jose State University. "Now this is a way fans can share their photos. It will give a little insight into me personally."
Looking ahead, Miller hopes to spend some more time fighting crimes, too. With his "CSI: Miami" character graduating from the lab to the streets, Miller is even more excited about his role.
"The writers have done a great job incorporating my strengths into Walter's character," Miller said. "They allow me to do more and more every season."
No matter what the future holds, Miller, who first fell in love with acting while doing theater, has big plans ahead.
"I just want to keep going," he told CBSNews.com "I want to look back when I'm an old man and say, 'I'm really happy that I was doing that' because this is the time to do it.''
"CSI: Miami" airs Sunday at 10 p.m. ET on CBS.
Thanks for reading CBS NEWS.
Create your free account or log in
for more features.