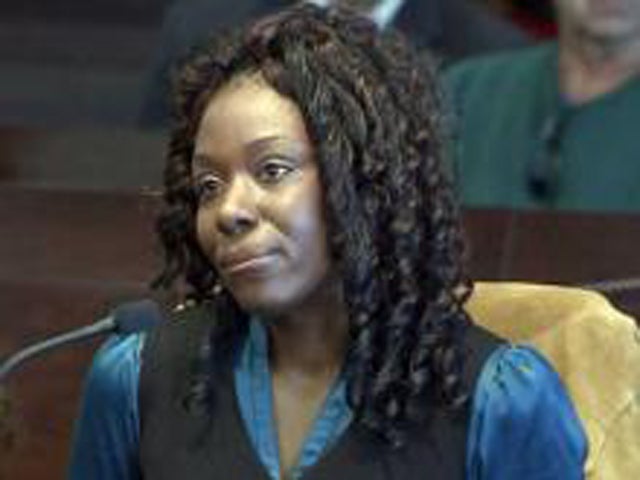 Crystal Mangum, Duke lacrosse accuser, convicted of murder
DURHAM, N.C. – Crystal Mangum, the woman who falsely accused three Duke University lacrosse players of rape in 2006, has been sentenced to 14 to 18 years in prison for the murder of her boyfriend, reports CBS affiliate WRAL.
A jury convicted the 34-year-old in the April 3, 2011 stabbing death of 43-year-old Reginald Daye.
The victim died of complications at Duke University Hospital ten days after the stabbing.
Mangum claimed Daye was beating her in a jealous rage and the stabbing was in self-defense.
An investigator who testified at the trial Tuesday reportedly said he interviewed Daye at the hospital before he died. Daye allegedly told him he ordered Mangum to leave his apartment because he was tired of her bringing other men over. The victim allegedly admitted kicking open the bathroom door and dragging her by the hair, but said he was trying to get away from the argument when she stabbed him.
According to WRAL, jurors deliberated for about six hours over two days before reaching a verdict.

Daye and Mangum had reportedly been dating for about a month when the incident took place, but his family members said they weren't a couple. They said Daye was only trying to help Mangum get back on her feet and had provided her a place to stay.
In March 2006, Mangum claimed that three white players on the Duke lacrosse team trapped her inside a bathroom where she was performing as a stripper at a team party, and raped her. But her story about the incident was so inconsistent that state officials later declared the players innocent, saying there was no credible evidence against them.
The station reports that the Duke case was barely mentioned in the murder trial.
In February 2010, police arrested Mangum after an altercation with a different boyfriend. In that incident, she was accused of assaulting the man in front of her children and setting some of his clothes on fire.
Thanks for reading CBS NEWS.
Create your free account or log in
for more features.