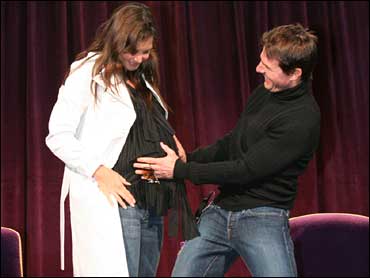 Cruise, Holmes Welcome Baby Suri
The silent birth heard around the world has finally happened.
Tom Cruise and Katie Holmes, the public lovebirds dubbed TomKat by the media, had a baby girl Tuesday, said Cruise spokesman Arnold Robinson.
Suri Cruise came into the world at 7 pounds, 7 ounces and 20 inches long. Her name has its origins in Hebrew, meaning "princess," or in Persian, meaning "red rose," Robinson said in a statement.
"Both mother and daughter are doing well," the publicist said.
People magazine's editor-at-large Jess Cagle tells CBS News' The Early Show that Suri was born in a hospital. Despite all of the media surrounding Cruise's home in Beverly Hills, the couple were able to leave the house, get to the hospital, and come back home without anyone knowing, Cagle says.
Details about the birth weren't disclosed, but it had been planned to take place as a silent procedure under the tenants of the Church of Scientology, to which both Cruise and Holmes belong.
Scientologists believe words spoken during times of pain are recorded by the "reactive mind" and can cause potential problems for both mother and child.
Suri's birth generated a huge noise among the world of Cruise-Holmes watchers.
"Yay, yay, yay," said actress and fellow Scientologist Kirstie Alley. "Bring her over so I can meet her."
"Tonight Show" host Jay Leno announced the birth to his studio audience.
"I just got a phone call that Tom Cruise had a baby girl about two minutes ago. No joke," he said.
Suri is the 27-year-old actress' first child. Cruise, 43, has an adopted daughter and son with his ex-wife Nicole Kidman.
In an ironic twist of fate, Suri was born on the same day actress Brooke Shields gave birth to her daughter Grier Hammond Henchy.

Shields and Cruise had a public spat last year after he criticized the actress for taking antidepressants following the birth of her first child.
Cruise said depression can be treated with exercise and vitamins rather than drugs. Shields dismissed the actor's remarks as a "ridiculous rant," adding it appeared obvious he had never suffered from postpartum depression.
There were no signs of depression at the Beverly Hills home of Cruise and Holmes on Tuesday, where about a dozen reporters and photographers stood outside the gates and a steady stream of tourists and curious passers-by stopped to take a look. Some visitors left baby gifts outside the gate, which was shrouded in black to keep anyone from peering inside.
A police motorcycle officer stopped in the late afternoon to watch the goings-on. The patrolman, who identified himself as Officer Chase, said he was making a routine check because there had been heightened activity around the area.
He asked if Holmes had given birth yet and, told she had, he drove off.
Meanwhile, a publicity blitz for the new Cruise movie "Mission: Impossible III," which was to begin Wednesday, has been put on hold. The actor has canceled all press appearances, according to Paramount Studios.
It was just about a year ago that Cruise's romance with Holmes became a worldwide sensation.
The actor hopped up and down on a couch during an interview with Oprah Winfrey as he professed his love.
"I can't be cool. I can't be laid-back," Cruise declared at the time. "Something happened and I want to celebrate it."
The antics were widely mocked but Cruise was unfazed and continued to display his affection for the star of TV's "Dawson's Creek."
The couple were first photographed together in Rome in April 2005. Two months later, Cruise announced he had proposed to Holmes atop the Eiffel Tower.
"Today is a magnificent day for me, I'm engaged to a magnificent woman," he said.
No wedding date has been disclosed.
Holmes was previously been engaged to actor Chris Klein. Cruise, previously married to Mimi Rogers and Kidman, also had a high-profile romance with Penelope Cruz.

Thanks for reading CBS NEWS.
Create your free account or log in
for more features.