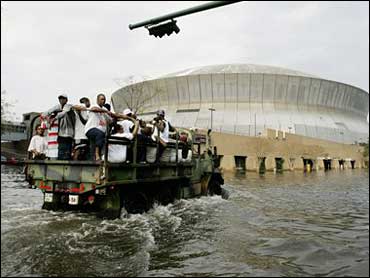 Crisis Deepens In New Orleans
Helicopters dropped sandbags on two broken levees as the water kept rising in the streets. The governor drew up plans to evacuate just about everyone left in town. Looters ransacked stores. Doctors in their scrubs had to use canoes to bring supplies to blacked-out hospitals.
New Orleans sank deeper into crisis Tuesday, a full day after Hurricane Katrina hit.
"It's downtown Baghdad," said tourist Denise Bollinger, who snapped pictures of looting in the French Quarter. "It's insane."
The mayor estimated that 80 percent of New Orleans was flooded, while a countless number of residents were still stranded on rooftops.
Hospitals were running out of power and scrambling to find places to take their patients. At one clinic, broken glass littered some areas and patients and staff had fallen on floors slick with floodwaters.
"It's like being in a Third World country," said Mitch Handrich, a registered nurse manager at Charity Hospital, where nurses were ventilating patients by hand after the power and then the backup generator failed. Some 300 patients had yet to be evacuated, but the babies in intensive care had been flown out.
"We're just trying to stay alive," Handrich said.
Gov. Kathleen Blanco said that everyone still in the city, now huddled in the Superdome and other rescue centers, needs to be evacuated. The Federal Emergency Management Agency is considering putting people on cruise ships, in tent cities, mobile home parks, and so-called floating dormitories — boats the agency uses to house its own employees.
CBS News affiliate WWL-TV reports that many parishes are not allowing residents to return under any circumstances.
CBS News Correspondent John Roberts that the New Orleans' mayor said that it will be two to four weeks before anyone is allowed back into downtown. It will take two weeks to deal with the flooding and it will take at least a month to repair the power grid.
Rescue teams were still picking up people throughout the city Tuesday, leaving them on island-like highway overpasses and on a levee to wait to be moved again. Eventually, they will end up in the Superdome, where 15,000 to 20,000 people have taken already refuge, said Louisiana National Guard Maj. Gen. Bennett C. Landreneau. One person died at the Superdome attempting to jump from one level to a lower one.
Among the evacuees are 5,000 inmates from New Orleans and suburbs that need to be moved. Officials were trying to figure out how.
The historic French Quarter appeared to have been spared the worst flooding, but its stores were getting the worst of human nature.
"The looting is out of control. The French Quarter has been attacked," Councilwoman Jackie Clarkson said. "We're using exhausted, scarce police to control looting when they should be used for search and rescue while we still have people on rooftops."
CBS News Correspondent Lee Cowan reports that the order that prevailed in the city leading up to the largest evacuation in history is now beginning to fray.
At one downtown Walgreens, when police finally showed up, they assisted looters take food and other essential supplies over to another neighborhood that had been hit harder.
As Sen. Mary Landrieu flew over the area by helicopter, a group of people smashed a window at a convenience store and jumped in.

At a drug store in the French Quarter, people were running out with grocery baskets and coolers full of soft drinks, chips and diapers. One looter shot and wounded a fellow looter, who was taken to a hospital and survived.
Only rooftops were visible in several neighborhoods and the occasional building was in flames.
On a grassy hill in the Carrolton neighborhood, a group of people watched the water quickly rising in the street, about a foot an hour by some estimates.
William Washington had gone to bed in dry house Monday night, well after the hurricane had passed. The water came up Tuesday after the levee broke, and by afternoon his home was flooded.
"We're trying to get to the Superdome," Washington said as he waited with neighbors. "We're waiting for the National Guard. The radio mentioned that they would pick people up."
With hundreds, if not thousands, of people still stranded in flooded homes, attics and rooftops across the city, rescue boats were bypassing the dead to reach the living, Mayor C. Ray Nagin said.
"We're not even dealing with dead bodies," Nagin said. "They're just pushing them on the side."
A few more feet of water could wipe out the entire city water system, said Terry Ebbert, the city's homeland security chief.
The intestates are impassable, the bridges may be unstable and no one knows if the buildings can withstand the damage brought by Katrina, the governor said after flying over the region.
"We saw block after block, neighborhood and neighborhood inundated," Blanco said, her voice breaking with emotion. "It's just heartbreaking."
Sean Jeffries of New Orleans had already been evacuated from one French Quarter hotel when he was ordered out of a second hotel Tuesday because of rising water.
The 37-year-old banker — who admitted to looting some food from a nearby supermarket — said the hotel guests were told they were being taken to a convention center, but from there, they didn't know.
"We're in the middle of a national tragedy," he said as he popped purloined grapes in his mouth. "But I know this city. We will be back. It may take awhile. But we will be back."
Thanks for reading CBS NEWS.
Create your free account or log in
for more features.