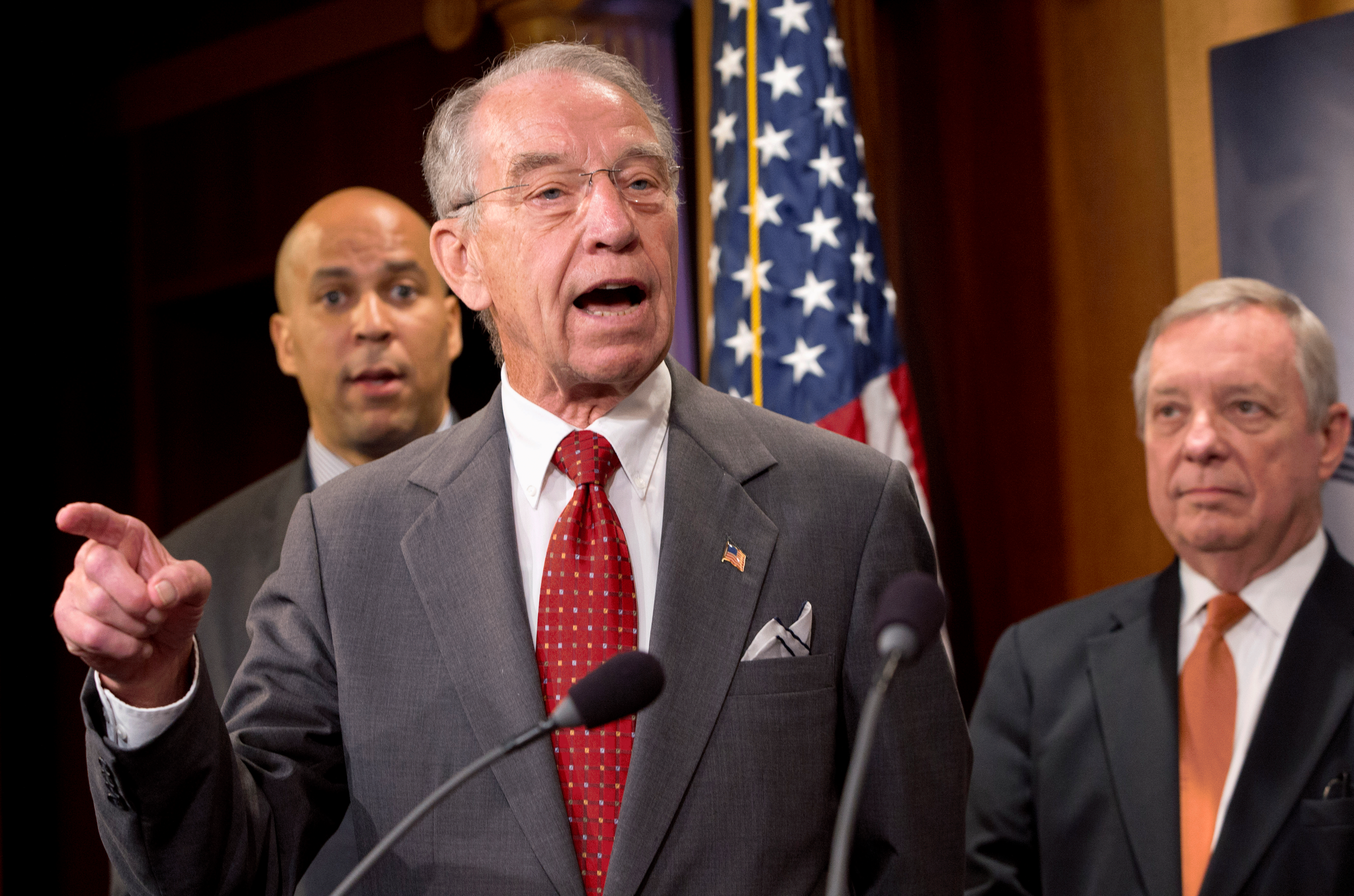 Criminal justice overhaul unveiled by bipartisan Senators
WASHINGTON - A bipartisan group of senators unveiled legislation on Thursday that would overhaul the nation's criminal justice system, allowing some nonviolent drug offenders to get reduced prison sentences and giving judges greater discretion in sentencing.
"This historic reform bill addresses legitimate over-incarceration concerns while targeting violent criminals and masterminds in the drug trade," Sen. Charles Grassley, R-Iowa, chairman of the Judiciary Committee, said in a statement.
In the deal struck between some of the Senate's most conservative and liberal members, judges would have the discretion to give sentences below the mandatory minimum for nonviolent drug offenders. Some current inmates could get their sentences reduced by as much as 25 percent by taking part in rehabilitation programs, if they are deemed a low risk to offend again.
The bill would eliminate mandatory life sentences for three-time, nonviolent offenders.
Violent offenders, sex offenders and inmates convicted of terrorism charges would be excluded. Members of organized crime syndicates and major fraud offenders would also be excluded.
The package, which was years in the making, should have momentum in the Senate. It was negotiated by some of the most powerful senators, including Senate Judiciary Chairman Charles Grassley, R-Iowa, and the top Democrat on the panel, Vermont Sen. Patrick Leahy. Texas Sen. John Cornyn, the No. 2 Republican in the Senate, and Illinois Sen. Dick Durbin, the No. 2 Democrat, were also lead negotiators.
At a news conference Thursday, the senators congratulated each other for reaching a bipartisan compromise at a time when such agreements are rare.
"This is the way the system is supposed to work," Cornyn said.
At the same time, the senators acknowledged they weren't sure if such a compromise would be acceptable in the more polarized House. A House Judiciary Committee spokeswoman said the panel expects to introduce legislation soon.
The White House hasn't commented on the bill. But in July, President Barack Obama became the first president to visit a federal prison while in office. He called for changes in the criminal justice system, saying a distinction had to be made between young people doing "stupid things" and violent criminals.
Among the senators' goals: Make the sentencing system more fair, reduce recidivism and contain rising prison costs.
Since 1980, the federal prison population has exploded, in part because of mandatory minimum sentences for nonviolent drug offenders. In 1980, the federal prison population was less than 25,000. Today, it is more than 200,000.
"People are being entangled in the justice system who just shouldn't be," said Holly Harris, executive director of U.S. Justice Action Network. "And when they come out, they're better criminals, they're not better citizens."
"So, too many people are in prison, we're spending too much money to keep them there, and we're not getting the public safety return we deserve," she added.
Harris, whose group has been pushing for an overhaul of the criminal justice system, said she was encouraged by how broad the Senate legislative proposal is. She said the political climate has changed dramatically from the 1980s and '90s, when many politicians were afraid to push such an initiative out of a fear they might appear soft on crime.
"In my book, this isn't a tough vote," Harris said. "People are educated on this and they want these reforms."
Republicans backing the bill include Sen. Mike Lee of Utah, Sen. Tim Scott of South Carolina and Sen. Lindsey Graham of South Carolina, who is running a longshot campaign for president.
Sen. Chuck Schumer of New York, the No. 3 Democrat in the Senate, is also backing the bill, as are Democratic Sens. Sheldon Whitehouse of Rhode Island and Cory Booker of New Jersey.
The bill would require all eligible inmates to undergo regular assessments to determine the likelihood of committing another crime. It would not authorize any new spending. But it would encourage inmates to take part in rehabilitation programs and other productive activities, such as working prison jobs.
Inmates deemed to be a low risk for a repeat offense could get their prison sentences shortened by 10 days for every 30 days they participate in a rehabilitation program. These inmates could serve the last part of their sentences in community-based programs in which they would be supervised by authorities.
The bill would reduce enhanced penalties that apply to repeat drug offenders. However, the penalties would still be applied to offenders with prior convictions for violent and serious drug felonies.
Thanks for reading CBS NEWS.
Create your free account or log in
for more features.