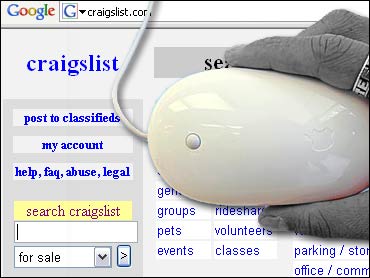 ​Craigslist date ends with woman found tied up, bag over her head
CALEDONIA TOWNSHIP, Mich. -- Michigan State Police say a man is facing multiple charges for allegedly kidnapping a woman he met through Craigslist.
Lt. David Kaiser said troopers pulled over the 41-year-old Chesaning man around 2:30 a.m. Wednesday in Shiawassee County for suspicion of drunken driving, and that's when they heard a woman calling for help as they approached his car, CBS Detroit reported.
According to Kaiser, troopers found a 22-year-old Okemos woman in the back seat with a bag over her head, tape over her mouth and hands tied behind her back.
Still, she wasn't seriously injured.
According to CBS Detroit, Kaiser said the man posted an ad on Craigslist expressing his interest in finding a submissive partner, luring the victim with a phony profile.
"The young lady answered the ad on Craigslist. She chatted with the person online and agreed to meet him," Kaiser told the station. "However, the mistake she made was she met him in a remote, secluded area near his home. She got into his vehicle and once they were moving, she realized this guy looked nothing like the picture that he had sent her. Also, the conversation wasn't anything like it was online."
The woman tried to end the date and told the man to pull over, but he wasn't having any of it.
"She was assaulted, she was choked, her arms were zip-tied, duct tape was placed over her mouth, a bag was placed over her head and she was thrown in the back seat of the car," said Kaiser.
The woman wasn't willing to go quietly, though. Kaiser said she continued to kick the man and the back of the driver's seat, causing him to swerve across the road.
"Troopers observed this vehicle and pulled him over for suspicion of drunk driving," he said.
The woman was taken to safety and the man was instread arrested on suspicion of kidnapping and assault by strangulation.
His name has not yet been released.
Kaiser said the woman is lucky to have made it out of the situation alive.
"What we learned after this, is the lady is actually very fortunate she wasn't further assaulted or killed," he said. "The man used a fictitious photo, he used a fictitious name and he had a throw-away email account which would make it very difficult for an investigator, had something happened to her, to locate this person."
"If a person doesn't want to meet you in a public place, that should be your first red flag that nothing good is going to come of this," Kaiser cautioned.
Thanks for reading CBS NEWS.
Create your free account or log in
for more features.