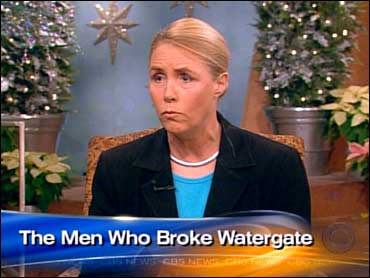 Cracker Barrel Customers Sue
Twenty-one people filed a $100 million federal lawsuit against Cracker Barrel restaurants Thursday, accusing the nationwide chain of widespread racism, from segregating black customers in the smoking section to denying them service.
It was the largest civil rights lawsuit against a restaurant chain since Denny's settled a $46 million discrimination lawsuit in 1994.
The suit, to be filed Thursday in federal court in Rome, Ga., accuses Cracker Barrel Old Country Store, Inc. of systematic discrimination and documents acts of alleged racism in 175 cities in 30 states.
The restaurant chain, which for years has been known for its country store motif and homestyle cooking, owns and operates a chain of 450 restaurants in 37 states.
Cracker Barrel spokeswoman Julie Davis said the charges are false and that the company responds to the concerns of all customers.
"Our mission is pleasing people and that means all people," she said. "We do not tolerate discrimination of any kind."
The plaintiffs are represented by one of the nation's largest civil rights law firms, Gordon, Silberman, Wiggins & Childs.
"The descriptions of the treatment endured by African American customers in these restaurants is appalling," said attorney David Sanford.
"It can't be the case that Cracker Barrel doesn't know about it," he told a news conference Thursday. "We have enough evidence right now to suggest that Cracker Barrel, to the very highest level, is responsible."
Much of the lawsuit focuses on the statements of black customers, recounting how they were forced to wait while white customers were promptly seated.
In one such case, Chandra Harmon, a resident of Smyrna, Ga., says she arrived at a Cracker Barrel restaurant in Chattanooga, Tenn., at 9:48 p.m. and was told by a server that the restaurant was about to close. At 10 p.m., Harmon watched as four white men were allowed into the restaurant. Through the window, she saw them eating and drinking.
"We had hungry children and he still refused to serve us," Harmon said of the incident in July, referring to the manager.
Later, the manager insisted the men were seated before Harmon arrived.
"There are perhaps thousands more African-Americans who have been denied service, treated rudely by servers and hosts, and subjected to racial slurs at Cracker Barrel restaurants," said Grant Morris, another attorney. "This is the tip of the iceberg."
The lawsuit also draws upon the statements of Judith Robertson, a former executive coordinator at Cracker Barrel's headquarters in Lebanon, Tenn. Robertson, who is white, was responsible for responding to complaints made by customers on the company's hot line.
In a statement, Robertson says the company received 300 calls describing discriminations against minority customers, many more than received by other customers. She said those calls were often discussed, and then dismissed casually, by Cracker Barrel managers.
© MMI The Associated Press. All Rights Reserved. This material may not be published, broadcast, rewritten, or redistributed
Thanks for reading CBS NEWS.
Create your free account or log in
for more features.