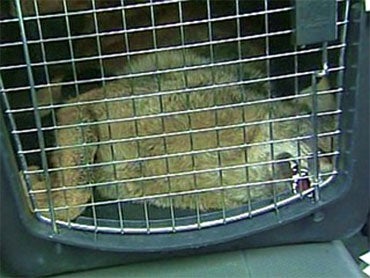 Coyote Captured in NYC Garage
Police in Manhattan captured a coyote on the loose Thursday morning after it was spotted a day earlier near the Holland Tunnel, reports CBS News Station WCBS-TV in New York.
(Scroll down to watch the report WCBS-TV filed on this story)
The rare city roamer was cornered in a parking garage by emergency service units shortly after 11 a.m. Thursday in the city's TriBeCa neighborhood. The animal was tranquilized and caged by officials. It will be taken to the Center for Animal Care and Control.
The coyote was first spotted Wednesday near the entrance of the Holland Tunnel. It headed south on Broadway after trotting around the circle outside the tunnel. Officers chased the animal with a noose on the end of a stick and even loaded up a tranquilizer dart gun. But the coyote eluded them by darting under a gate and disappearing down a street.
The sighting Wednesday was the fourth in Manhattan this year. Three coyotes were spotted on the campus of Columbia University last month, and earlier this month one was seen in the Chelsea neighborhood.
Another coyote showed up in Central Park and was caught on film by an amateur photographer.
Dr. Michael Farber, a veterinarian, said the animals are likely not pure coyote but hybrids that have bred with wild dogs. Such coyotes normally avoid contact with humans, Farber said.
"The biggest danger with them is that if someone were cornered threatening them, then they could fight back just like a wild dog would," Farber said. "They probably shouldn't be approached and they should be considered dangerous, only in that there's a lot of fear and they may act out of fear."
But Farber said there's no reason to panic. It's simply best to steer clear of anything that resembles a wild dog, he said.
"They're hungry," Farber said. "They're hungry animals looking for food, so a small debilitated dog out on its own might be considered easy prey. I suppose a small child, not likely, but if an animal's threatened or hungry enough and sees something that could be prey, certainly I'd keep an eye out."
Wildlife experts say the coyotes are likely coming south from Westchester County, making their way along Amtrak railroad tracks. They also say the coyotes are at the peak of breeding season, so quite a few coyote mothers may be giving birth to four to eight pups in April and May.
Local Video from CBS 2 HD in New York
---
Thanks for reading CBS NEWS.
Create your free account or log in
for more features.