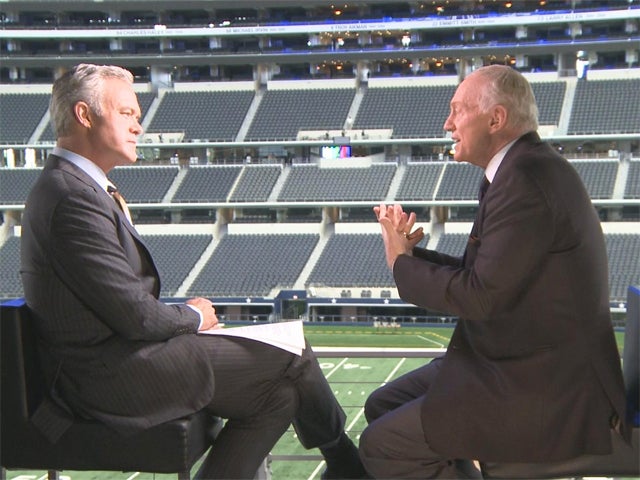 Cowboys owner determined to get HGH out of football
(CBS News) DALLAS -- Dallas Cowboys owner Jerry Jones has the most valuable NFL franchise, but he's had trouble making the playoffs. We talked to Jones about two issues that will have a big impact on the league: expanding overseas and expanding drug testing.
We first met Jerry Jones for a "60 Minutes" story at his monument to football, now known as AT&T Stadium. Jones is on the NFL's Management Council Executive Committee, and we wanted to know why the league and the players union haven't agreed to begin testing for the banned drug human growth hormone, or HGH.
---
SCOTT PELLEY: What would you say to the Players Association about human growth hormone and your desire to test for it?
JERRY JONES: Oh, I would say let's get-- let's get this together. Let's get on the same page. We said that's what we would do two or three years ago. Most players agree with that. The politics of getting that done are hard.
PELLEY: Well, if most players agree, as you say, and-- and you and management agree that HGH has to go, why has it taken three years, and you're still not there?
JONES: Well, Scott, if I could solve that, then move me on up to Washington and there's some problems up there I could solve.
PELLEY: You are determined to get HGH out of the game if indeed it's there?
JONES: Absolutely.
---
After Jones bought the Cowboys in 1989, he helped reinvent the NFL's business model, generating enormous wealth -- the Cowboys are now worth $2.6 billion. We asked Jones if there is even more room to grow.
---
PELLEY: The commissioner Roger Goodell seems hell bent to start a team in London. And I wonder what you think of that.
JONES: You know, Scott, only seven percent of NFL fans have ever been inside an NFL stadium. Just seven, not 70. And so it's television, and that's how people participate. So as far as our game is concerned, and all of our fans in the United States, a team playing in London can be viewed and be entertaining and be competitive and be very much a part of the NFL.
PELLEY: It sounds like you're for this.
JONES: I think I'm for growing the pie. I am for pushing the envelope.
PELLEY: But you see, looking down the road, professional American football being globalized?
JONES: Where we have great markets that have a history of being interested in NFL football, in American football, which we have that in Mexico, we certainly have it in Canada, can we have it in Great Britain? I think so. And so, yes, I think there's enough there to get interested. I haven't -- I'm not ready to vote for it yet, but that's what we're in, a trial stage to look at it over a two-year period.
---
Last week, Jones was inducted into the National Football Foundation's Leadership Hall of Fame.
Thanks for reading CBS NEWS.
Create your free account or log in
for more features.