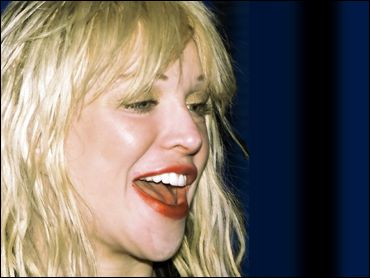 Courtney Love: I'm Not An Addict
Courtney Love has admitted to using heroin in the past, but says she doesn't have a problem now, despite being charged recently with drug possession.
"I want to make one thing clear right now. I do not take narcotics," Love tells Us Weekly magazine for its Nov. 17 issue. "I have taken prescription pills, and I went to rehab once. I take Xanax that is prescribed to me, but practically everybody does that nowadays. But I do not take street narcotics."
The 39-year-old actress and former Hole lead singer was arrested last month for allegedly breaking into the Los Angeles home of her ex-boyfriend, music producer Jim Barber.
Hours later, Love overdosed on painkillers in front of Frances Bean, her 11-year-old daughter with late Nirvana singer Kurt Cobain.
Los Angeles County child services workers took the girl away from Love, who was admitted afterward to a psychiatric ward for making a suicide threat, which she says was a joke. On Oct. 28, Love was charged with felony counts of possessing hydrocodone and OxyContin in connection with the overdose.
Now, Love says, "there is no fight" to regain custody of her daughter, who's staying with Love's stepfather and sister.
"She is back and doing great. We are in the middle of a reunification process," she says. "I have visitation time every day. ... My kid loves me, and I love my kid. She's been scared, but she's taking it like a champ."

Thanks for reading CBS NEWS.
Create your free account or log in
for more features.