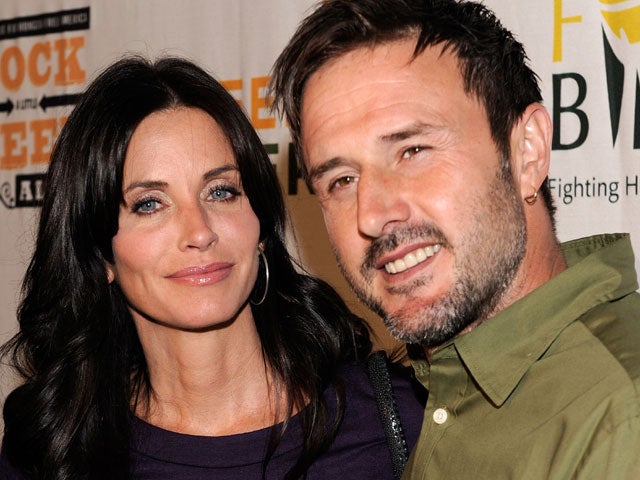 Courteney Cox and David Arquette Separate; David Schwimmer Gets Married
NEW YORK (CBS) More than one former "Friends" star has their relationships in the spotlight.
On Monday, actress Courteney Cox, who played Monica on the beloved sitcom, and husband David Arquette announced that they had separated. And on Tuesday, David Schwimmer, who played Ross on t he same show, announced that he and Zoe Buckman had tied the knot.
Pictures: Courteney Cox & David Arquette
Pictures: Celebrity Splits
Pictures: Celebrity Weddings & Engagements
Cox, 46, and Arquette, 39, released a joint statement announcing they had "agreed to a trial separation that dates back for some time."
"The reason for this separation is to better understand ourselves and the qualities we need in a partner and for our marriage," the statement said. "We remain best friends and responsible parents to our daughter and we still love each other deeply. As we go though this process we are determined to use kindness and understanding to get through this together."
They added, according to People magazine, "We are comfortable with the boundaries that we have established for each other during this separation and we hope that our friends, family, fans and the media also show us respect, dignity, understanding and love at this time as well."
The couple met on the set of "Scream" in 1996 and married three years later. They have a 6-year-old daughter, Coco.
Schwimmer's rep confirmed to the magazine that he and Buckman secretly tied the knot four months ago. According to the report, the couple wed in a small, private ceremony in early June.
Schwimmer, 43, reportedly met Buckman, a 25-year-old part-time photographer, in London in 2007, when he was directing the romantic comedy "Run, Fat Boy, Run."
According to People, Buckman was waitressing at the Cuckoo Club in the city's West End when she waited on Schwimmer. She then reportedly left her home in north London and moved to Los Angeles to be with him.
They announced their engagement in March of this year.
Thanks for reading CBS NEWS.
Create your free account or log in
for more features.