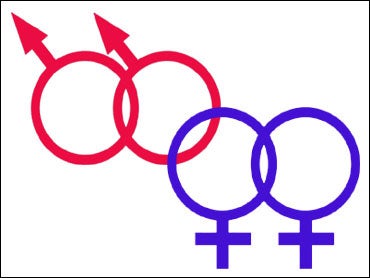 Court: Gay Pre-Nup Valid, Marriage Void
A New York City judge who said the Massachusetts marriage of two gay men was void has ruled the couple's separation agreement is valid and legally enforceable.
The judge issued the decision, published Monday, in the divorce case of David Gonzalez and Steven Green, who married in Massachusetts on Feb. 14, 2005. Gonzalez wanted a divorce, and Green wanted a ruling that they were never married.
Massachusetts is the only U.S. state that allows gay marriage, though other states allow civil unions that can include many of the rights of marriage.
State Supreme Court Justice Phyllis Gangel-Jacob said the marriage was void under both New York and Massachusetts law. New York does not recognize same-sex marriages, and Massachusetts bars marriage between domestic partners living in a state where the marriage would be void. The couple lives in New York.
Cohabitation does not prevent two unmarried people from making an agreement under the rules of contract law, Gangel-Jacob ruled, "provided only that illicit sexual relations were not part of the consideration of the contract."
Green, a real estate investor, and Gonzalez, a lawyer, moved in together in a New York suburb in 2001. In September 2005, they signed an agreement giving Gonzalez a one-time payment of $780,000 if they ended their relationship.
In January 2006, Gonzalez began his divorce action on the grounds of cruel and inhuman treatment. Green sought a declaration that the marriage was void and asked that all property he had given Gonzalez, including two automobiles and a ski house, be returned.
Green's lawyer, Yonatan Levoritz, said he will file an appeal next week to try to get his client's $780,000 back.
"If you were never married, why should you be paying spousal support?" he said.
The judge rejected Green's argument that the agreement was the result of a mutual mistake because both men had thought they were married.
Thanks for reading CBS NEWS.
Create your free account or log in
for more features.