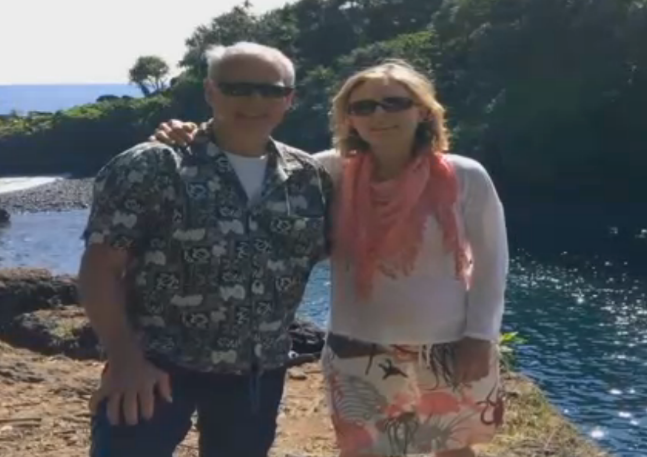 Couple contracts rat lungworm disease on Hawaii honeymoon
HANA, Hawaii -- Two newlyweds from California have spent a lot of time in the hospital since tying the knot earlier this year in Maui, CBS Honolulu affiliate KGMB reports.
They've been suffering from rat lungworm disease, as Hawaii authorities investigate a rising number of cases of the brain-invading parasite.
"My symptoms started growing to feeling like somebody was taking a hot knife and just stabbing me in different parts of my body," said 57-year-old Eliza Lape, who married Ben Manilla, 64, in January.
The couple spent two weeks in the Hana area of Hawaii, and Lape's symptoms began to surface before they went back to San Francisco.
Manilla spent a month in the ICU. He remains hospitalized, undergoing intensive rehabilitation.
"I've had several operations, two pneumonias, a blood clot," Manilla, who teaches at the University of California at Berkeley's Graduate School of Journalism, told KGBM. "Right now, I'm dealing with a kidney issue, all of which was spurred by the ratlung."
Rat lungworm disease, a condition in which parasitic worm larvae infect people's brains, is carried by rats and transmitted by snails and slugs. Officials say residents can reduce the risk of contracting the potentially life-threatening disease by thoroughly washing fruits and vegetables before consumption.
Health officials in Maui said six cases of the disease have been reported on the island over the past three months. Three of the cases have been confirmed, while a seventh involves a Maui woman who believes she contracted the parasite on the Big Island, Maui District Health Officer Dr. Lorrin Pang said.
Maui, which is Hawaii's second-largest island, has seen only two cases of the disease -- known to the medical community as Angiostrongylus -- in the past decade.
State epidemiologist Dr. Sarah Park said there is an average of about 10 rat lungworm cases each year statewide and that the recent spike is concerning.
Manilla and Lape don't know how they got the disease. They want others to take precautions and educate themselves, KGMB reports.
"Had we known we were walking into this kind of environment, we would have had a completely different attitude," said Manilla.
"It really does disrupt and destroy people's lives," said Lape.
The infection can cause a rare type of meningitis that triggers severe headaches and stiffness of the neck, tingling or painful feelings in the skin or extremities, fever, nausea and vomiting, according to the state Department of Health Disease Investigation Branch. Temporary paralysis of the face and light sensitivity may also occur. There is no specific treatment for the infection, according to the U.S. Centers for Disease Control and Prevention.
Thanks for reading CBS NEWS.
Create your free account or log in
for more features.