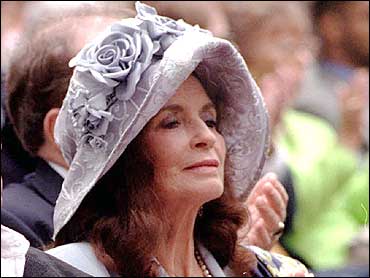 Country Star June Carter Cash Dies
June Carter Cash, the Grammy-winning scion of one of country music's pioneering families and the wife of country giant Johnny Cash, died Thursday of complications from heart surgery. She was 73.
She died at a hospital with her husband of 35 years and family members at her bedside, manager Lou Robin said. She had been critically ill after May 7 surgery to replace a heart valve.
A singer, songwriter, musician, actress and author, June Carter Cash performed with her husband on record and on stage, doing songs like "Jackson" and "If I Were a Carpenter," which won Grammy awards in 1967 and 1970, respectively. Their duets included "It Ain't Me Babe" in 1964 and "If I Had a Hammer" in 1972.
"People talk about Loretta Lynn and Tammy Wynette when it comes to pioneering women in country music. But they very seldom mention June, somewhat because she got married to Johnny Cash," said Ed Benson, executive director of the Country Music Association. "I think people should think of her more often when they think of the pioneering women in country music."
She was co-writer of her husband's 1963 hit "Ring of Fire," which was about falling in love with Cash. In his 1997 autobiography, Johnny Cash described how his wife stuck with him through his years of amphetamine abuse.
"June said she knew me — knew the kernel of me, deep inside, beneath the drugs and deceit and despair and anger and selfishness, and knew my loneliness," he wrote. "She said she could help me. ... If she found my pills, she flushed them down the toilet. And find them she did; she searched for them, relentlessly."
June Carter was born June 23, 1929, in Maces Spring, Va. Her mother, Maybelle Carter, was in the Carter Family music act with her cousin Sara Carter and Sara's husband, A.P. Carter. In 1927, they made what are among the first country music recordings.
The family act broke up, but mother and daughters June, Helen and Anita continued on as Mother Maybelle & the Carter Sisters, with little June playing autoharp.
Starting in 1939, the sisters starred in a radio show on XERA in Del Rio, Texas, that could be heard as far away as Saskatchewan, Canada. The Carters went on to become staples of the Grand Ole Opry country music show in Nashville.
The Carters' harmony singing still inspires artists today and Maybelle's "Carter lick" on the guitar has become one of the most influential techniques in country music.
In the late 1950s, after her marriage to country singer Carl Smith broke up, June Carter moved to New York to study acting at the behest of director Elia Kazan, who had seen her perform while scouting Tennessee for movie locations.
In 1961, she turned down an offer to work on a variety show that had Woody Allen as one of the writers, agreeing instead to tour with Johnny Cash for $500 a week. They married in 1968 after he proposed to her on stage on London, Ontario.
In a 1987 Associated Press interview, June Carter Cash described her husband as "probably the most unusual, fine, unselfish person I've known."
"There's a lot of power to him," she said then. "I've seen him on shows with people with a No. 1 record or a lot of No. 1 records, but when John walks on that stage, the rest of 'em might as well leave."
In 1999, she released an acoustic album, "Press On," that amounted to a musical autobiography and won her another Grammy. The album, her first in a quarter-century, followed her career from its beginning through her then 31-year marriage and collaboration with Cash.
"There's a lot of people who I love — fans that I've known through the years — who will be glad I did it," she said about the album at the time. "And maybe some other people ... wonder what Johnny Cash's wife is really like."
In 1979, she wrote an autobiography, "Among My Klediments," and released "From the Heart," a memoir, in 1987.
June Carter Cash did occasional acting roles, including the part of Robert Duvall's mother in the 1997 film "The Apostle." With her husband, she periodically performed at Billy Graham crusades.
Johnny and June Carter Cash had a son, John Carter Cash, in 1970. She was also the mother of country singer Carlene Carter, whose father was Smith, and singer Rosanne Cash is her stepdaughter.
Funeral arrangements were incomplete.

Thanks for reading CBS NEWS.
Create your free account or log in
for more features.