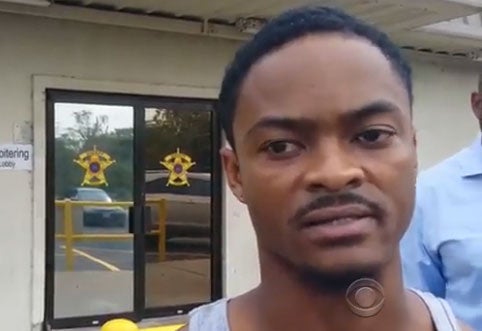 Texas councilman seen on video being tased by police
PRAIRIE, Texas -- A video out of Prairie View, Texas, is raising questions about police use of force. A councilman is seen getting tased while on his knees and with his back to officers. Police say he was resisting arrest.
Jonathan Miller, 26, was on his knees with his hands by his side when he was tased on Thursday night by Prairie View Texas Police.
Before using the taser, police warned the councilman, several times, to put his hands behind his back.
"He's going to have to tase you because you're not doing like you're supposed to," an officer can be heard saying on camera before tasing him.
"I live here man, I live here," Miller is heard saying after being tased.
"I told you to back off and you didn't listen," said one of the officers.
Officers arrived at the scene to question Miller's fraternity brothers, who were outside of Miller's home. Miller came out to ask what was going on.
"I'm not trying to be combative or anything," Miller told officers before being tased.
"I understand you're coming in at the tale end of it," a female officer replied. "I just told you everything is okay. They already explained everything to me."
But the situation escalated when another officer asked Miller to move away.
"Go over there before you go to jail," a male officer said to Miller.
Miller just stands and looks at the officer.
He was tased, arrested and spent the night in jail.
"I feel like I was checking on my line brothers and I feel like it escalated to a situation where I was tased and it shouldn't have come that far," said Miller the morning after being released from jail.
But Police Chief Larry Johnson is standing behind his officers who are still on the job.
"In that situation officers were conducting an investigation," he said. "They asked him, can you step away from the scene and allow them to finish what they were doing out of safety for all concerned."
Coincidentally, the female officer in the body camera video is the same one who transported Sandra Bland to a county jail after she was arrested in July. Bland made national headlines after authorities say she hanged herself while in jail.
As for councilman Miller, he was charged with interfering with public duties and resisting arrest.
Thanks for reading CBS NEWS.
Create your free account or log in
for more features.