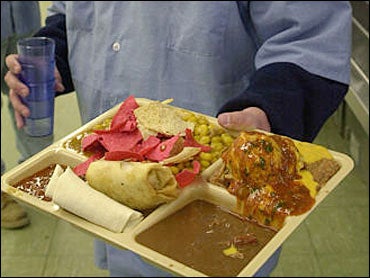 Cost Cutters Slash Prison Food Budgets
Around the country, budget-cutting state officials are looking behind bars for savings - keeping prison buildings unoccupied, double-bunking inmates or laying off employees.
Even the prison mess halls aren't exempt.
Minnesota is considering following Virginia's lead in serving only two meals per day on weekends, calling one of them "brunch." Texas prisons have been ordered to cut inmates' daily calories.
The prison food proposals are among many cuts being considered as states struggle to balance their budgets. Thirty-four states have overspent their budgets for fiscal 2003, the National Conference of State Legislatures said last month, and 27 still have deficits to close before July 1. At least 19 are responding with plans to reduce prison budgets - and many are starting with the food tray.
For many state lawmakers, complaints about prison food don't elicit much sympathy when they're considering cuts that could leave people without health insurance or mean fewer police and firefighters.
"We have to make sure the rapists and murderers sacrifice like everyone else," said Minnesota state Rep. Marty Seifert, author of the state's "brunch" bill.
But his experience also proves the difficulty in legislating prisoner diets.
Seifert first proposed cutting desserts for prisoners, only to be thwarted when the Department of Corrections said it would cost a half-million dollars more per year to withhold the dessert. Turns out Jell-O is a cheaper way to get prisoners the calories called for under voluntary national dietary standards than, for example, fruit.
Texas prisons have been ordered to cut inmates' daily calories from 2,700 per day to 2,500 in response to budget cuts, said Larry Todd, spokesman for the Texas Department of Criminal Justice. Though a budget plan being considered by the Legislature could mean still more food-budget reductions, he said prisoners will continue to get nutritious meals.
Helga Dill, of Dallas, said her inmate husband's diet is largely composed of one item. "He says he's served hot dogs, hot dogs, hot dogs," said Dill, whose husband, Charles, is serving a 20-year sex crime sentence in the Estelle Unit, near Huntsville, Texas.
Todd said there's nothing wrong with hot dogs, which he said come from beef cattle raised on prison farms and make up a small part of prisoners' diets.
At Iowa's Newton Correctional Facility, food changes mean inmates get only one dessert now instead of two, and they drink a vitamin-enhanced orange-flavored liquid instead of genuine orange juice. Other prisons in the state are putting more macaroni and less meat in the goulash.
Nevada lawmakers also considered cutting the food budget for prisons - a move opposed by Gov. Kenny Guinn, who said the state already pays more to feed the wild horses under state control than to feed its prisoners.
In New York, prison managers are trying to find savings by cracking down on unnecessary use of plastic foam cups, paper plates and plastic tableware.
Charles Sullivan, of the Washington-based prisoner advocacy group Citizens United for Rehabilitation of Errants, said states could quickly find themselves with major medical bills if prisoners get sicker because of poor nutrition.
"It's something that sounds good politically but in the long run is going to be more costly," Sullivan said.
Nonsense, answer state correction officials, who say prison meals are nutritious if not always delicious, and that limiting second helpings is likely to make prisoners more healthy, not less.
Still, Todd doesn't blame prisoners for griping. "If I were in prison," he says, "I'd complain, too."
By Patrick Howe
Thanks for reading CBS NEWS.
Create your free account or log in
for more features.