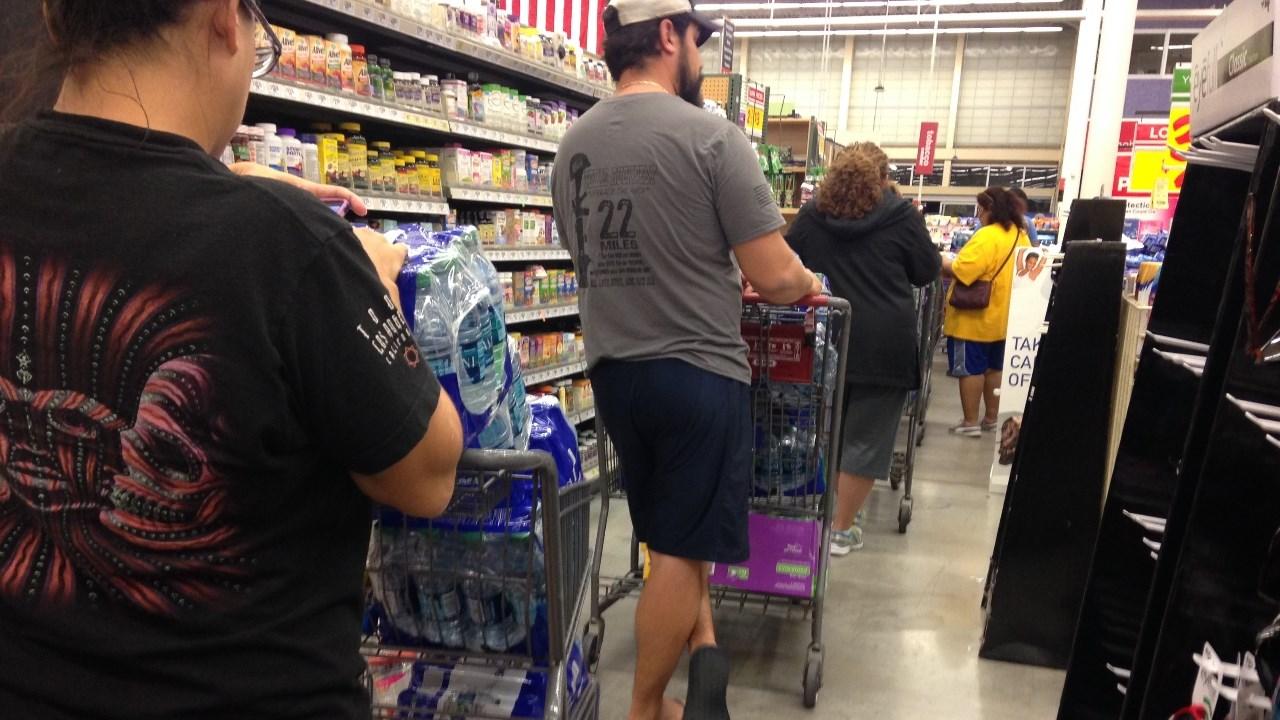 Corpus Christi water may be contaminated, Texas city says
CORPUS CHRISTI, Texas -- Corpus Christi, a Texas Gulf Coast city, is warning its 320,000 residents not to use tap water because it might be contaminated with petroleum-based chemicals, prompting a rush on bottled water and the closure of local schools.
Corpus Christi spokeswoman Kim Womack said at a news conference Thursday that city inspectors did not find a "backflow preventer" on the property. She says the company that owns the property and the one leasing it claim there is one.
Officials say the chemical is an asphalt emulsifier that can burn skin if a person comes into contact with concentrated amounts. Upward of 24 gallons of it may have entered the water supply.
Womack said that the chemical is found in asphalt.
Another spokeswoman for the city, Deanna McQueen, said the leak first came to light Wednesday when workers at the refinery discovered the water coming from its faucets had a sheen.
Officials initially said two petroleum-based chemicals had contaminated the water supply.
Samples of the water have been sent to a lab in Austin.
It is not yet clear when the water will be safe to use.
The discovery Wednesday of the leaked chemical has led schools to close and long lines at grocery stores where residents are stocking up on bottled water.
The issues of safe drinking water and eroding infrastructure have gained widespread attention in recent years due to the crisis in Flint, Michigan, where lead pipes contaminated the water supply after the city switched from a metropolitan Detroit system to improperly treated Flint River water in 2014.
City councilman Michael Hunter earlier told the Corpus Christi Caller-Times that it's unlikely the chemicals infecting the city's supply are concentrated enough to do harm, but that officials must "take every precaution that we can to make sure that everybody is safe."
Hunter said a local company reported that the water coming from faucets at its plant had a sheen, but he did not identify that company or the nature of its business. Hunter described the possible contaminants as two petroleum-based chemicals.
City officials warned in a statement that, "Boiling, freezing, filtering, adding chlorine or other disinfectants, or letting the water stand will not make the water safe."
According to a statement from Corpus Christi Medical Center, healthcare facilities have discontinued use of tap water, CBS affiliate KZTV reports. Sterile, bottled water is being provided to employees and patients.
Christus Spohn Health Systems says it has safety precautions in place until the water ban is lifted. And will continue to perform all scheduled procedures and surgeries and will receive trauma cases.
The City of Corpus Christi closed all city senior centers, recreation centers, gymnasiums, and pools through Friday, KZTV reports.
The latchkey after school programs closed Thursday, there is no word about if they will be open Friday.
The Meals on Wheels program is not affected and its business as usual for that organization.
The warning is the latest for a city beset by problems with its drinking water.
In May, officials issued their third boil-water advisory in a year. That notice lasted two weeks and officials at the time said it was largely a precautionary measure taken after nitrogen-rich runoff from rain flowed into the water system, resulting in low chlorine disinfectant levels in the water supply.
Boil-water notices were issued last year because of elevated levels of E. coli and another for low chlorine levels, the Caller-Times previously reported. The notices mirrored two others that were issued in 2007.
City crews have worked to reconfigure some water mains to ensure that water keeps circulating and to prevent bacteria growth. But an overarching concern is an old water system where more than half of 225 miles of cast-iron pipe needs to be upgraded. Many of the pipes were installed in the 1950s and when they decay they're prone to collapse or to slow water flow, allowing bacteria to fester.
Civic leaders have expressed concern that recurring water advisories and warnings could cause long-term harm to the area's vibrant tourism business.
Thanks for reading CBS NEWS.
Create your free account or log in
for more features.