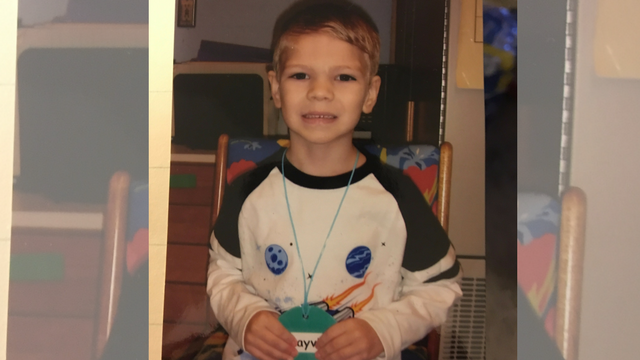 Cops: Teen uncle confessed to drowning autistic boy in bathtub
EVERETT, Wash. – Police say the teen uncle of an autistic boy found dead in a trash bin outside a Seattle-area apartment complex Tuesday confessed to drowning the boy in a bathtub and hiding his body.
Andrew Henckel, 19, has been booked on suspicion of murder in connection to the death of his nephew, Dayvid Pakko. He's being held on $1 million bond. The prosecutor's office has until Friday to file an official complaint.
But Henckel's father calls the suspect "a gentle giant," and says he has also been diagnosed with autism, reports CBS affiliate KIRO.
"He hasn't had any interactions with the law whatsoever," Randy Henckel said. "So, this process of bringing him in and interrogating him with his autism, makes me question the validity of anything he said without legal counsel present or a family member present."
According to the arrest report, Andrew Henckel is from Texas and was visiting family in Lynnwood, Wash. Andrew Henckel's sister is Pakko's mother, and when the boy stayed home from school Monday, she let Henckel and her boyfriend watch him while she went to work.
KIRO reports that the boyfriend left to run errands and when he returned an hour later, Pakko was gone.
The boy was reported missing around 5 p.m and his body was found early Tuesday morning.
According to a probable-cause document, Andrew Henckel initially told investigators that he'd fallen asleep while babysitting Pakko and awoken to find him missing. But after his body was told investigators that he filled a bathtub with water, called the boy to the bathroom and held him down in the water. He told investigators he then changed the boy's clothes, wrapped him in a blanket, put him in a cardboard box and put the box in a nearby dumpster. Police say Andrew Henckel did not provide a motive for his actions.
Randy Henckel told KIRO that he is concerned his son may not understand the legal process and that his lack of savvy may have made him more compliant in answering questions from police officers.
"My viewpoint on this is they probably did Mirandize him but he wouldn't have any context for that," he said.
Randy Henckel described his son's condition as closer to Asperger's on the autism spectrum and said his son has never been in trouble with the law.
"He's extremely mild. He's introverted… aside from the Asperger's, he's been a perfect child," said Randy Henckel.
He said family members are trying to get in to see the teen.
According to the prosecutor's office, Andrew Henckel's defense brought up the fact that he may have autism.
Thanks for reading CBS NEWS.
Create your free account or log in
for more features.