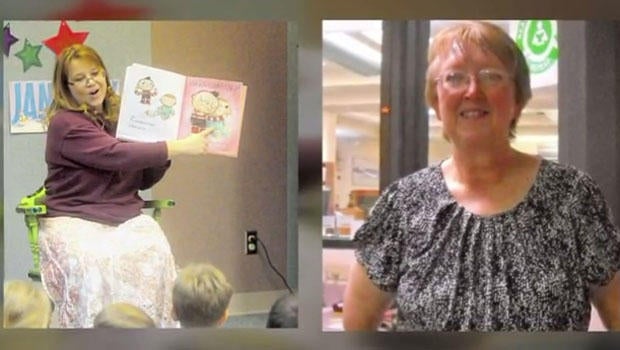 Cops: Teen suspect didn't know victims in New Mexico library rampage
CLOVIS, N.M. -- A teenage boy who was led in handcuffs from a New Mexico library is the suspect in a deadly Monday shooting that left two dead and four wounded, police have confirmed.
Authorities say there's no indication the teen suspect knew the victims, who were at the Clovis-Carver Public Library when the 16-year-old opened fire, killing circulation assistant Wanda Walters, 61, and youth services librarian Kristina Carter, 48.
Another circulation assistant, Jessica Thron, 30, was injured and authorities identified the wounded library patrons as 10-year Noah Molina, his 20-year-old sister Alexis Molina and 53-year-old Howard Jones.The three adults were in serious condition, and the boy was in stable condition Tuesday at University Medical Center in Texas, across the state line from Clovis, chief medical officer Mike Ragain said.
Authorities have yet to determine a motive.
Pastor David Stevens said the suspect had been searching for "inner peace" shortly before the shooting. The teen started attending Living Word Church of God three months ago and appeared to be turning his life around after he contemplated suicide several months earlier, Stevens said.
The teen is now awaiting charges for Monday's deadly rampage. Authorities say their work has only just begun as they talk to his family and friends, and comb through social media posts looking for clues as to what may have prompted the violence.
Community members gathered at a vigil to honor the victims Tuesday, reports CBS affiliate KRQE. Clovis mayor David Lunsford said he was in shock, but asked residents not to pass judgment on the teen suspect.
"I heard a commissioner say today that we failed this young man, we weren't listening. We weren't hearing his cry and we weren't paying attention and he slipped through," Lansford said.
CBS News is not identifying the suspect because he is a minor. Authorities said they plan to file a motion requesting the case be transferred from the juvenile system to adult court.
"It's just more than we can comprehend. I don't know what happened," Stevens said. "His mind had to snap. I don't know any other way to explain it. He was a good kid. He had straightened his life out."
Authorities plan to charge the teen with two counts of first-degree murder, four counts of assault with intent to commit a violent felony, four counts of aggravated battery with a deadly weapon and one count of child abuse, Police Chief Douglas Ford said.
They also are investigating where he obtained the two handguns believed to have been used in the shooting.
Lansford said the initial shock that reverberated through the community is beginning to wane, only to be replaced by heartbreak and a call for answers.
"It's such a senseless tragedy, and there really isn't a reason for it," Lansford told reporters Tuesday. "I think when it's all said and done, you can come up with a lot of explanations. But I don't think anyone will ever be able to put a reason on why these kinds of things happen."
The teen, Stevens said, was not known to be a regular at the library.
It was unclear how many people were in the library when the shooting started. Police stormed the building with their guns drawn and found the teen suspect, who immediately surrendered.
Witnesses have said the shooter seemed to fire randomly as parents, children and others hid under tables or behind closed doors.
Library patron Nessa Aguirre said in an interview that she and her 11-year-old son were at the circulation desk when they heard a popping sound.
"I looked over and this guy shot into the ceiling, then in every direction," she said. "I put my son in front of me, bent down and slid across the front circulation desk."
After hiding in an office and being led by a library worker to a hallway, Aguirre and her son found a door and fled.
Her husband, Lupe Aguirre, went inside to search for his family when he heard the shots. He saw smoke clearing from gunfire and shell casings on the floor before he was confronted by the gunman.
"He was happy," Lupe Aguirre told the Albuquerque Journal. "He was just laughing, smiling the whole time until he came up real close to me, and then he put on that mean look."
The gunman ordered Aguirre to get on the ground. As Aguirre kneeled, he told the shooter someone was looking for him in an attempt to distract him.
Aguirre told the newspaper the shooter then turned around, saw a mother and child on the floor and told them to stay there or he would kill them. Then the shooter walked away in the direction that Aguirre had pointed, he said.
Gov. Susana Martinez called the attack horrific and asked for New Mexicans to share their strength and support as Clovis recovers. She also visited the wounded victims in Lubbock on Tuesday.
Thanks for reading CBS NEWS.
Create your free account or log in
for more features.