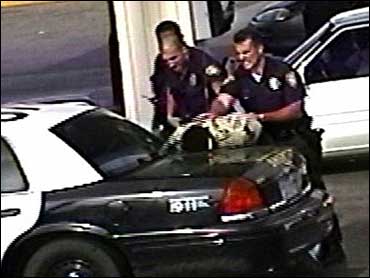 Cop's Taped Beating Trial Starts
A trial stemming from the videotaped arrest of a 16-year-old boy began with the prosecutor saying the teen was confused and scared before being punched to the ground by police.
Prosecutor Michael Kenneth Pettersen said in opening statements Wednesday that Donovan Jackson was trying to protect himself from a beating.
"He is flailing his legs, he is flailing his arms, reaching out in a desperate attempt to stop this from happening," Pettersen said.
But a lawyer for the former officer charged with assault said Jackson was to blame because he attacked an officer, was punched because he grabbed an officer's groin after he was handcuffed, and later told differing stories about whether he was unconscious when he fell.
"When an officer is attacked ... you have not only the right but the duty to assist," said lawyer John Barnett, who represents fired Inglewood officer Jeremy Morse.
A bystander's videotape of the handling of the black youth by the white officer triggered condemnations by black leaders, but the prosecutor made no mention of race in his opening statement.
Jackson was expected to testify Thursday. During grand jury testimony last year, he said he was beaten and choked by officers until he lost consciousness.
Morse, 25, is accused of one count of assault under color of authority. His former partner, Officer Bijan Darvish, 26, who was suspended, is charged with filing a false report. Each could face up to three years in prison if convicted.
Jackson and his father, Coby Chavis, were stopped at an Inglewood gas station by Los Angeles County sheriff's deputies on July 6, 2002, because their car had expired tags. Morse and Darvish arrived as Chavis was being questioned.
Pettersen said the videotape "captures Jeremy Morse picking up a limp, apparently lifeless, non-moving Donovan Jackson, swinging him around, lifting him to shoulder level, and slamming him down on the trunk of a police car."
Jackson also was punched in the face and choked, authorities contend.
A police report stated that Jackson violently resisted arrest and fought with the deputies and the Inglewood officers.
Barnett said other officers' testimony and videotape from the gas station surveillance cameras will show Jackson was the attacker.
He showed the jury photographs of a V-shaped mark on Morse's neck and a scratch over his ear. Jackson was punched after he grabbed the officer's groin, he contended.
Barnett also said the videotaped image of Jackson being slammed onto the patrol car was an "exaggerated picture of the circumstances" because the trunk was flexible, making the force of impact look greater than it was.
"Donovan Jackson suffered no injury from the ... technique," he said.
By Alexandria Sage
Thanks for reading CBS NEWS.
Create your free account or log in
for more features.