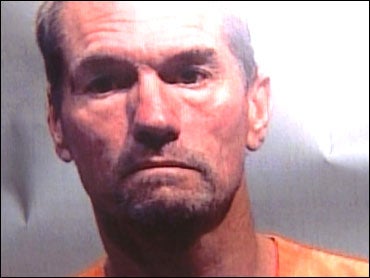 Cops: School Shooting Was 'Horrific'
The gunman who killed a student and committed suicide during a high school standoff methodically selected six girls as hostages — apparently favoring blondes — and sexually assaulted at least some of them, authorities and witnesses said Thursday.
Sheriff Fred Wegener said the assaults went beyond touching or fondling.
"It was pretty horrific," Wegener said, without elaborating.
The killer was identified as 53-year-old Duane Morrison, a petty criminal who had a Denver address but had apparently been living in his battered yellow Jeep when he walked inside the school Wednesday with two handguns and a backpack that he claimed contained a bomb. Investigators did not immediately say what was in the backpack.
Another question is how he got into the school to begin with and was able to wander around unchallenged. Sophomore Billy Twyford was one of the first to see the grey-haired man and knew something was off about him.
"I just saw him and I was like, 'I'm staying away from him, he's weird,'" Twyford told CBS News correspondent Cynthia Bowers.
Authorities said they knew of no connection between Morrison, his hostages or anyone else at Platte Canyon High School in this mountain town of about 3,500.
During the siege, he took the girls hostage in a second-floor classroom and eventually released four of them. Morrison, still holding two girls, soon cut off contact and warned that "something would happen at 4 o'clock," authorities said.
About a half-hour before the deadline, a SWAT team used explosives to blow a hole in a classroom wall in hopes of getting a clear shot at him, but they couldn't see him through the gap, and they blew the door off the hinges to get inside, said Lance Clem, a spokesman for the state Department of Public Safety.
Morrison fired at the SWAT officers, shot 16-year-old Emily Keyes in the back of the head as she tried to run away, and then killed himself, authorities said. During the lightning-fast gun battle, police said, they shot Morrison several times.
A sorrowful Wegener defended the decision to try to take Morrison by force.
"My decision was to either wait, with the possibility of having two dead hostages, or act to try and save what I feared he would do to them," the sheriff said. "We have confirmed he did traumatize and assault our children. ... This is why I made the decision I did.
"We had to go try and save them."
Classes were canceled for the rest of the week as the community tried to come to grips with the bloodshed, which evoked memories of the 1999 shooting rampage at Columbine High School, less than an hour's drive away, that left 15 dead.
"This is — this is something that has changed my school, changed my community," the sheriff said. "My small county's gone."

Louis Gonzalez, a spokesman for the Keyes family, said the girl's father was among scores of parents anxiously awaiting word from their children inside the school during the standoff. John Keyes had just bought Emily and her twin brother cell phones for their 16th birthdays.
"How are U?" a volunteer text-messaged Keyes on her father's behalf.
At 1:52 p.m., she messaged back, "I love you guys."
Police stormed into the classroom less than two hours later.
"In memory of Emily we would like everyone to go out and do random acts of kindness, random acts of love to your friends or your neighbors or your fellow students because there is no way to make sense of this," Gonzalez said. "It's what Emily would have wanted."
Student Chelsea Wilson said she was in the college prep English class when the gunman came in and told the students to line up facing the chalkboard.
"All the hairs on my body stood up," Wilson said. "I guess I was somewhat praying it was a drill."
One by one, the gunman started letting students go, and Wilson, a tall brunette, said she was the first girl to leave. Her mother, Julia Wilson, said she thinks the gunman made all the blond, smaller girls stay. Keyes' yearbook photo shows a smiling blond girl with blue eyes.
Chelsea said she heard what might have been a gunshot after she left the classroom.
"He's a pervert," Chelsea said. "I'm not sure of motivation. I just knew it wasn't good."
A 16-year-old student at the school, Cassidy Grigg, initially said in interviews with network morning shows that he was in the classroom and offered to stay with the girls — but the gunman threatened to kill him. His father, Tom Grigg, gave a similar account of what his son had told him to The Associated Press. But Thursday, the teen's mother said he made the entire story up.
Larina Grigg said her son told her he fabricated the story because he wanted it to be true.
"He said, 'Mom, all those kids were my friends and I just wanted so much to help them. ... I guess I just made it up in my mind. I just wanted it to be true so bad."'
Morrison was arrested in July in the Denver suburb of Lakewood after he failed to appear on a 2004 harassment charge in Littleton, another suburb. He was also arrested on suspicion of larceny and marijuana possession in 1973.
"He's a weird dude. It was a telephone harassment. He left some messages at a business in the city," Littleton police Sgt. Sean Dugan said. He declined to release details of the charge, but said Morrison received a nine-day jail sentence in August that was suspended.
At their home in Tulsa, Okla., Morrison's stepmother said she and her husband, Bob Morrison, "have no record of him being, having any trouble before."
"We just know the way he was raised," Billie Morrison said, declining to elaborate. She said the last time she saw him was three to four years ago, she doesn't know what prompted the violence in Colorado.
"We don't know why," she said. "We don't know how."
Morrison — wearing a blue hooded sweatshirt that made him look like a student — walked into the school shortly before noon Wednesday. Authorities said that during he standoff, he spoke at first with sheriff's deputies, then used the girls to relay his messages.
The sheriff, a 36-year resident of Bailey with a son at the high school and a daughter who recently graduated, paused when asked if he made the right choice to confront Morrison.
"You re-evaluate your decisions, but given the fact that he was victimizing — I should say sexually assaulting — the hostages, I felt I had to do something," he said. "Given the information I had, I feel like I made the right decision."
Residents gathered at the Platte Canyon Christian Church for support and others stopped by the Cutthroat Cafe, where Keyes had worked for about two years.
"It's very sad here. You know, the family lost their daughter but as a community, we lost a child," said Bobbi Sterling, a waitress and cook. "We're just sitting here, numb and in shock. We're all just kind of stunned."
Thanks for reading CBS NEWS.
Create your free account or log in
for more features.