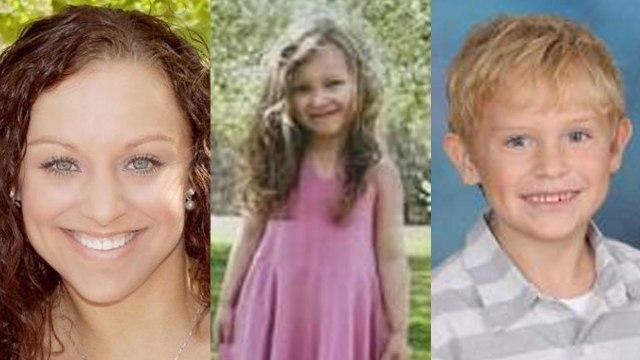 Cops: Mom who killed kids, self revealed motive in texts
COLUMBIA, S.C. -- A woman used a gun she stole from her parents to fatally shoot her two children, a woman at her estranged husband's apartment complex and herself, authorities said.
Jessica Edens called her estranged husband once just before she shot their 5-year-old daughter and her 9-year-old son in the back of her Jeep and again just before she shot herself in the head, inside the locked, running vehicle on July 13, Pickens County Chief Deputy Creed Hashe said.
A custody dispute in Family Court a few days earlier upset Edens badly, Hashe said, citing text messages and other communications deputies found after the killings.
"Mrs. Edens developed a plan in the next couple of days that she felt would cause everlasting consequences for her husband, Benjamin Edens," Hashe said in a statement Monday.
The first step was stealing a .40-calibur handgun from her parents' home the day before the shooting while they were out of town, authorities said.
Around 5 p.m. July 13, Jessica Edens drove to the Greenville apartment complex where her estranged husband lived and shot and killed 28-year-old Meredith Rahme while she sat in her car in the parking garage, said Greenville Police Chief Ken Miller, who has said Benjamin Edens and Rahme worked together, but didn't give other details about their relationship. Jessica Edens complained to an officer who came to her home the day before the shootings that her estranged husband was involved in an affair for the past year, according to a police report cited by CBS affiliate WSPA.
Jessica Edens' children were in the Jeep when she killed Rahme and she immediately drove them seven miles to Easley, where she killed them and made the phone calls to her estranged husband, Hashe said.
The details of those calls were not released, but just after the shooting, the police chief said officers were with someone who had talked to the killer and were working as quickly as they could to find the cellphone's location and children who were "in harm's way."
Edens and her children were each suffered one gunshot to the head, Hashe said. A police report says there was no sign of a struggle, reports WSPA. Edens and the two children, Hayden and Harper, were all reportedly found dead in the backseat.
Hayden King was a rising fourth-grade student at Forest Acres Elementary School where his little sister, Harper Edens, was expected to start school later this year, reports WSPA.
The custody dispute involved the girl, WSPA reported. Benjamin Edens is reportedly her father.
Both Rahme and Benjamin Edens called police in the days before the shooting. Rahme complained Jessica Edens was leaving harassing messages about her on Facebook, while Benjamin Edens asked officers to check on his estranged wife and children.
The officer who checked on the family said all appeared normal and Jessica Edens said she planned on watching movies with the children, according to a police report.
Edens is the third mother to kill her children in Pickens County in the past six years. Susan Hendricks is serving life in prison for killing her two adult sons, her ex-husband and her stepmother in 2011, while Suzanna Simpson is serving a life sentence for killing her 7-year-old daughter and 5-year-old son as they slept, as well as shooting her husband in the head. He survived.
Rick Clark, who is sheriff of the county of about 120,000 people, urged anyone who felt they were being buried by stress to reach out to law enforcement and not harm others.
"As we struggle to understand how a parent could possibly come to a decision such as this, we have to focus on tomorrow and the opportunity to provide services and solutions to those that feel that their life and the lives of their loved ones must end in order to find peace," Clark said in a statement released to WSPA.
Thanks for reading CBS NEWS.
Create your free account or log in
for more features.