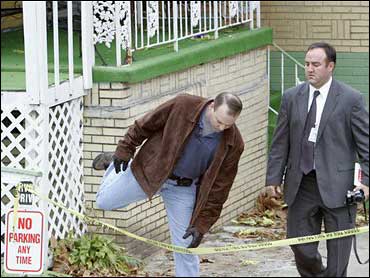 Cops Defend Shooting 92-Year-Old Woman
A police official said narcotics officers were justified in returning fire on a 92-year-old woman they shot to death after she shot them as they tried to serve a warrant at her house.
Neighbors and relatives said it was a case of mistaken identity, but Atlanta police say there was no mistake concerning the address of the house, reports CBS Radio News' Pete Combs.
Police added that the woman, identified as Kathryn Johnston, was the only resident in the house at the time and had lived there for about 17 years.
"I'm mad as hell! The neighbors know where the drugs are — ask the neighbors!" Johnston's niece, Sarah Dozier, shouted to reporters.
"My aunt was in good health. I'm sure she panicked when they kicked that door down," Dozier told WAGA-TV, adding that there were no drugs in the house. "There was no reason they had to go in there and shoot her down like a dog."
Assistant Chief Alan Dreher said the officers had a legal warrant and "knocked and announced" before they forced open the door. He said they were justified in shooting once they were fired upon.
As the plainclothes Atlanta police officers approached the house about 7 p.m., "as we have it right now, the female opened fire on the officers. The officers returned fire, and struck and killed her," Dreher said.
One of the police officers was hit in the arm, another in a thigh and the third in a shoulder. The officers were taken to a hospital for treatment, and all three were conscious and alert, police said.
"They killed her, they shot her down like a dog, and I'm upset," Dozier said. "Somebody is going to answer to it, 'cause I'm going to sue like hell! I'm going to sue like hell! Let Atlanta know that."
Rev. Markel Hutchins, a civil rights leader, said Johnston's family deserves an apology.
"Of the police brutality cases we've had, this is the most egregious because of the woman's age," Hutchins said.
Hutchins said he would try to meet with Atlanta Police Chief Richard Pennington and would also meet with lawyers.
Thanks for reading CBS NEWS.
Create your free account or log in
for more features.