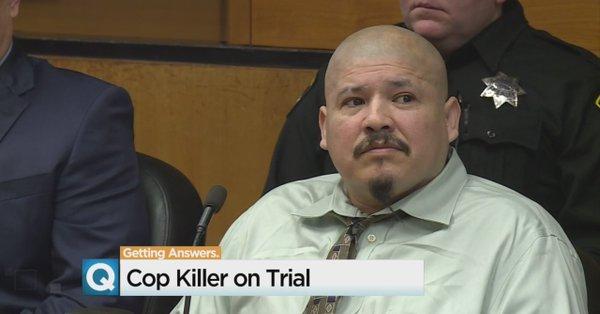 Cop-killing suspect laughs in courtroom outburst, threatens to kill more officers
SACRAMENTO, Calif. -- A suspect standing trial in the slayings of two Northern California deputies was briefly removed from a courtroom Wednesday after his latest outburst threatening jurors and police.
Luis Enrique Monroy Bracamontes began shouting profane threats in English and Spanish moments after the second day of his trial began, The Sacramento Bee reported.
"I'm going to kill one of you [expletive]," Bracamontes told jurors as the jury was escorted out of the courtroom.
He also ranted against law enforcement officers and their families, looking toward relatives of the slain deputies as he was removed from the courtroom.
Bracamontes and his wife, Janelle Monroy, 41, face separate juries on charges of killing Sacramento County sheriff's Deputy Danny Oliver and Placer County sheriff's Deputy Michael Davis Jr. in 2014.
During an initial outburst as opening arguments began Tuesday, Bracamontes admitted to killing the deputies, though he has entered a not-guilty plea, reports CBS Sacramento. He also reportedly said he wished he would have killed more law enforcement officers as he smiled and laughed.
"I killed [expletive] cops. They're [expletive] dead. I don't [expletive] regret that," he said.
In another outburst, Bracamontes warned the courtroom and CBS Sacramento cameras that he would do it again, saying, "I will break out soon and I will kill more."
His public defenders on Wednesday renewed their request to allow him to plead not guilty by reason of insanity, in part because of his frequent courtroom outbursts.
Superior Court Judge Steve White denied the request and ordered Bracamontes, 37, removed until he promised to behave himself. He was later allowed to return to the courtroom.
Bracamontes could face the death penalty if convicted, while his wife could face life in prison.
Public defender Norm Dawson told White that his client is continuing his outbursts because he believes he cannot physically be killed. The defense told the jury its client is responsible for both deputy's deaths but also claimed he was high on methamphetamine at the time and didn't know right from wrong, reports CBS Sacramento.
White told jurors to ignore the outbursts and render a verdict based on the evidence.
Thanks for reading CBS NEWS.
Create your free account or log in
for more features.