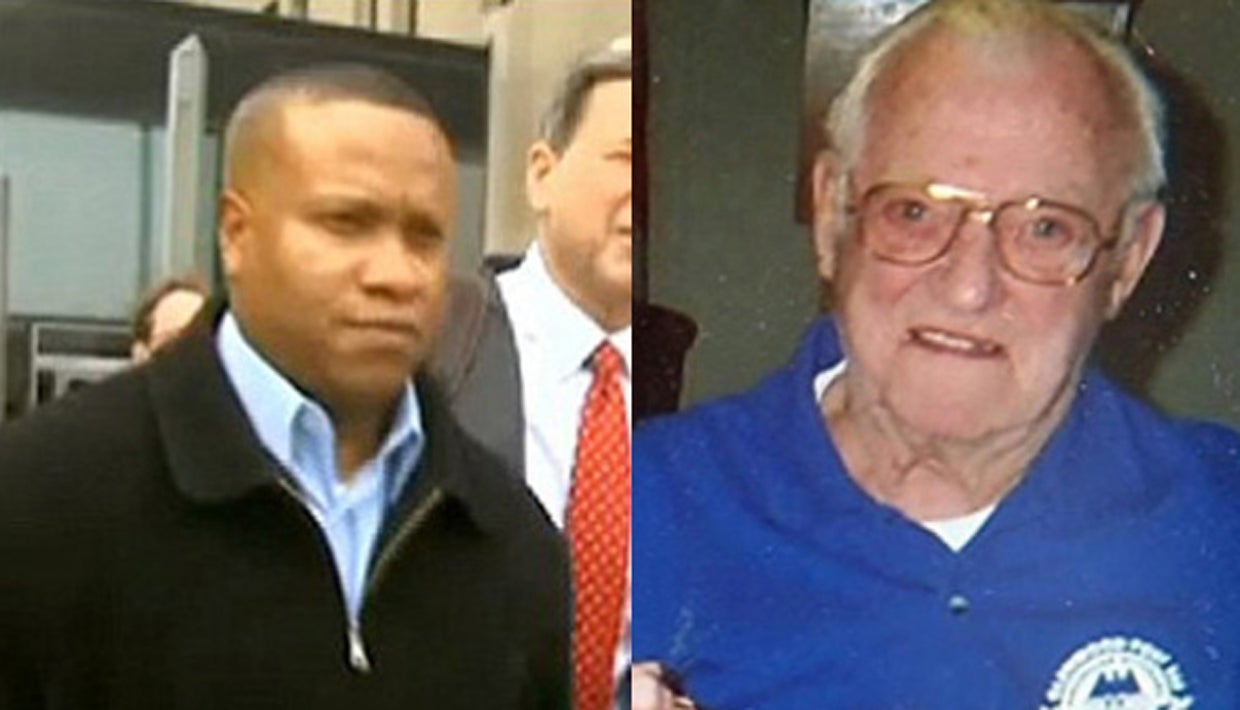 Cop acquitted in beanbag gun death of 95-year-old vet
MARKHAM, Ill. - A suburban Chicago police officer was acquitted Wednesday of felony reckless conduct for killing a 95-year-old World War II veteran by shooting him with a beanbag gun at close range.
Park Forest Police Officer Craig Taylor was charged after the July 2013 death of John Wrana. In a courtroom packed with officers supporting Taylor, Cook County Judge Luciano Panici said there was nothing criminal about Taylor's actions and that the officer did "what he was trained to do."
The basic disagreement in the case was whether Taylor was justified in firing a weapon, at close range, that prosecutors said fires beanbags at 190 mph. Wrana died from internal bleeding caused by the beanbags.
Taylor, 43, was one of several officers dispatched to the facility where Wrana lived after a staff member reported that Wrana had become combative with emergency workers.
After Wrana struck a staffer with his cane, he brandished a 2-foot-long shoehorn at officers, prompting them to briefly leave the room. When the officers returned, one officer was carrying a Taser, another one had a shield, and Taylor was carrying a 12-gauge shotgun that shoots beanbags.
Wrana threatened the officers with a knife, and when he refused to drop it, one officer fired at him with the Taser but missed. Then Wrana moved toward Taylor, and the officer fired his weapon five times.
Prosecutors said Taylor had better and safer options than to fire the beanbags at a confused, knife-wielding elderly man, and that the officers didn't have to storm Wrana's room. They said he behaved recklessly when he fired five beanbags at Wrana at a distance of no more than 8 feet away.
But Taylor testified he was following the orders of a superior officer and feared for his life and the lives of his fellow officers when he saw Wrana holding the knife over his head and threatening to kill whoever came into his room. He testified that he felt like he "had to do something to stop him."
The trial was of intense interest among local law enforcement agencies, and on the first day of trial many officers from Park Forest and other area departments showed up to the courthouse in Markham to show their support for Taylor.
Officers expressed anger that Taylor was even charged with a crime after an incident in which he was following orders and had legitimate fear for his own safety and the safety of his fellow officers.
But others have contended that the incident provided another example of the excessive force used by police - an issue that has gained increased national attention in the wake of two killings by police of unarmed men in Ferguson, Missouri, and New York's Staten Island.
Thanks for reading CBS NEWS.
Create your free account or log in
for more features.