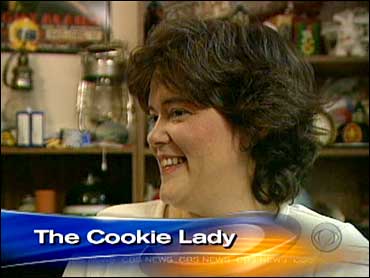 'Cookie Lady' Warms Troops With Treats
It's always difficult for United States servicemen and women to be away from home, serving overseas, and especially so during the holiday season, and especially during wartime.
But one Virginia woman is making an extraordinary effort to give them a little taste of home.
As CBS News correspondent Joie Chen reports, even that woman admits it started as a sort of — half-baked idea!
Germaine Broussard admits she's no Betty Crocker.
"I got a 'B,' in home ec," she concedes.
But more than 30,000 American servicemen and women have eaten the chocolate chips (to which Broussard adds baking powder, to keep them fluffy), sugar cookies, oatmeal raisins, and all the other kinds she makes in her home in McLean, in northern Virginia.
No doubt, Chen observes, they're the best those military members have ever tasted.
Broussard tells Chen she doesn't ever want to stick her finger in and taste the dough, "not after that many. In three years, I've baked over 53,000 homemade cookies."
And that may be a low-ball estimate.
Even Broussard isn't sure how many hundreds of boxes full of cookies she's sent to U.S. troops around the world, people she doesn't know!
The troops must think "I'm crazy," Broussard says with a laugh, "and it's a good crazy. And as long as I can make someone smile, my day is complete."
Lt. Col. "Skip" Goodwillie, of the U.S. Army Reserve says flat-out, "We love her to death. … She (has) an identity. People know her by "the Cookie Lady."
On patrol in places such as Iraq, cookies helped keep Goodwillie's unit going. The treats were good, but tasted even better because they came from home.
"We would always just sit around and pop open the cookies and talk about, 'Gee, I wonder what she's like?' Goodwillie told Chen.
Back from Iraq, Goodwillie made it his mission to find out, and sought Broussard out, to thank her.
When Chen was there, 29 cookie sheets stood ready. The oven stays hot most nights until 2 a.m. Broussard is on her fourth mixer, working alone most of the time, and paying almost all the costs herself.
How much has she spent?
"I don't even want to know. From my pocketbook, probably too much. For them, never enough."
This holiday season, some 2,000 stockings will be tucked inside boxes along with a handwritten message from a child or, as Broussard puts it, a "child at heart."
And as always, she'll list the "value" of her packages on the mailing slip: "A box of cookies is approximately $300. Thanks, respect and love: priceless."
Because, Chen concludes, the Cookie Lady fills her treasure boxes with something you just can't buy.
If you would like to contribute to Broussard's cookie jar, click here.

Thanks for reading CBS NEWS.
Create your free account or log in
for more features.