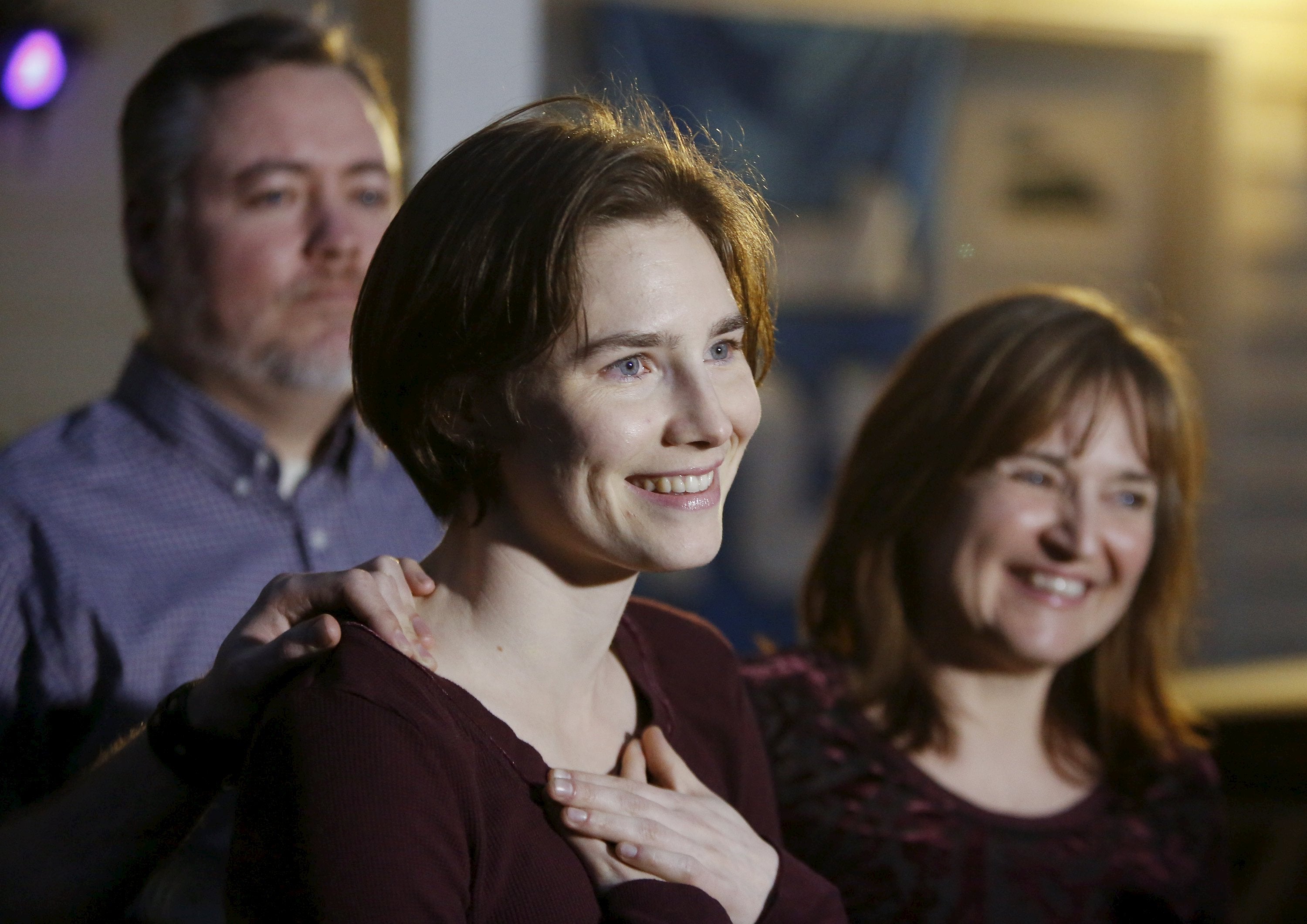 Amanda Knox "full of joy" after conviction overturned
ROME -- Italy's highest court has overturned the murder conviction of Amanda Knox and her ex-boyfriend, which appears to finally bring an end to the high-profile case.
It's the second time Knox and Raffaele Sollecito have had their convictions overturned in the murder of Knox's British roommate Meredith Kercher, in Perugia, Italy, in 2007.
"I'm still absorbing the present moment, which is full of joy," Knox said late Friday, addressing reporters outside her mother's home in Seattle.
When someone asked her about Kercher, Knox became visibly emotional.
"Meredith was my friend," she said. She deserved so much in this life."
WATCH: "48 Hours:" Amanda Knox's Untold Story
In a written statement released shortly after the decision, Knox said she was "relieved and grateful" for the decision. "The knowledge of my innocence has given me strength in the darkest times of this ordeal," she said, thanking her supporters for believing in her.
Experts have said such a complete exoneration is unusual for the high court, which could have upheld the conviction or ordered a new trial as it did in 2011 when the case first came up to its review on appeal.
"Finished!," Knox's lawyer Carlo Dalla Vedova exulted after the decision was read out. "It couldn't be better than this."
The decision by the supreme Court of Cassation could well be the final ruling in the case, ending the long legal battle waged by Knox and co-defendant Sollecito. The Court overturned last year's convictions by a Florence appeals court, and declined to order another trial. The decision means the judges concluded that a conviction could not be supported by the evidence.
Their reasoning will be released within 90 days.
Both Knox, who was awaiting the verdict in Seattle, and Sollecito have long maintained their innocence.
The Kercher family attorney, Francesco Maresca, was clearly disappointed by the ruling.
"I think that it's a defeat for the Italian justice system," he said.
Kercher's mother, Arline Kercher, told Britain's Press Association news agency that she was "a bit surprised and very shocked."
"They have been convicted twice so it is a bit odd that it should change now," she said.
Also disappointed by the decision was the bar owner, Diya "Patrick" Lumumba, who was jailed for two weeks after Knox falsely accused him of the murder and is convinced of Knox's guilt.
"It is a strange justice for me, long, uncertain, a little opaque, a lot of darkness," he said outside the courtroom. "This is a judicial error in Amanda's case."
Across the Atlantic, a spontaneous shout of joy erupted from inside the Seattle home of Knox's mother as the verdict was announced. Several relatives and supporters filtered into the back yard, where they hugged and cheered.
Dalla Vedova said he called Knox to tell her the news, but said she couldn't speak through her tears.
"She was crying because she was so happy," he said.
Lawyers for Amanda Knox's ex-boyfriend made a final appeal to Italy's top criminal court Friday, urging it to overturn the pair's murder conviction for the slaying of Knox's roommate, saying there were errors of "colossal proportions" in the guilty verdicts.
Attorney Giulia Bongiorno dissected the 2014 Florence appeals court decision to show what she said were numerous errors of fact and logic that resulted in prison sentences of 28 1/2 years for Knox and 25 years for Raffaele Sollecito in the death of student Meredith Kercher.
Judges at the high Court of Cassation began deliberating shortly after noon.
Kercher, a 21-year-old student from Britain, was found dead Nov. 2, 2007, in the apartment that she shared with Knox and two other students. Her throat was slashed and she had been sexually assaulted.
Knox and Sollecito were arrested a few days later, and the two were convicted by a Perugia court in 2009. They were freed in 2011 after an appeals court acquitted them.
"I am not what they say..." Knox told the court in Italian before the 2011 not guilty reversal, reported "48 Hours." "...the perversion, the violence, the disrespect for life, for people, that's not who I am. ...I did not do what they claim I did. I did not kill, rape, I did not steal. I wasn't there. I wasn't present at this crime."
Knox then returned to her hometown of Seattle .
"Living for four years inside a concrete and steel prison and now being able to kind of look around, smell the air...it makes a huge difference," Amanda's father, Curt Knox, told "48 Hours" correspondent Peter Van Sant after the acquittal.
But then, in 2013, Italy's highest criminal court ordered a retrial for Knox and Sollecito after reversing the appeals' court's decision. The two were convicted again in Florence in 2014.
Another man, Rudy Guede from Ivory Coast, was arrested, tried and convicted of the murder in a separate trial and is serving a 16-year sentence.
In her closing arguments Friday, Sollecito's lawyer Bongiorno said even Knox's original statement to police -- which was never entered as evidence and was later changed -- exonerated her client.
Knox, who along with Kercher had been studying in the university town of Perugia, had initially accused a Congolese bar owner of the murder. She also told investigators that she was home the night that Kercher was killed and had to cover her ears to drown out her screams.
Bongiorno said she believed Knox's statement was coerced -- but that even if the high court chose to consider it, Sollecito figured nowhere in her story.
"My heart is crying because I think she was pressured by an intermediary," Bongiorno said, apparently referring to the person who served as Knox's unofficial translator during police questioning. But within that statement, Bongiorno added, Knox "rules out Sollecito."
Initially Sollecito said he was working on his computer all night, and that he couldn't remember if Knox had stayed the whole night with him. Police said there was no sign he used the computer that night.
The couple later said they had spent the evening together at Sollecito's place watching a movie, smoking marijuana and making love.
Knox said her initial statement was forced under duress during late-night questioning by Italian police without a lawyer present and in a language she barely spoke. Her false accusation against Diya "Patrick" Lumumba, who owned the bar where Knox occasionally worked, resulted in a slander conviction against Knox that has been upheld on appeal.
Thanks for reading CBS NEWS.
Create your free account or log in
for more features.