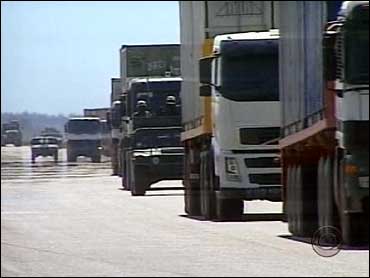 Contractor Fraud Unchecked In Iraq
The U.S. has currently spent at least $437 billion on the Iraq war, according to the Congressional Research Service. An estimated $100 billion will be spent in 2007. Much of that money is going to 60,000 civilian contractors involved in reconstruction and providing services to the troops.
But recently, the Pentagon admitted it has a hard time accounting for how billions of your tax dollars are being spent — and the billions that may be lost to contractor waste, fraud and abuse, CBS News investigative correspondent Armen Keteyian reports.
A document — part of a whistleblower lawsuit obtained by CBS News — alleges a blueprint of contractor abuse in Iraq, detailing how the government was billed 10 times more than it should have been when U.S. troops used a recreation facility in Iraq.
That's because they were not billed once per visit, but rather billed repeatedly, every time a soldier used:

a computer

a phone

ping pong equipment or pool equipment

a towel

a bottle of water.

The contractor in question, Kellogg Brown and Root, denies any wrongdoing.

"Eventually we're going to have a bill for about $1 trillion, and people are not going to be able to account for a very, very large part of it," says Sen. Patrick Leahy, D-Vt.

The Pentagon and Congress are investigating about 80 cases of alleged contractor waste, fraud and abuse in Iraq. To date, 26 have been referred to the Justice Department for possible prosecution.

So far a few individuals have been charged, most from a single case, and a few million dollars has been paid back. After 3 1/2 years of war, not a single criminal case has been filed against any large corporation doing work in Iraq.

"The Bush administration doesn't give a damn about contractor fraud in Iraq," attorney Alan Grayson says.

Grayson has filed dozens of civil "whistleblower" lawsuits against contractors, and he says with no help from the government because of what describes as the administration's ties to major military contractors.

"After 3 1/2 years, shouldn't they actually have brought some of these people to justice? What is the big problem?" Grayson said.

A Justice Department spokesperson says contractor fraud and corruption allegations are taken "seriously" and it's "aggressively" pursuing "a number ... of investigations."

In addition, a senior Justice Department official tells CBS News that it takes two to three years to investigate civil fraud cases and, even then, only about one in five meet the standards necessary for prosecution.

As the incoming chairman of the Senate Judiciary Committee, Leahy just isn't buying it. He plans to get to the bottom line ... of just how hundreds of billions of U.S. dollars have been spent in Iraq.

"This is not going to be a game of 'gotcha,'" Leahy said. "This is going to be a game of being responsible if we are going to spend taxpayer dollars, the taxpayers have a right to know where the money is going."

Just yesterday, Leahy introduced a bill mandating criminal penalties for those who exploit the war effort.

---

If you have information you'd like to contribute to this story we want to hear from you. Email us at investigates@cbsnews.com.
Thanks for reading CBS NEWS.
Create your free account or log in
for more features.