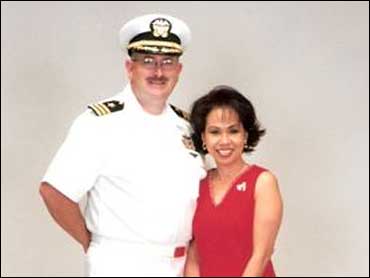 Produced by Joe Halderman and Sara Rodriguez
This story was originally broadcast on Jan. 31, 2009. It was updated on Aug. 1.
Larry Risken was a Navy officer. Earl Bourdeau was a Marine.
Nineteen years apart, they married the same woman: Sonia Rios.
And both military men met the same fate - ambushed and gunned down in the Philippines, in the presence of Sonia's family.
The families of Risken and Bourdeau say they're sure Sonia was the mastermind in both killings.
Then a year after Larry's Risken's murder, Sonia suffered the same fate herself - gunned down in her home, on the south side of Los Angeles. By then, she'd been dubbed, "The Black Widow of Lomita."
Three murders, few answers, and clues that take 48 Hours on our own investigation halfway around the world. What we help dig up - literally - is an amazing story.
Growing up in Washington State, Sherry Jackson was always close to her big brother, Larry Risken.
"Larry was the clown of the family. He was very well liked, funny… he was like a big kid," she says.
Larry followed his father's footsteps into the Navy, enlisting when he was 20 years old and rising to the rank of Commander.
"He was a loving son and a real patriot and you don't see much of that anymore," says Law Risken. He says his son was a leader - until he met Sonia Rios.
For Larry, it was love at first sight, but his sister thought Sonia, who Jackson describes as "flamboyant" and "very attractive," was trouble. "…something wasn't right," she says.
Sonia was very secretive about her past. All the Riskens knew was a vague story about a previous marriage and a divorce. "I knew absolutely nothing about her background," Jackson says.
"There was always a story-within-a-story probably is the best description of Sonia," according to Henry Hoskins, a bail bondsman and the head of the local Chamber of Commerce who has been friends with Sonia for more than 25 years.
"She had the Corvette that she drove. She was very successful. She was a very successful business woman… I think she came up the hard way," he says of her rags-to-riches story.
Sonia, who owned a thriving beauty salon in Lomita, Calif., grew up poor in the Philippines.
Her home was just down the road from Sangley Point, a U.S. Naval base. Sonia moved to the states in the 1960s. Hoskins says she was always attracted to servicemen.
"She was very, very into the social events of the military, of the Navy," Hoskins says.
After a brief courtship, Larry Risken and Sonia were married in 1990, not once, but in three separate ceremonies. Sherry Jackson says neither she nor her parents were invited to any of them.
Sonia told Larry his family wasn't welcome and it created a rift between him and his family that would last for years.
"It was devastating, because that wasn't Larry," Jackson says. "We were so close and it all changed."
But Sonia and Larry did travel to the Philippines to spend time with her family. On one trip, Larry met Sonia's niece, Quinzy, and nephew, Jetmark.
"Tell me about the Larry that you knew," Van Sant asks Jetmark.
"I called him Papa," he replies. "He is really a good man, and also a father to me."
Larry and Sonia decided to adopt the children, whose family wanted them to have a better life in the United States. Sonia promised to make the adoption happen.
After a long career in the Navy, Larry left active duty in 1995 to become a teacher. "He was a Special Ed teacher for high school students," his sister explains. "The time and love he gave to those children, it was amazing."
Teacher Eileen Stevens worked with Larry at Lawndale High School. "I was struck with how much he cared about what happened to these students after they left his classroom and the school," she says.
Larry's new job was going really well, but his marriage was not. For years, Larry believed Sonia was working to finalize the adoption of Quinzy and Jetmark.
"Year after year would go by, and Sonia would tell him that there was something wrong with the paperwork and then he found out she was sabotaging the whole adoption process," Jackson explains. "He just said, 'I can't believe it. She lied to me all these years.'"
Fed up with Sonia, Larry began seeing his friend, Eileen Stevens. Stevens says "Larry told his wife that he had feelings for me." Sonia flew into a rage.
"Sonia went on the attack, didn't she?" asks Van Sant.
"Attack is a great word for it," Stevens replies. "She told school personnel that her husband was using drugs. She told a parent that Larry and I were abusing her son."
No one believed Sonia's wild accusations, but Larry had enough. He told Sonia their 16-year marriage was over.
Sherry Jackson says she never saw her brother so happy. "It was like this big weight off his shoulders."
Sonia agreed to the divorce, but said they would only separate after Larry's long-planned trip to visit the kids in the Philippines. He would go alone.
"She knew that divorce was never going to happen." Jackson says she was terrified her brother was walking into a trap.
"He called my dad and I before he left. He was very excited to go, very excited to see the kids," she says. "I just had a horrible feeling…something bad was going to happen to him. I'm saying 'Larry don't go to the Philippines.' Something inside me is telling me that my brother is going to be harmed."
When Larry Risken arrived in the Philippines, he quickly organized a "Sweet 16" birthday party for Quinzy, the girl he had hoped to adopt.
It was April 18, 2006, the last day of his life. In a few short hours, he would be murdered.
At the party, Larry was worried about Quinzy's cousin, April, who had a serious eye infection. He decided to take her to the hospital. It was the kind of thing Larry did for Sonia's family when he visited the Philippines.
Before he left for the hospital, Larry got a phone call from the states. Jetmark says "Mamma Sonia called."
As night fell, Larry, along with members of Sonia's family, waited it out in the hospital. When April was released, they piled into a Jeep, but never got out of the parking lot.
"There were two people on a motorcycle. And the person on the back of the motorcycle went to my brother's side of the car," Sherry Jackson explains.
A man with a gun took aim at Larry. Jetmark was in the back seat.
"We just hear a gunshot… two gunshots," he says. Jetmark says he did not see the shooter because it was "really dark."
The gunman then ran back to the waiting motorcycle and took off. Larry was shot in the head and stomach. And even though they were at a hospital, doctors were unable to save Larry's life.
Jetmark, 14, who had just witnessed the murder of the only father figure he ever knew, called Sonia to give her what he thought would be devastating news.
"She told me, 'Jet, don't worry. Everything is under control. Nothing to worry about.'"
"How would she know everything is under control?" asks Van Sant. "I don't know," Jetmark replies.
Sonia then called Sherry Jackson.
"She said, 'My husband… my husband is dead. My husband… my husband is dead.'" In that moment, Jackson says, "I just kept thinking that I had to go tell my dad."
Law Risken says the news was a real shock. "It was like a punch in the belly, and I'm just thinking, 'Oh my God. How much more of this stuff can we take as a family?'"
After the initial shock of Larry's murder, Sherry Jackson wanted justice. Despite months of investigating the murder, Philippine police were unable to find Larry's killers.
The Risken family, looking for answers, hired private investigator Bong Oteza.
Oteza says the shooting was a well-planned hit. "He was a hired killer because he knows his trade. He knows what to do."
He says nothing was stolen. The hired gunman was only after Larry. "It's not a robbery. It's an assassination. It's a murder case," Oteza states.
Bong learned that Larry had several life insurance policies, but only one beneficiary: Sonia Rios. Jackson says at the time of Larry's death, the family estimates the policies were over $1 million.
While Jackson was still grieving and still trying to learn who had killed her brother, she got a call. It was stunning news: "That Sonia's first husband, Earl Bourdeau, was assassinated in the Philippines in the presence of Sonia's family," she tells Van Sant.
"I was shocked. I just remember my knees buckling," she recalls. "The extent of her evilness it just… It was that this woman definitely had my brother killed. That everything I thought about her was true."
When veteran crime reporter Larry Altman began to cover Larry Risken's murder in the spring of 2006, he thought it was nothing more than a routine homicide.
"You know, I cover murders virtually everyday. And the first day was just a simple man gets shot story, nothing sinister," Altman says. "The story ran on a Saturday and when I returned to work on Monday, I had a couple of e-mails telling me: 'Hey, this isn't the first time this has happened.'"
The information was stunning: Sonia's first husband had also been murdered in the Philippines. "I got pretty excited and like, 'Wow. I gotta start looking into this,'" Altman says.
One e-mail revealed the dead man's name: Earl John Bourdeau. An Internet search led Altman to his brother, Dennis Bourdeau.
"My brother was lying on a couch and they shot my brother in the head," Dennis Bourdeau explains. "Sonia set my brother up. Evil... just evil."
Dennis Bourdeau tries to stay focused on Earl's life before Sonia, when the two brothers were growing up in Davenport, Iowa. "We'd play baseball and he'd always help me, pitch balls to me - everything that a big brother does with a little brother, ya know."
Bourdeau says Earl enlisted in the Marines right out of high school in 1963. On his first overseas tour of duty in the Philippines, he met Sonia Rios. "My brother was head over heels in love with her."
"Did you know about this before they got married?" asks Van Sant.
"No, we never knew anything until he brought her home and said that he was married, and this is his wife."
The newlyweds settled in Lomita, a suburb of Los Angeles, where Sonia began her career as a beautician. Bourdeau says his brother worked two jobs to "keep her in what she wanted."
The story of Earl and Sonia's marriage is eerily similar to that of Larry and Sonia's.
"Sometimes she was real nice to him and other times she always seemed to be angry at him," says Bourdeau. "To me they weren't really married. She went off and did what she wanted to do..."
Henry Hoskins, Sonia's good friend, knew Earl and knew secrets about Sonia that Earl didn't. "I knew some of her boyfriends. She was dating professional people," he said.
When asked if she would cheat on Earl, Hoskins replies, "She told me she was dating a doctor."
After a stormy 21-year marriage, Earl wanted out. But before she would grant him a divorce, Sonia demanded that Earl go, by himself, to the Philippines to sell a family taxi business.
Dennis Bourdeau says Earl told him he didn't want to go. "He goes, 'I don't want to go.' And I told him, 'Then don't go.' And he says, 'Sonia's makin' me.'"
On Aug. 15, 1987, Earl was asleep when he was shot in the head at point-blank range.
"Next thing I know, my brother was dead," Bourdeau says. "It was like dying yourself... [it] just killed my mom and dad. Was just like the end of the world."
Investigator Bong Oteza says Earl was staying with Sonia's brothers and that family members told police Earl was shot during a break-in.
"He was resting in the living room of the relatives and he was gunned down while sleeping," says Oteza. "There is no sign of any forced entry into the house. If there is a forced entry that happened, the first one to know is Earl Bourdeau."
Police didn't buy the break-in story and focused in on one of Sonia's brothers after they found blood on one of his shirts.
Within weeks of Bourdeau's murder, police solved the case. Five people were arrested and charged with the murder, including two of Sonia Rios' brothers.
Then everything stopped.
"Do you believe that someone may have been paid off to stop this investigation? Van Sant asks Oteza. "Yes, to stop the investigation. Yes, to drop the charges against the five family members," he replies.
Incredibly, Oteza says it takes as little as $1,000 to stop a criminal investigation. And he thinks he knows who paid to stop this one. "The person that wanted Earl Bourdeau dead is someone that will benefit... and that is Sonia Rios."
Larry Altman says it was a murder for hire, "So [Sonia] would get the insurance money."
"According to my brother, they had a lot of insurance," Dennis Bourdeau says.
Sonia did cash in after Earl's death, collecting tens of thousands of dollars. Nineteen years later, she tried it again.
But after Larry Risken's murder, Sonia didn't make out as well. An angry Sherry Jackson alerted the insurance companies, saying that Sonia was responsible for her brother's murder and the insurance payouts were frozen.
"Sonia used the Philippines as a killing ground in two murders and no one has been brought to justice," Jackson says.
But that's not the end of the story. Close to the one-year anniversary of Larry Risken's murder, someone made an unexpected visit to Sonia at her salon.
Says Altman, "Somebody runs in there and fires a shot at her, misses and yells, 'I'll be back.'"
Dennis Bourdeau is convinced Sonia Rios arranged to have his brother Earl's body secretly buried in the Philippines so investigators could never take a second look at the body. He called Sonia and confronted her.
"I said, 'I know the whole thing Sonia. I know you had my brother killed. All I want is my brother back here and you'll never hear another word from me. I won't bother you. But if you don't, I'm gonna haunt you until hell freezes over," Bourdeau says.
Like Dennis Bourdeau, Sherry Jackson tried to get her brother's body back to the states. But Sonia made that impossible; she had Larry cremated.
"She wouldn't even allow the family to have the remains of their loved ones after she had them murdered," says Jackson. "I believe it was a coverup. I believe Sonia did not want his remains brought back to the United States."
Jackson was devastated. She didn't even know where Larry's ashes were. But after her brother's murder, she received a bizarre e-mail with an offer: "It said that they would help my family get my brother's ashes back."
The mysterious e-mailer told Jackson her brother's ashes could be retrieved from the Philippines for a mere $35,000.
"Every time I went out of the house, I would look around. I was afraid for my life," Jackson says.
Reporter Larry Altman was also frightened. He broke the story linking Sonia, who he now called the "Black Widow of Lomita," to the murders of her two husbands. Shortly afterwards, he started receiving disturbing phone calls.
"I was in a dead sleep. [The] phone rings and I hear all this static. Then I hear the word 'Philippines.' Then what I made out was, 'You're gonna get it.'"
Altman says he wasn't intimidated. He repeatedly called Sonia, who finally agreed to meet him face to face. The reporter came expecting an interview, but Sonia had set a trap.
"I looked through the window and this very tall man who was sitting on the couch in the waiting area stood up. He towers over me, and says 'step outside.' My heart was pounding, and he says 'there's gonna be no interview.' Strangely, he puts his hand out with his card in it and says 'I'm Henry Hoskins.'"
"I was only there as a friend and a private investigator," Hoskins tells Van Sant. "She said she was getting a lot of harassing phone calls."
Sonia was convinced that the news stories were putting her in danger. "[She] complained about her phone being tapped, complained about people watching her," Hoskins says.
Sonia's paranoia was justified. Close to the one year anniversary of Larry Risken's murder, someone burst into her salon in Lomita and took a shot at her. The bullet missed, but the shooter promised to return. Police believe that promise was kept nine days later when someone entered Sonia's home.
911 Operator: Can I help you?
Caller: Yes, Yes. Can you send somebody?
911 Operator: What's going on there?
Caller: Oh, gosh, there's blood on the floor.
It was a Friday afternoon. Larry Altman was working on another story when he got a call from a tipster: "'Hey Larry, there's a murder out here in Lomita and it's that woman with the two dead husbands.' And I said, 'Are you kidding me?'"
Los Angeles County Sheriff's Detective Mike Rodriguez got to the crime scene just after patrolmen had arrived.
The black widow of Lomita, 60-year-old Sonia Rios, was found in her home in a pool of blood, dead, ironically, from a gunshot wound to the head.
"It looked like somebody had came in and executed her. They came in to do a job and they did the job," says Det. Rodriguez.
Rodriguez believes Sonia likely knew her killer. Her home was secure, with a steel gate and a security camera at the front door. "It didn't look like she had struggled. I believe that she probably saw who her killer was."
After the incident at her salon, Sonia told police Sherry Jackson had motive to harm her. Armed with that information, Det. Rodriguez flew to Olympia, Wash., to question Jackson face to face.
Jackson says she had nothing to do with Sonia's murder.
"Would it be accurate to say that if you had the opportunity you might dance on her grave?" Van Sant asks. "Yes, or buy a drink for the person who killed her," Jackson replies.
Jackson's father, Law Risken, isn't grieving either. "If I could, I'd dig her up and shoot her again."
Police quickly ruled out the Risken family as suspects, but Det. Rodriguez was intrigued by the mysterious e-mails that Jackson had received after her brother had been killed: "Everybody knows that Sonia murdered your brother. I can get someone to kill Sonia Rios Risken."
Jackson says the person is signing John Bourdeau on the e-mails.
Detective Rodriguez says he spoke with John Bourdeau. He was the one that found Sonia Rios.
Rodriguez discovered that John Bourdeau was Sonia Rios' secret son. He had been born 44 years earlier in the Philippines - before her first marriage and then reportedly adopted by Earl Bourdeau. Sonia rarely talked about her son and he refused to talk to "48 Hours."
"We did not find one photo, not one letter [or] card, you know, indicating that she even had a son," Rodriguez says.
Those e-mails offering to kill Sonia, plus the fact that John Bourdeau was the sole heir to her estate, convinced Det. Rodriguez that he was a prime suspect. But, the detective warns, "In the Sonia Rios murder case, not everything is what it seems."
When police traced the e-mails, they were stunned to learn they were sent by someone who was trying to frame John Bourdeau. "I can sit here and say today that John Bourdeau did not send those e-mails," states Rodriguez.
Who did send those e-mails? Who killed Sonia Rios?
One man who may know secrets to solving Sonia Rios' murder and the murders of her two husbands is Eric de la Cruz.
"It's my understanding that Eric de la Cruz is a great-nephew of Sonia," says Sherry Jackson.
Jackson first heard Eric's name about one year after her brother's murder when, out of the blue, he sent the Risken's a box of Larry's belongings.
Eric is Filipino but grew up in the U.S. and was very close to Sonia and Larry, even calling them Grandma and Grandpa.
"He said he loved my brother and that my brother was a mentor," Jackson recalls.
After Eric sent the memorabilia, which included medals and photos, to the Riskins, he and Jackson struck up an e-mail friendship. But then Eric shocked Jackson. Once again, she was told she could pay to get her brother Larry's ashes back. This time, the price was astronomical.
"All I needed to do was give him $250,000 and we could, you know, get my brother's ashes," Jackson tells Van Sant.
Police first questioned Eric after he showed up at Sonia's house the day her body was discovered. He drew even more police attention after he went to Sonia's lawyer, hoping to collect money from her estate.
Jackson believes Eric is capable of anything. "I think he is a clone of Sonia."
"48 Hours" tracked Eric de la Cruz to a house in Carson, Calif.
Peter Van Sant: Eric de la Cruz? I'm Peter Van Sant with CBS News. I want to ask you a couple of questions. Did you kill Sonia Rios?
Eric de la Cruz: Sir?
Van Sant: Did you kill Sonia Rios?
Eric: That's my grandma sir.
Van Sant: I know it's your grandma. Did you kill her?
Eric: No sir, No. I wasn't there.
Van Sant: You know where Larry Risken's ashes are, why don't you give them back to the family?
Eric: I don't, I don't sir. I don't. I loved my grandpa sir. I love him.
Van Sant: You loved him so much you wanted to sell his ashes to his family?
Eric: I was pretending. I want to know if…
Van Sant: C'mon talk to me.
With Eric no longer talking and Sonia dead, the investigation into the murders hit a wall. The Risken family has little hope of ever getting Larry's ashes back.
"Sonia made sure his remains stayed in the Philippines," Jackson says. "They belong at home with the family."
The Risken's have nothing more than a grave marker to commemorate Larry.
"I want people to remember him as he was. Which was a very special, caring, trusting person," says Jackson.
Like the Riskens, Dennis Bourdeau also has nothing but an empty grave to visit. "My mom and dad just idolized my brother. I promised them I would do whatever I could to get him back here. I'm not going to stop until I get him back somehow, some way."
Half a world away, somewhere in the Philippines, are the hidden remains of Earl Bourdeau. During the "48 Hours" investigation into his murder, a tip led to a small public cemetery outside of Manila. "48 Hours" was told Earl's remains might be entombed behind a crypt wall.
"48 Hours" hired the best forensic pathologist in the Philippines, Dr Rachel Fortun, to help us. Inside the crypt were a coffin and an unmarked sack. Inside the sack, Dr. Fortun discovers what she thinks is a male skeleton. Could this be Earl Bourdeau?
Dr. Fortun brought the sack to her laboratory. Inside were not just bones, but perhaps another clue: a pair of heavy socks, something an American might wear.
"This is a tropical country. It's hot. So, you wouldn't really wear socks at all, many times," she notes.
With the help of a colleague, Dr. Fortun took measurements and compared medical and dental records to the bones. Then, in a real "CSI" moment, she pieced the skull together and made a startling discovery: Two pieces fit together, showing a hole.
"That is an entry, rather than an exit," she remarks of the bullet hole, which was
on the side of the skull where Earl was shot.
After a complete examination of the remains, Dr. Fortun offered her expert opinion: "There are many points here that indicate that these could be the remains of Mr. Bourdeau."
To be absolutely certain, "48 Hours" sent a bone sample to a lab in Fairfield, Ohio, to compare against his brother's DNA. Two months later, with the lab results in hand, "48 Hours" traveled to Dennis Bourdeau's home to give him the news he's waited 21 years to hear.
"We found your brother," Van Sant tells him. "We found Earl".
"It's good," Bourdeau says. "It just means everything, to have my whole family back again. And kind of like being reborn you know. After all these years to have him, actually go to the gravesite and be able to see him and just be a whole new feeling."
"48 Hours" transported Earl's remains back to Davenport, Iowa, the town he had left more than 45 years ago to find adventure in the Philippines.
"It was just always just an empty feeling not being able to go see a body or a grave or even be a part of the funeral. I can't believe that he's here. It's been a long time."
Sonia Rios' nephew, Eric de la Cruz, and his friend, Fernando Romero, were arrested in April 2009 and charged with her murder. Both pleaded not guilty.
On July 24, 2009, Sonia's friend, Henry Hoskins, died of a gunshot would to the head. The coroner has ruled the death a suicide.
The murders of Earl Bourdeau and Larry Risken remain unsolved.
Thanks for reading CBS NEWS.
Create your free account or log in
for more features.