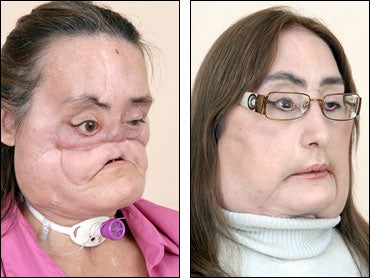 Connie Culp, Face Transplant Recipient, Meets Donor Family: "She's Smiling Down on Us"
LAKEWOOD, Ohio (CBS/AP) For two years, the woman that gave Connie Culp a new face and a new chance on life remained nameless.
Now, Culp, the nation's first face transplant patient, has finally met the family of Anna Kasper and had a chance to thank the donor's husband and children for the life changing operation.
The meeting took place over the weekend in Lakewood, Ohio, a few miles outside of Cleveland. Kasper's family decided to reveal she was the donor, so others can know the generous woman they loved.
"She'd give her time. She'd give her money. She gave a lot of things she didn't have to other people," Kasper's husband, Ron Kasper, told The Cleveland Plain Dealer. "When they asked about the donation, we knew it was what she would want to do."
Culp, 47, has been thanking her donor since the surgery, but she had never been able to name her. She told The Plain Dealer that the get-together went well after some initially awkward moments.
"They're just really nice people," Culp said. "It's awesome, how much we have in common."
After Kasper died of a heart attack in 2008, a donor specialist approached Kasper's family about donating her face. Her family had already agreed to give away her heart, her kidney, her liver and her eyes.
"My mom would say, 'Hell if I can't use it and somebody else can, they can have it,'" Becky Kasper told the paper.
"I know she's smiling down on this, that she's very happy," she said.
For Culp, the ground breaking surgery was a second chance on life.
Culp's husband shot her in the face in 2004. The blast destroyed her nose, shattered her cheeks and shut off most of her vision. Her features were so gnarled that children ran away from her and called her a monster.
Since the operation, which merged what was left of Culp's face with Kasper's, the 47-year-old has been able eat and breath without a tube. Her face is still far from normal, but leaps and bounds from where she was after the violence.
After meeting with Culp this weekend, Ron Kasper told The Plain Dealer that the two women share much more than a face.
"Connie's like Anna in a lot of ways," he said, "as far as her personality and how much she enjoys life and how she smiles and is still able to have such a great attitude after everything she's been through and she takes everything in stride."
Thanks for reading CBS NEWS.
Create your free account or log in
for more features.