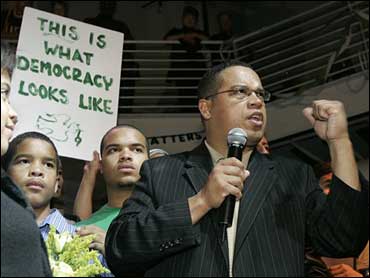 Congressman Admits 9/11 Error
The nation's first Muslim congressman said Tuesday that he erred in comparing the Bush administration's response to Sept. 11 to an event that led to Adolf Hitler's consolidation of power in Nazi Germany.
At an appearance before a group of atheists in Minnesota on July 8, Rep. Keith Ellison, D-Minn., called Sept. 11 "the juggernaut" that led to war, tolerating torture and increased discrimination against religious minorities.
"It's almost like the Reichstag fire, kind of reminds me of that," he said. "After the Reichstag was burned, they blamed the Communists for it and it put the leader of that country in a position where he could basically have authority to do whatever he wanted."
Hitler used the 1933 burning of the Reichstag, the German parliament building, to suspend constitutional liberties.
"In hindsight, I wouldn't have used that reference point," Ellison told The Associated Press in a telephone interview Tuesday. "It was probably inappropriate to use that example, because it's a unique historical event, without really any clear parallels."
Ellison said he remains harshly critical of the Bush administration.
"I believe that they have exploited the fears that grew from 9/11, in order to pass legislation and even start wars they could have never gotten away with but for that tragedy," he said.
Ellison said he had gotten a call Tuesday afternoon from the Anti-Defamation League, an international group that opposes anti-Semitism, regarding the Hitler comparison.
"They told me they understood the point I was trying to make, but they didn't think it was the right way to use that historical example, because they thought any sort of comparison to the modern world we live in in some way diminishes the horror of the Nazi era," Ellison said. "I told them I feel they're right."
The ADL released a statement Tuesday calling on Ellison to apologize for his comments. The group's national director, Abraham H. Foxman, called the comparison "outrageous and offensive to all Americans."
"Whatever his views may be on the administration's response to 9/11 and the conduct of the war on terrorism, likening it to Hitler's rise to power and Nazism is odious and demeans the victims of 9/11 and the brave American men and women engaged in the war on terror," Foxman said. "Furthermore, it demonstrates a profound lack of understanding about the horrors that Hitler and his Nazi regime perpetrated."
The U.S. Holocaust Memorial Museum also issued a statement Tuesday, saying: "Nazi Germany committed unprecedented crimes against Europe's Jews and others. Invoking the Holocaust to make a point about the United States is unfounded, minimizes the evil of Nazism, and is an offense to its victims."

Thanks for reading CBS NEWS.
Create your free account or log in
for more features.