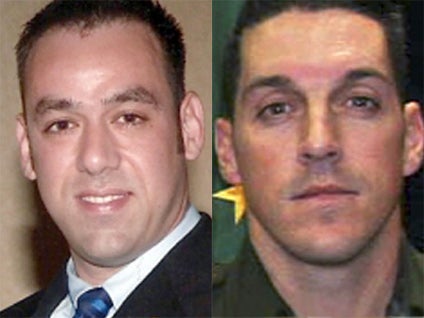 Congressional investigators fault ATF's "irresponsible tactic" in ICE agent murder
Congressional investigators are connecting controversial law enforcement tactics in the murders of federal agents killed in separate shootouts. Border Patrol Agent Brian Terry, was gunned down near the Arizona-Mexico border in December of 2010; and Immigration and Customs Agent Jaime Zapata, was ambushed and murdered on assignment in Mexico two months later in February of 2011.
In both cases, weapons used had been trafficked by suspects who were on the Bureau of Alcohol, Tobacco and Firearm's (ATF's) radar. Guns used against Agent Terry had been trafficked in ATF's controversial operation "Fast and Furious," in which ATF let thousands of assault rifles and other weapons fall into the hands of Mexican drug cartels, to try to somehow get at the cartel's "big fish."
In a letter sent today, Sen. Charles Grassley (R-Iowa) and Rep. Darrell Issa (R-CA) wrote Attorney General Eric Holder saying they've waited months for the Justice Department to provide information about ICE Agent Zapata's murder. "ATF has tried to distinguish this case from Operation Fast and Furious and to justify its failure to intervene... Yet failure to conduct surveillance of individuals known to be trafficking weapons to Mexico was a core problem with the tactics used in Fast and Furious. Lack of surveillance is what allowed such firearms to reach the border. The same irresponsible tactic appears to have been used in this matter."
As CBS News has reported, two weapons used in Agent Zapata's murder in Mexico had been trafficked by suspects in two other ATF cases. Each time, ATF documented criminal acts by the suspects but did not immediately move to arrest them.
The Justice Department had no immediate comment.
Thanks for reading CBS NEWS.
Create your free account or log in
for more features.