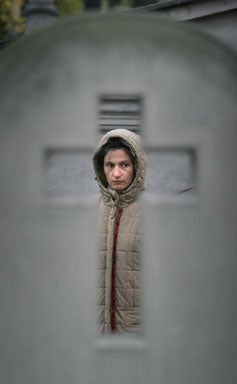 Confession From A Killer Doc
A former doctor already convicted of killing three patients in New York admitted Wednesday to killing a woman at Ohio State University's hospital, where authorities believe he began a string of poisonings.
Michael J. Swango pleaded guilty in Franklin County Common Pleas Court to aggravated murder in the January 14, 1984 death of Cynthia Ann McGee, 19, a gymnast who was recovering from a car accident.
Swango, 45, admitted injecting McGee with a deadly dose of potassium when he was an Ohio State intern. He agreed to be returned to Columbus to answer to the aggravated murder charge last month after he pleaded guilty in U.S. District Court in New York to the three 1993 murders at a Long Island veteran's hospital.
Judge Lisa Sadler sentenced Swango to life in prison with the chance of parole after 20 years. Aggravated murder was the most severe penalty he could get in 1984, when McGee died.
Swango made no statement and stood looking at the judge with his chin slightly raised.
Swango already has been sentenced to life without parole for the three New York murders in a plea bargain that spared him the possibility of the death penalty. He will be sent to a maximum security prison in Florence, Colorado.
Prosecutors say they needed Swango's admission to charge him in Ohio because they had only circumstantial evidence—a nurse's account that she had seen him entering McGee's hospital room with a syringe just before the patient lapsed into a coma and died.
McGee, of suburban Dublin and a student at the University of Illinois where she was on the gymnastics team, was recuperating from an accident.
After her death, Scott Bone, the 17-year-old driver of the car that struck her bicycle, was convicted of reckless homicide and sentenced to 30 months' probation and 1,000 hours of community service. Bone and his family have refused comment on the Swango case.
Authorities considered suspicious the deaths of at least six patients, including McGee's, while Swango was at Ohio State during the 1983-1984 school year. Ohio State barred him from returning for a second year.
He then secured jobs in other hospitals, including in Zimbabwe, by lying. The African nation, where he also is suspected of poisoning patients, has agreed not to press charges.
Federal prosecutors charged Swango with the New York killings days before he completed a 42-month prison sentence for lying on an application for a residency at Stony Brook University Medical Center on Long Island. He admitted failing to disclose that he had spent 30 months in jail and lost his medical license in 1985 for poisoning six co-workers in Quincy, Illinois.
A book about him, Blind Eye: The Story of a Doctor who Got Away with Murder, suggests that Swango might have killed up to 35 patients as he moved from hospital to hospital.

---
A chronology of major events in Swango's medical career:
1983: Sango graduates from Southern Illinois University's medical school in Springfield, Illinois and begins a one-year surgical internship at Ohio State University's hospital.
1984: After Ohio State denies his request for a residency in neurology, Swango returns to his hometown of Quincy, Illinois to work as a paramedic while awaiting medical licensing in Illinois and Ohio.
1985: Swango is charged with and convicted of the nonfatal poisonings of five fellow paramedics in Quincy. He is sentenced to five years in prison. The case brings Ohio authorities to investigate Swango in the deaths of at least six Ohio State hospital patients under his care during 1983 and 1984. No charges are filed because of a lack of evidence. Swango's medical licenses are revoked in Illinois and Ohio.
1987: After serving two years, Swango is released from prison.
1989: Swango is investigated in the nonfatal poisonings of three co-workers in Newport News, Virginia. No charges are filed.
1990: Swango is certified as a paramedic in Virginia after trying to get jobs in several states, including West Virginia and North Dakota, and in Washington D.C.
1992: The University of South Dakota's internal medicine residency program dismisses Swango after officials discovered he had lied about his criminal record.
1993: The State University of New York at Stony Brook accepts Swango into its one-year psychiatric residency program at the Veterans Affairs Hospital in Northport, NewYork. Swango then disappears amid lawsuits alleging he fatally poisoned three patients at the hospital. A federal investigation fails to link Swango to the deaths.
1994: Swango begins working in Zimbabwe and Zambia. Authorities in New York issue a warrant against him on a fraud charge, alleging he lied about his criminal past on a 1993 Stony Brook job application.
1995: Zimbabwe authorities suspend Swango from practicing medicine at the Mnene Mission Hospital, where he is suspected in the deaths of five patients.
1997: Swango flees Africa and is arrested at Chicago's O'Hare Airport en route to begin a medical stint in Saudi Arabia.
1998: Swango pleads guilty in New York to the fraud charge and is sentenced to 42 months in a Colorado prison.
July 2000: Just days before he is to be released from prison, Swango is charged in a nine-count federal indictment with the 1993 murders of the three patients at the New York veterans hospital. The indictment also accuses Swango of a history of patient assaults and homicides, including the 1984 death of a 19-year-old gymnast at Ohio State's hospital and the nonfatal poisoning of another patient there the same year. He pleads innocent to the New York charges.
Sept. 6, 2000: As part of a plea deal, Swango pleads guilty to the murder charges in exchange for a sentence of life in prison without parole. He could have faced the death penalty.

Oct. 18, 2000: Swango pleads guilty in Franklin County Common Pleas Court to killing McGee and is sentenced to life in prison with the chance of parole after 20 years, the most severe penalty in 1984, when McGee died.
(Source: AP research.)
Thanks for reading CBS NEWS.
Create your free account or log in
for more features.