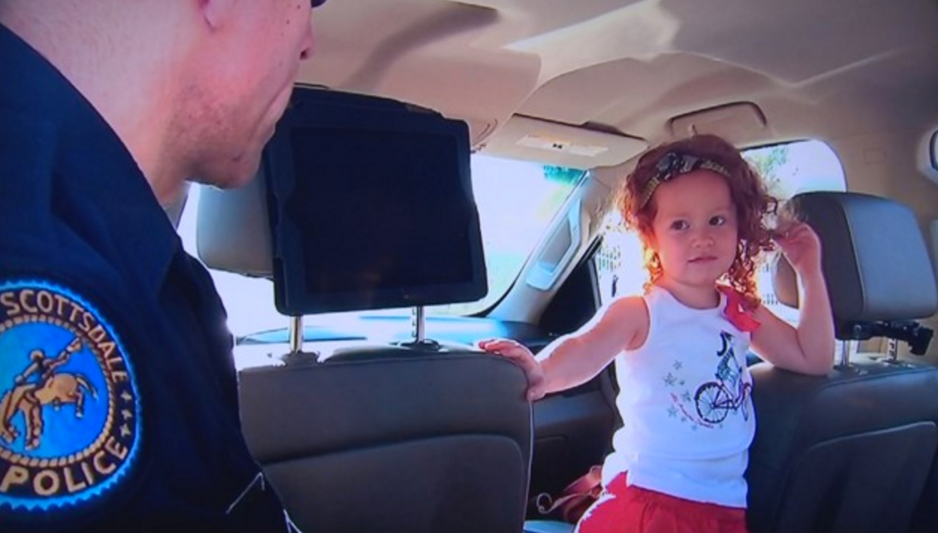 Concerned mom calls cops to teach her 3-year-old daughter a lesson
When her 3-year-old daughter unbuckled the seatbelt to her car seat during a temper tantrum, Michelle Fortin decided to call for backup.
The mother, who was driving her two kids home from the dentist at the time, tried explaining to her "spunky" little girl when they got home why she needs to wear a seatbelt. But she feared her lesson wouldn't stick. So, she called the Scottsdale Police Department's non-emergency line for assistance.
"I know my kids better than anyone else, and I know that sometimes we have to get creative with our discipline," Fortin told CBS News. "My daughter is 3; she doesn't necessarily think that rules apply to her."
Scottsdale police officer Corey Snead gladly volunteered to speak with little Camille and her older brother a few days later.
Fortin drove her children to the police department and listened as Snead used stuffed animals to demonstrate how to properly put on a seatbelt, and why it's important to do so.
"We don't know what other drivers will do," Fortin recalled Snead telling her daughter. "Other drivers might not pay attention and somebody else might hit mom. If you're not buckled, you could bounce around the car and get hurt."
The Arizona mom is glad she reached out to law enforcement.
"I handled the situation, but I also decided to take another step to drive the point home," Fortin explained.
She didn't want her children to think of wearing a seatbelt as "mommy's rule." It's the law.
With Snead's help, she was able to really grab their attention.
In fact, Camille hasn't unbuckled her seatbelt again – or even considered it.
"Parents need to hold their ground, you know," Fortin said. "Sometimes we have trouble trying to communicate ways to correct our children."
The mom says she's heard what critics have had to say about her parenting style, but she's standing by her decision.
"I've had individual people challenge me on this decision, say they would never do this," Fortin said. "I really stand my ground on this. I made the right decision for my kid, and it made an impact. We're all just trying to raise meaningful citizens."
Thanks for reading CBS NEWS.
Create your free account or log in
for more features.