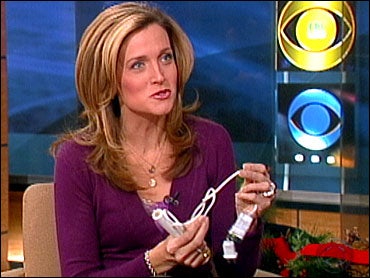 Concern About Lead: It's Not Just Toys
We've all heard about lead on toys -- many made in China -- that could cause health woes if ingested.
Now, reports Early Show consumer correspondent Susan Koeppen -- the spotlight has taken a decidedly holiday turn -- with word there could be lead with decorative lights and synthetic trees -- and again, many of those in question are made in China.
Koeppen has been getting e-mails from concerned viewers, and provided some answers Wednesday.
"Not all Christmas lights are going to have lead," Koeppen explained to co-anchor Julie Chen Wedneday, "but many of the Christmas tree lights do have lead, and (fake) Christmas trees."
The lead, Koeppen said, is "in the cord. They use it as insulation. They use it to make sure the plastic is flexible, and doesn't crack. It's also a fire-retardant."
"That's probably every cord in the house!" Chen exclaimed.
"Your blow dryer, your appliances -- a lot of those cords will also have lead," Koeppen replied.
"There are some people very concerned about this," Koeppen continued, "who say it is a definite danger, and that you should wear gloves if you're handling Christmas lights when you're decorating the tree, or you should wash your hands after handling the cord.
"But the (federal) Consumer Product Safety Commission says not to worry about it -- it's not a major danger -- it doesn't pose a risk to you or your children."
But many of the products have warning labels whish is, Koeppen says, "why some people are freaking out a little bit about this -- they're putting up their lights, and they're buying packages -- and they see on the back, there's this warning label that says, 'This cord contains lead, wash your hands after you're done handling this.' That warning label is required by the state of California for any lights sold in the state of California. Lots of companies make products sold nationwide, including California and other states, so that's why you're going to see that label that says something about the state of California, even if you live in New York or other states. They require the label on any product that has toxic material within that product."
So, Chen surmised, "Just because there is not a label doesn't mean there isn't lead in a cord?"
"Exactly," Koeppen agreed. "A company can have lead in the cord and not sell it in California, so it's not going to have a label. If you see the label, you know there's lead in the cord but, if you don't see a label, it doesn't mean there's no lead. Most of these have lead in the cords."
What if you have young kids at home?
"Don't let them handle the cords if you're worried about this," Koeppen responded. "If they want to decorate the Christmas tree, you handle the lights. Let them put the star on top or the ornaments on.
"But one of the biggest risks -- this is common sense -- don't let your kids chew on the cord or touch the cord. You handle it. There is more of a fire or shock hazard if they play with the cord.
What about synthetic Christmas trees?
The lead in them is "in the plastic," Koeppen observed, "to make sure that that plastic doesn't fall apart or turn brittle."
---

According to the Web site of the Children's Health Environmental Coalition:

If you've been shopping for holiday lights this season, you may have noticed a warning label on some of them saying they may contain lead.

The warning is required by California's Proposition 65. It requires a warning label on any product containing a substance known to cause cancer or birth defects that's sold in California. Lead is listed as a carcinogen, but it's more widely associated with neurological damage.

Wire coating and cords are usually made of PVC plastic, which may contain lead. Lead is used in PVC for several reasons. For wires and cords, lead makes the plastic more flexible and reduces the risk of fire. Lead is also used in many PVC products to stabilize their color. Lead in PVC products can disintegrate into lead-laced dust.

The labels began appearing on holiday lights, as well as on electronic equipment and cords on other consumer products such as hairdryers, after a number of lawsuits were filed by an environmental advocacy organization in California.

The amount of lead in the lights and other consumer products with warning labels may vary considerably. It's not clear if enough lead is released to pose a risk to human health. Some tests show that lead could come off on hands. Note that nearly all appliance cords are covered with PVC that contains lead.

The CHEC recommends the following:

Do not allow children to handle holiday lights!

Adults should wash hands thoroughly after handling the lights.

Avoid lights made in China and other foreign countries, where there are no restrictions on the use of lead in consumer products. Lights made in the United States are likely to contain smaller amounts of lead, especially in the coating. CHEC's Safer Products Store offers a holiday light set that the manufacturer claims is lead-free, with the exception of the cord.

Do not assume that holiday lights that do not bear the warning label are lead-free. It's possible that the lights aren't sold in California. California is the only state that requires the warning label. Older lights that have not been labeled may also contain lead.

Artificial Christmas trees are also made of PVC and could contain lead, as well. Trees may shed lead-laced dust, which may cover branches or shower gifts and the floor below the tree. Contact the manufacturer to ask if your tree contains lead. Or have it tested. You can order a test kit from the Environmental Quality Institute at the University of North Carolina. Mail your order with a $15 check to: FE/EQI CPO #2331, UNC-Asheville, Asheville, NC 28804.

If you cannot ensure that your tree is lead-free and you have children in your home, the CHEC suggests that you dispose of the artificial tree and purchase a new one. The most environmentally-friendly choices are potted trees that can be planted in the spring or live trees raised on sustainably-managed farms, or organic Christmas trees.
Thanks for reading CBS NEWS.
Create your free account or log in
for more features.