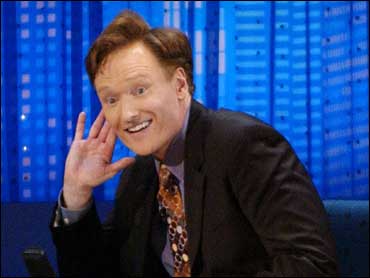 Conan O'Brien's "Priest Stalker" Charged
A Boston priest was arrested in New York City last week and has been charged with stalking late-night talk show host Conan O'Brien, New York City police said.
Rev. David Ajemian has been placed on leave after he was arrested last Friday, the Archdiocese of Boston announced Wednesday.
Ajemian, 46, remains in the custody of New York City police after he allegedly sent multiple communications to O'Brien over 14 months, police said. They said Ajemian was told to stop with the communications but did not, and a warrant for his arrest was issued by the Manhattan District Attorney's Office.
CBS station WBZ reports that Ajemian is accused of sending O'Brien threatening notes on parish letterhead and contacting his parents.
"I want a public confession before I ever consider giving you absolution - or a spot on your couch," wrote the Rev. David Ajemian, who signed the notes "Padre," said Barbara Thompson, a spokeswoman for the Manhattan district attorney's office.
Court papers say Ajemian referred to himself as "your priest stalker" in one note and complained of not being allowed in to see an earlier taping of the O'Brien show.
"Is this the way you treat your most dangerous fans?" the note said.
Ajemian was arrested at 30 Rockefeller Plaza while trying to enter a taping session of NBC's "Late Night with Conan O'Brien." Ajemian was a reverend at St. Patrick's Parish in Stoneham, Mass., from 2005 to May of this year. He has not been reassigned to another parish since May.
New York City police officials said Ajemian is charged with aggravated stalking and harassment. They said he had been sending the popular talk show host e-mails and letters since September 2006.
An NBC spokesman said O'Brien is not commenting on the incident.
The priest could face up to a year in prison if convicted on charges of aggravated harassment and stalking.
The Archdiocese of Boston released a statement saying, "(Fr. Ajemian) is no longer able to exercise public ministry."
The Archdiocese would not give further comment.
Ajemian is a graduate of Harvard and the John XXIII National Seminary and was ordained in May 2001. The New York Times reports that the priest said in his correspondence that he had followed Mr. O'Brien's career since they both attended Harvard.
WBZ correspondent Beth Germano said that parishioners at St. Patrick's in Stoneham are "stunned," and that they described the priest as "a spiritual man."
Thanks for reading CBS NEWS.
Create your free account or log in
for more features.