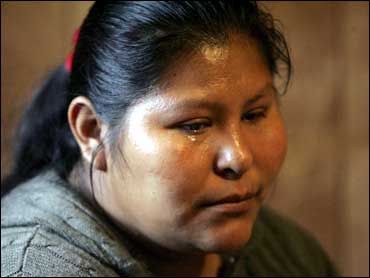 Community Torn Apart By Immigration Raid
When Magdalana Domingo Ramirez Lopez moved to this South Carolina city nearly two years ago to work at the chicken processing plant, she felt at home.
On weekends, the neighborhood near House of Raeford's plant was filled with the sounds of salsa music and the scents of Guatemalan cooking. She would shop with her three young sons at nearby businesses that catered to the immigrants - some in the country legally, others not.
While the sights and sounds reminded Lopez of her native Guatemala, she said she was happy living in the United States - a place that offered a better life for her family.
But those hopes were shattered Tuesday when federal agents swooped into the plant, arresting 330 suspected illegal immigrants, six of them juveniles, effectively shutting down the factory and tearing apart the close-knit community.
Lopez was arrested and could be deported, as her husband was two years ago.
"My whole life has changed," she said as tears rolled down her cheeks. "I don't want to go back. My sons are better off here. The country is so poor. There's nothing there."
In response to requests Wednesday for comment on the raid, a U.S. Immigration and Customs Enforcement spokeswoman said only that those arrested were violating immigration law.
A day after the raid, families waited to hear from loved ones at detention centers. Meanwhile, businesses and streets were vacant because those not rounded up stayed home, afraid agents would return.
Just days before, poultry workers visibly filled the neighborhoods around the plant.
The community's transformation was slow but steady over the last 15 years as the newcomers replaced working-class whites and blacks. Neighborhood residents who knew about federal charges against plant supervisors accused of helping illegal immigrants forge documents didn't think the trouble would trickle down to them.
After all, they were only here to give the plant long hours of joint-aching work and local officials didn't seem to mind. That thought was likely shared by immigrants in communities nationwide, including states throughout the South, Iowa and New York who have been caught in similar raids by the U.S. Immigration and Customs Enforcement.
Lopez, 29, believed she was safe. But she spent most of Tuesday being fingerprinted and questioned by federal agents and a day later was coming to grips with being sent back to Guatemala. Her sons - ages 4, 5 and 6 - were all born in the U.S.
"The whole time I was there with police, I cried. I kept thinking about my sons. That I wouldn't see them again," she said.
She left Central America because she didn't want her family to grow up in a place where she was so hungry at times that she had to eat grass and dirt.
"I came to the U.S. for work. I came in peace. My goal was to help my sons grow up in a better place. Now that's gone," she said.
House of Raeford processes chickens and turkeys in eight plants in North Carolina, South Carolina, Georgia, Louisiana and Michigan. The Greenville plant and its nearly 900 workers have been under scrutiny for almost a year as authorities looked into allegations the company knowingly hired illegal immigrants. Eleven supervisors and the plant's human resources director have been arrested, mostly for falsifying immigration documents.
The company has issued a statement saying it never knowingly hired illegal immigrants and was cooperating.
Many workers say they had no idea about the legal troubles or that a raid was imminent.
"We never thought they would come in and start arresting everyone," said 35-year-old Jorge Mendoza, who missed the morning raid because he works second shift. "That would be like shutting down the plant. They wouldn't do that, we thought. The plant is too busy."
Mendoza said he plans to move his family because it's too dangerous to stay.
Greenville County deputies couldn't do much about illegal immigrants because no provision in South Carolina law makes it illegal to be in the U.S. without permission. Instead, deputies who thought they arrested or spoke to an illegal immigrant were told to contact federal immigration officials, said Master Deputy Michael Hildebrand.
Those arrested in the raid face various charges, including re-entry after deportation, counterfeit documents and false statements. All are in the U.S. Marshal's custody and have been processed for deportation.
Luis Garcia, an interpreter in the area, said removing so many people will devastate the community.
"They're breaking families. Everyone is worried," said Garcia, who visited Lopez to see how she was doing.
Lopez is under house arrest and has to wear an ankle monitor until her deportation hearing Nov. 14. She has no money to hire a lawyer.
Her 4-year-old son, Issias, is recovering from surgery. She doubted he would get proper medical care in Guatemala, where she plans to take her children to rejoin their father.
When immigration officials asked her to sign a deportation order, she said she refused, replying: "First you kill me, then I'll sign it."
Several miles down the road, Emilio Espinoza manages the Guatemala Restaurant in a strip mall with a grocery store, bakery and nightclub, all catering toward Hispanics.
His usually packed restaurant was empty at lunchtime Wednesday for the first time since he opened seven years ago. Half his employees didn't show up because they were scared immigration agents might be in the area.
"People are afraid to leave their homes," said the 35-year-old Espinoza.
David Wynn said he has watched the neighborhood change around his heating and air conditioning supply store across the street from the plant.
Everyone knew the plant hired illegal immigrants, said Wynn, who added no one wanted to do anything about it because they figured the workers were doing jobs no one else wanted. With the economy getting worse, that's probably no longer true and he worries what is going to happen to all the people caught up in the raid.
"We need to pray for them," Wynn said.
Thanks for reading CBS NEWS.
Create your free account or log in
for more features.