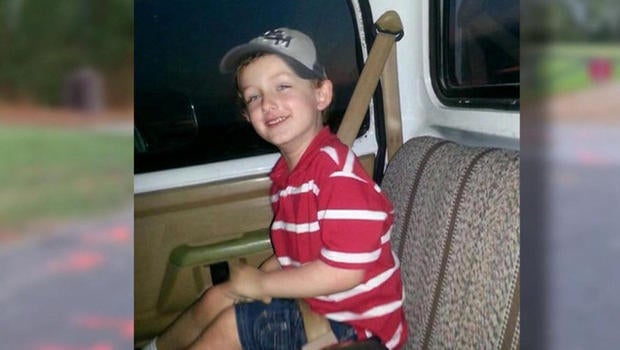 Community to say goodbye to 6-year-old killed by police
HATTIESBURG, Miss. -- Family and friends are set to say goodbye to a 6-year-old autistic child who was killed during a police pursuit in Louisiana that left his father seriously wounded.
Funeral services for Jeremy Mardis are scheduled Monday afternoon at Moore Funeral Chapel at Moore Funeral Services in Hattiesburg, followed by burial in Beaumont Cemetery.
Authorities say Mardis died last Tuesday in Marksville, Louisiana, after city marshals fired into a vehicle driven by his father, Chris Few. State police said they have found no evidence that Few had a gun. Two law enforcement officers are in custody and face charges of second-degree murder and attempted second-degree murder.
The head of the Louisiana State Police says a video of the shooting is one of the most disturbing things he's ever seen, CBS News' David Begnaud reported.
Investigators said both father and son were shot by Marksville police officers Norris Greenhouse Jr. and Derrick Stafford. They are being held without bail.
The family had recently moved to Marksville from Hattiesburg, Mississippi.
The officers surrendered Friday night and were charged with second degree murder for the death of Jeremy and the attempted second degree murder of his father, Christopher Few.
Neither officer said a word as they were rushed out of the Avoyelles Parish Jail in handcuffs.
A law enforcement source told CBS News the officers will not tell state police investigators why they wanted to pull over Few Tuesday night, starting a police pursuit that ended in gunfire.
Col. Mike Edmonson, head of the Louisiana State Police, has seen the video of the shooting.
He told Begnaud how key the video was to making the arrests.
"That video was incredible," Edmonson said. "I mean, as a father, much less head of the state police, I looked at that tape, I said this is incredibly disturbing."
CBS News has learned it was a third officer who recorded the shooting with a body camera after he responded to a call for backup. According to a source, that officer told investigators Few was not acting in a threatening manner toward police.
Initially there was a report that Few had a warrant out for his arrest. It turns out there was no warrant. He had no gun in the vehicle.
Edmonson says they're trying to determine what Few did to warrant the traffic stop.
"I think the rest of the investigation tells us that," Edmonson said. "I mean, we've got to look at everyone involved, and we'll get to the part of that, but what we learned from the very first night, what we heard an hour after that, was that they were trying to effect an arrest warrant on a traffic stop. Not factual. Not factual."
Edmonson said initially the two officers claimed that Few tried to reverse his vehicle and ram it into one of their police cars.
The damage on the police car that was reportedly hit appears minor.
Begnaud asked Edmonson whether Few was someone who deserves blame here.
"It doesn't seem from what we see," Edmonson said, "because we don't know why they were trying to chase him."
A source told CBS News that the two officers arrested fired a total of 18 shots at both father and son.
Few was shot twice but survived and is listed in serious condition at a local hospital.
The Avoyelles Parish coroner said Jeremy was shot five times in the head and chest.
"I can tell you he didn't suffer," Edmonson said. "He didn't suffer, and his dad was near him, but he did not suffer."
The two officers arrested usually work for the Marksville city police department, but on the night of the shooting they were working for the city marshal's office.
Law enforcement confirmed to CBS News they are probing whether one of the officers arrested has a personal grudge against Few and may have sought revenge with gunfire.
Few's 57-year-old stepfather, Morris German, earlier in the week accused the marshals of indiscriminately opening fire on the vehicle.
German said Few was heavily sedated after the shooting, unable to talk and had bullet fragments lodged in his brain and lung.
He described Few was a loving father and added the man's son "was his whole life."
German added that the 6-year-old had been diagnosed with autism, describing him as a delightful child who "loved everything, everybody."
Thanks for reading CBS NEWS.
Create your free account or log in
for more features.